TrueCar Buckles Up for New Clash With Dealers
AUTOMOTIVE: Association's latest effort called 'last-ditch' attempt to curb expansion.
Monday, May 25, 2015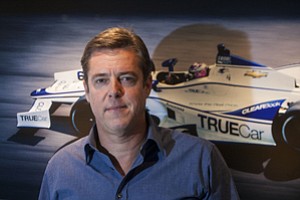 Auto dealers are once again unhappy with Santa Monica's TrueCar Inc.
A Sacramento trade group representing more than 1,100 of the state's new-car and -truck dealers has accused the online shopping service of operating as an auto dealer and broker without a license from the Department of Motor Vehicles.
But the move by the California New Car Dealers Association, which has a history of encouraging its members to shun TrueCar, might be a last ditch effort to forestall the inevitable.
While shoppers don't buy a vehicle from TrueCar, they use the service to find out how much a specific type of car has sold for recently at nearby dealerships in TrueCar's network. Shoppers can then lock in a price based on that information and present a certificate to the dealer. When someone buys a car that way, the dealer pays TrueCar a fee.
An August report from San Francisco's Blueshift Research concluded that TrueCar is becoming more accepted by dealerships, particularly those on the low end, and by customers as a way to agree on a car price. The report did note that the service often results in dealers selling cars at a loss.
Dealerships have in the past boycotted TrueCar, fearing its business model would initiate price wars by encouraging dealers to underbid each other. At its lowest point, TrueCar only partnered with about 3,000 dealers.
But after TrueCar changed its system to show customers what others had paid for a similar car, it became one of the fastest-growing private companies in the region. It went public in May 2014, pricing shares at $9 and raising $70 million. Shares of TrueCar closed at $13.99 on May 20.
In addition, its dealer network has continued to grow. As of February, it counted more than 10,000 dealer partners, including more than 8,700 U.S. franchise dealers selling new cars and trucks as well as more than 1,300 independent dealerships specializing in used vehicles.
The company said in a recent Securities and Exchange Commission filing that its service resulted in 600,000 car purchases in 2014.
Against that backdrop, the dealers association last week filed a complaint in Los Angeles Superior Court alleging TrueCar skirts California Vehicle Code regulations concerning dealer licensing, brokering, advertising and disclosure.
The group contends the alleged violations harm both its members, many of whom work with TrueCar, as well as consumers.
The trade group also alleges TrueCar acts as a broker, so the company should pay a regulatory broker's fee and receive an endorsement from another broker in accordance with the law in order to keep doing business.
"TrueCar actually arranges an automobile purchase transaction by a specific purchaser of a specific make and model at a specific price at a specific dealership," the filing states.
TrueCar refuted the allegations in a statement and said it welcomes the opportunity to demonstrate that it's playing by the rules.
"We fail to understand how the CNCDA believes that it is serving the interests of its members by seeking a declaration that approximately half of those members are violating California law through their relationships with TrueCar," the company said.
Business litigator Greg Aldisert, a partner at Kinsella Weitzman Iser Kump & Aldisert in Santa Monica who reviewed the case for the Business Journal, said the fact that a trade group filed the complaint rather than the state attorney general likely means the group failed to convince regulators that TrueCar is breaking the law. In his opinion, the complaint lacks merit.
"To me, this is a last-ditch thing," Aldisert said.
Indeed, investors have been bullish on TrueCar's prospects.
Six out of 10 TrueCar analysts give the stock, which is trading at around $14 a share, a "buy" rating.
"We are encouraged by the pace of (TrueCar's) dealer network expansion," said a May 8 report from JPMorgan Chase & Co., which gave the stock an "overweight" rating.
Recent activity by both insiders and outside investors have sounded another vote of confidence in the company's prospects.
On May 13, TrueCar founder and Chief Executive Scott Painter bought nearly 14,000 shares, bringing his total to more than 2 million, according to filings with the SEC.
And Boston's Par Investment Partners reported last week it had a 6.7 percent stake in TrueCar.
For reprint and licensing requests for this article, CLICK HERE.