Creating Space
DEVELOPMENT: Meta Housing paints new affordable units as artists colony in bid to boost San Pedro district.
Monday, May 25, 2015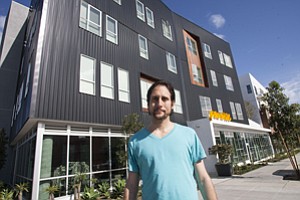 It happened in several neighborhoods in Brooklyn. It happened in downtown Los Angeles. Maybe it can happen in San Pedro.
The arrival of artists to a neighborhood has long been viewed by real estate professionals as a harbinger of development.
Which is why the now-defunct Community Redevelopment Agency threw its support behind West L.A. affordable housing developer Meta Housing Corp.'s 48-unit project in central San Pedro, billed as an artists colony. It's for low-income creative types, and it comes complete with a communal art gallery, two shared art studios and a soundproof room for musicians. The project is only six units shy of being fully occupied, even though parts of it are still under construction.
An agreement with the CRA's successor, the now-also-shuttered Community Redevelopment Agency of the City of Los Angeles, ensured the development will be designated for affordable housing for 55 years. It was the last development in San Pedro to receive that designation and funding, said James Preston Allen, president of the Central San Pedro Neighborhood Council.
"Without CRA/L.A. stimulus money, (San Pedro) is sort of left without a development tool, which makes the finishing of this piece critical," Allen said.
The $20 million, 37,800-square-foot development at 303 S. Pacific Ave., dubbed the Pacific Avenue Arts Colony, sits on a largely blighted strip just outside of the San Pedro Arts, Culture and Entertainment (Space) District. Meta purchased the two parcels that house the project for a combined $2.25 million two years ago, one from the CRA, the other from a private seller.
The developer has built 57 affordable housing projects, including 27 in Los Angeles, and has eight projects under construction and six in predevelopment.
Meta's president, Kasey Burke, said the company earns its money through fees built into the funding it receives.
To fund construction, Meta received federal low-income housing tax credits, a dollar-for-dollar reduction in federal tax liability, which it then sold to Bank of America for $13 million, a common practice among developers of low-income housing. The rest of the construction was funded by a $3.4 million loan from CRA/LA; a $3 million loan from California Community Reinvestment Corp.; and a grant from the San Francisco Federal Home Loan Bank Affordable Housing Program, which covered the balance, Burke said.
Rents at the project range from $474 a month for a one-bedroom apartment and $1,272 for a three-bedroom. To be eligible, individuals or families must earn between 30 percent and 60 percent of the L.A.-area median income, which is $63,000 for a family, according to 2015 data from the Department of Housing and Urban Development. Rents are tied to where one falls in that scale – a one-bedroom unit for someone earning at the lower end would rent for less than it would for someone earning more.
The apartments are not spacious. One-bedrooms range from 543 to 862 square feet. Rents for smaller units at the development come in at 87 cents a square foot a month, compared with the average rent for the Beach Cities-Palos Verdes Submarket, which is $2.44 a square foot a month according to CoStar Group Inc., though that number is somewhat inflated by the inclusion of luxurious Palos Verdes.
New tune
Daniel Tyler Pohnke, a musician who moved into the development with his wife last month, said the couple is paying one-third of what they paid in Hollywood, where they lived previously.
"I grew up in Agoura Hills and never even thought about coming to San Pedro," said Pohnke, who added that even though the communal studios are not complete, an artistic community is forming in the building. "It's a like a village here and the artists are very active and motivated to push out work. We're also hosting musical meditations in our apartment."
Paul Habibi, a lecturer at UCLA's Anderson School of Management, said any kind of workforce or affordable housing in Los Angeles, whether it is for artists or not, is both scarce and necessary.
And while the Space District is flush with galleries, theaters and market-price live-work spaces, San Pedro has a hard time attracting businesses to the areas just outside the district's borders, especially on Pacific Avenue.
Habibi said that San Pedro might not be as hot as other coastal markets, but that is bound to change.
"(San Pedro) is coastal real estate and it's just a matter of time before all coastal real estate has the value of Santa Monica or Malibu," said Habibi, pointing to Venice as an example of a once-sketchy part of town that eventually priced out many of its artists. "It's inevitable that rents will go up once the area is revitalized, and creating affordable housing now is a step in the right direction."
For reprint and licensing requests for this article, CLICK HERE.