Checking Back In
Hotelier Sam Nazarian loses partners in rough return
Monday, May 11, 2015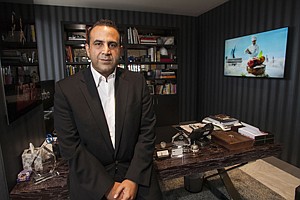 Having recently returned to his corner office on L.A.'s Miracle Mile, a rejuvenated Sam Nazarian is settling back into his chief executive role at SBE Entertainment Group after a self-imposed hiatus that followed his confession to Nevada gaming regulators about his illegal drug use.
The return hasn't been easy. Nazarian was greeted with a revolt from a handful of partners. One group rescinded a $500 million commitment to fund future projects; another removed SBE as its partner on a downtown L.A. development; a third scrapped plans to let Nazarian run its gaming operations in Las Vegas.
Nevertheless, during an interview with the Business Journal last week, Nazarian was all smiles as he recounted SBE's accomplishments through the years. His demeanor showed more resemblance to his past reputation as a party boy nightclub owner than his contrite manner just a few months ago in his hearing before gaming regulators.
Nazarian returned in March after he voluntarily stepped down for about 10 weeks. Much of that time he said was devoted to self-reflection as he stayed at one of his homes in Big Sky, Mont., surrounded by mountains, and later at another home along the beach in Cabo San Lucas, Mexico. It was the first significant amount of time he had spent away from SBE since he founded it in 2002. (SBE stands for "Sammy Boy Entertainment;" Sammy Boy was Nazarian's boyhood nickname.)
"Since I was 20 years old, I was going full steam ahead," Nazarian said. "When milestones happen in your life, you have to recognize why they happen. I'm 39, but sometimes I feel like I'm 69."
SBE, which has interests in more than 80 restaurants, nightclubs and hotels, is moving forward with a long-term strategy that calls for selling many of its real estate holdings to focus on managing.
That plan was illustrated last week when SBE announced the $200 million sale of its SLS Beverly Hills hotel to Torrance marketing and hotel firm Sunrider International. SBE will continue to operate its brand at that property.
Thomas Morone, hotel asset manager and business adviser at CHMWarnick in Century City, said the perks of managing properties are far greater for hoteliers than owning the assets. For starters, management deals are purely fee driven and generate a steady flow of revenue without the financial risks that come with an unpredictable real estate market and fluctuating interest rates.
"The management business is a relatively low-risk business and if you're really good at it, people flock to you," Morone said. "It's a good job if you can get it."
Prev Next
For reprint and licensing requests for this article, CLICK HERE.