Student Program Circles 'Sharks'
Manhattan Beach chamber runs pitch competition for middle, high schoolers.
Monday, May 4, 2015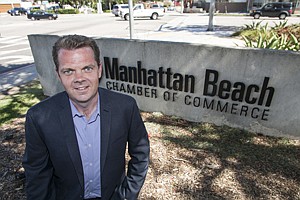 Think "Shark Tank" – just without Mark Cuban or TV cameras.
This week, nine local middle and high school student entrepreneurs will each give their best six-minute pitch to a panel of local executives at an event set up by the Manhattan Beach Chamber of Commerce. The kids, in grades 6 through 12, will be pitching ideas they come up with during a four-month after-school program called Young Entrepreneurs Academy.
James O'Callaghan, the chamber's chief executive, said he brought the program to Manhattan Beach because the city is home to so many local businesses and executives that can help young entrepreneurs.
"The access to CEOs and capital in this community enabled us to bring forward a first-class program," he said.
The panel of "sharks" for the May 7 event will include executives from Manhattan Beach Toyota, real estate developer Continental Development Corp., Chevron Corp. and Citizens Business Bank as well Redondo Beach resident Lisa Garey, a financial adviser with Morgan Stanley and one of the event's sponsors.
Garey said she does all of her own marketing and business planning, and thinks young people will need to be able to do all that and more if, as many believe, corporate jobs become rarer in the future.
"This is an era where I think you'll see more entrepreneurship," Garey said. "Jobs are scarcer than they used to be."
When listening to students' pitches, she'll be looking for viable business ideas with plausible financing plans and clear benefits for investors.
"I'm looking for some semblance of exactly how they're going to use their money," she said.
Garey and other panelists will contribute a range of funds toward the students' startup ideas and they will choose which student will head to a national Young Entrepreneurs Academy competition later this year. Once there, the local winner will compete against other students for college scholarships, a trip to Washington, D.C., for a small-business summit – and the chance to appear on the real "Shark Tank" on ABC, Mark Cuban and all.
– Carol Lawrence
For reprint and licensing requests for this article, CLICK HERE.