Power Play
Stan Lee's Pow looks overseas after end of Disney deal
Monday, May 4, 2015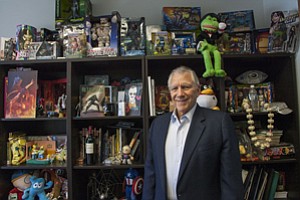 There is an arc to the life of the characters in the world of comic-book legend Stan Lee: A flawed person, tested by extraordinary circumstances, somehow taps a reservoir of strange power that allows them to overcome the odds and fight evil.
Now, at age 92 and on the brink of overtaking Steven Spielberg as the producer with the highest-grossing box-office total in history, Lee might be facing one of those extraordinary circumstances himself.
The superhero icon, who works daily at his Beverly Hills intellectual property company, Pow Entertainment, is facing a cash crunch that came with the end of a contract with Walt Disney Co.
Since 2010, Pow had relied on an agreement with Silver Creek Pictures, a Disney affiliate, for the bulk of its revenue. The deal, which provided $750,000 a year to the company and an additional $1.25 million in consulting payments to Lee, lapsed at the end of last year, leaving Pow scrambling.
The company, which trades on the Over-the-Counter market for a few cents a share, said in its most recent annual report that it was "exploring various other sources of revenues, but there can be no assurances that we will be successful in finding other revenue streams sufficient to support our operational requirements and we may need to scale back operations, defer executive salaries and reduce staff members."
Still, Lee is banking on the strange power that has allowed him to create such powerhouse entertainment franchises as Spider-Man to bring the evil cash crunch to heel. He's been hard at work creating characters – hundreds of heroes that can be licensed for film, TV, merchandising and other opportunities around the world.
"We have been amassing a library of 500 new characters and working on projects across the gamut – from movies, television, games and digital publishing to a slate of Bollywood and Chinese films," he said.
The burst of activity is all part of a legacy plan to keep Stan Lee characters entertaining audiences around the world for generations.
Among his latest creations is Chakra the Invincible, an animated superhero for the Indian market; "Lucky Man," a live-action series for British TV's Sky 1 and Carnival Films; and even Stan Lee himself as a character in video game "Hero Command."
Overseeing it all is his business partner, Pow President Gill Champion, whom Stan affectionately calls "the brains behind the outfit."
"Our mission is show business,' said Champion, 73, putting an emphasis on "business." The aim: "To create new IP that we develop internally, and create franchises out of, by looking to partner with third parties who contribute the financing, the licensing and other ancillary opportunities."
Prev Next
For reprint and licensing requests for this article, CLICK HERE.