Taking Stock
Onestop Internet tracks shops' items online, in stores
Monday, March 23, 2015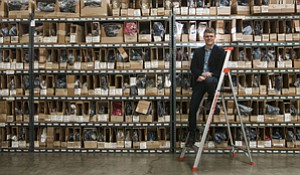 John Tomich recently walked into a retail store hoping to replace the ripped suit jacket he purchased through the store's website last year. But the sales associate couldn't find any information about his purchase history.
Without the jacket in hand, the associate didn't know which garment Tomich wanted to replace and whether the store had it in stock.
That's the kind of headache Tomich, chief executive of e-commerce services company Onestop Internet in Rancho Dominguez, wants to help his clients avoid. The company has lately been developing technology that will link a retailer's online business with its brick-and-mortar stores – the basic definition of retail's latest buzzword, "omnichannel."
"It's an overused cliché," Tomich said. "But we're investing in the technology to be able to do that. We listened to our clients and that's what they're asking for."
Onestop got its start helping brands manage their e-commerce operations, from fulfillment services to web design. But as brands manage more of their online business themselves, Onestop is trying to hold on to clients by expanding its business into developing omnichannel software for its clients.
The idea is to make shopping, both in store and online, more convenient for shoppers by helping retailers see all of their inventory – whether in an e-commerce warehouse or a retail store – in one place and keep track of what a customer has purchased over time.
Take Tomich and his suit jacket: Because the retailer didn't know what he was trying to replace, Tomich had to retrieve the torn item and return to the store – an inconvenience he said could cost the retailer a sale.
"I had no choice," Tomich said. "I had to get the jacket for the suit so I had to go back home. That could make somebody else not come back."
But retailers are hoping to offer more than a convenient shopping experience. They also want to know what customers are buying, whether in stores or online, so they can better target their marketing efforts and ultimately get customers to buy more items.
Tom Julian, director of strategic business development for consulting firm Doneger Group in New York, said it's almost mandatory for retailers to look at the online and brick-and-mortar businesses as one. After all, customers no longer differentiate between the two.
"Whatever online store I'm shopping at or whatever brick-and-mortar I'm shopping at, they should somehow be aligned and connected for me," Julian said. "Most marketing executives today have put a mandate forward that in order to grow the business, the brick-and-mortar and online should live together."
One bill
Onestop, was co-founded in downtown Los Angeles in 2004 by Tomich; Steve Tandberg, the company's chief culture officer; and former Chief Innovation Officer Brett Morrison. The 250-employee company moved to its new headquarters, a Rancho Dominguez warehouse, about two years ago and has additional offices in Santa Monica and New York.
When the company started out, many fashion brands in particular were focused on wholesaling their products to major retailers and had little interest in selling online themselves. Tomich said he had to convince brands it would be worth it to sell products themselves.
"Manufacturers were worried that if they sold direct to a consumer it was going to bypass or conflict with the stores that were buying wholesale," he said.
The firm's first client was Corona brand Von Dutch, famous for its trucker hats.
Initially, Onestop would help clients with every facet of running an e-commerce business, from designing a brand's online store to photographing products.
When a customer placed an order through Von Dutch's website, it would be received directly by Onestop. Workers would pull the merchandise from Onestop's warehouse, package it in Von Dutch-branded packaging, then ship the merchandise off to the customer – who had every reason to believe it was coming straight from Von Dutch. When customers called the Von Dutch customer service number for help with an order, they would actually be speaking to a Onestop employee.
But as retailers got more comfortable with selling online, they started wanting to manage more of their e-commerce business themselves.
Onestop initially offered its services on an all-or-nothing basis, Tomich said, requiring customers to hand over all of their e-commerce operations and pay for the entire suite of its services. A few years ago, though, the company started offering services a la carte, and now most of the firm's 40 clients get about half of its services, such as order fulfillment and customer service.
Despite that, Onestop has grown. The company brought in $51 million in revenue last year, up from $37 million the year before, Tomich said.
À la carte
But as clients started using fewer services, Onestop shifted some of its focus to developing omnichannel software, something clients had been requesting. In late 2013, Onestop released a program to help clients track inventory across multiple locations.
Additions to the program now allow retailers to offer in-store pickup for online orders and for retail stores to fulfill online orders if an item is out of stock at the e-commerce warehouse.
The next step, which Onestop's Santa Monica technology team is working on, is developing a system to let retailers track and store customer purchase information, including purchases made online and in stores.
Many national retailers such as Seattle's Nordstrom Inc. already have systems that do all of this, but it's new territory for the smaller brands and retailers that Onestop works with. Many clients have just a handful of stores.
But just like big retailers, these small brands see lots of value in not only tracking their inventory, but figuring out what a repeat customer is buying – and perhaps predicting what they might want to buy next.
Take the example of Tomich and his torn suit jacket: "The sales clerk should not only be able to identify the exact size and style of the suit I bought online so I could purchase a replacement, but also recommend additional items that would go with my suit based on my purchase history and current trends," Tomich said.
Doneger's Julian said that's one goal of omnichannel systems.
He cited luxury retailer Burberry's flagship store on Rodeo Drive, which opened last year, as an example. Associates at the store carry iPads that are used to offer personalized recommendations based on customers' previous purchases – regardless of whether they were made online or at a store – and to place online orders for items not stocked in stores.
"It's a seamless, all-knowing sensibility," Julian said.
For reprint and licensing requests for this article, CLICK HERE.