SPECIAL REPORT: Sizing Up L.A.
Six local bank executives address regulatory, economic issues that have spurred institutions to seek deals to combine their strengths.
Monday, March 23, 2015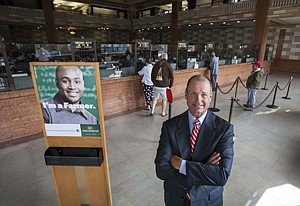 "It's like the government came to us one day and put on the sheriff badge," said Daniel Walker, chief executive of Farmers & Merchants Bank in Long Beach.
Dunson Cheng, chief executive of Chinatown's Cathay General Bancorp, said he has grown his compliance team by 50 percent since the financial crisis, and that's forced the bank to look for cost savings in other areas.
"We simply have to reduce some of the resources that we have to take care of the regulatory burden," he said. "We just have to grow our business and be much more efficient in our backroom."
For smaller banks, though, it's hard to find those efficiencies. That's why many small and midsize lenders have sought to either grow through acquisition, spreading compliance costs over a larger balance sheet or to sell out.
Dominic Ng, chief executive of Pasadena's East West Bancorp Inc., said the compliance-cost pressures that have been driving smaller banks to merge are self-evident.
"If you are a $500 million bank, you absolutely should be thinking about merging to a bigger size," he said. "That bank needs a compliance officer, an internal auditor and a chief financial officer. And then a $5 billion bank needs the same. The expenses are not proportionally bigger."
Still, though, Ng said some bankers tend to overstate the effect and costs of new regulations – something he said has happened before.
"I remember back in the early 1990s, there were a lot of additional requirements for the Community Reinvestment Act," he said. "Everyone said it's driving us crazy. But after a while, you get used to it."
Low rates
New regulations have also made banks more cautious. Nationwide, banks are sitting on trillions of dollars in cash because many would-be borrowers are still bruised from the recession and are not good candidates for bank loans.
But for those firms that emerged from the carnage with good credit, it's a borrower's market.
"Banks are awash with money, so it's very competitive on the lending side," said Alan Rothenberg, chief executive of Century City's 1st Century Bank. "Rates are very low and we're always in there duking it out with somebody."
That fierce competition for high-quality borrowers has slimmed down banks' profit margins and that's made the potential to cash out in a sale all the more enticing.
Many banks are betting that a rate raise is only a matter of time – especially given the rebound in the economy. Cheng and City National Chief Executive Russell Goldsmith both said their banks are positioned to capitalize on an increase in rates.
For reprint and licensing requests for this article, CLICK HERE.