SPECIAL REPORT: Sizing Up L.A.
Six local bank executives address regulatory, economic issues that have spurred institutions to seek deals to combine their strengths.
Monday, March 23, 2015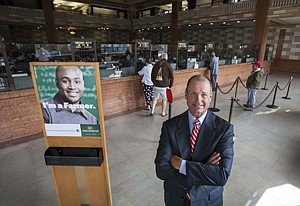 City National Bank's recent sale to Toronto's Royal Bank of Canada caught nearly everyone by surprise. But maybe it shouldn't have.
Since the financial crisis, several institutions have decided to team up and merge rather than brave the waters alone, and a tough economic environment for banks continues to put pressure on the holdouts. As a result, the number of banks headquartered in Los Angeles County has dwindled from more than 80 a decade ago to only about 60 today.
In that light, City National's decision to sell looks less like a seismic shift than just the latest wave in a local banking sea change, driven by rock-bottom interest rates, dramatically higher compliance costs and other forces that continue to squeeze lenders.
And as banks big and small consider selling, buyers see opportunity here. Los Angeles keeps humming along with a diversity of business that's the envy of much of the nation. The aerospace industry largely left the South Bay in the '90s and the entertainment business has been dwindling in more recent years, but Silicon Beach and biotech came in to help replace those industries with billion-dollar companies of their own. Downtown L.A.'s apparel industry might be on the ropes, but its real estate market most assuredly isn't – and a few miles east, millionaire Chinese investors are swooping in to buy properties and start businesses.
The economic and regulatory forces driving banks toward considering a sale set against the backdrop of a booming region that seemingly everyone wants a part of has resulted in Los Angeles becoming fertile soil for bank deals of all kinds.
In this special report, six local bank bosses walked the Business Journal through their analysis of L.A.'s banking scene, focusing on the factors that have primed it for the recent flurry of deals and pointing toward where dealmakers might be looking next.
Regulatory overhang
New reporting requirements put in place after the financial meltdown of 2008 have been wildly successful in creating jobs for bank compliance officers. That's been especially hard on L.A.'s small and midsize lenders, giving them a good reason to seek out deals.
In one recent example, Covina savings and loan Simplicity Bancorp Inc. was seeking a sale mainly because of higher regulatory costs, its chief executive told the Business Journal. Seattle thrift HomeStreet Inc. closed its acquisition of Simplicity this month.
After the 2010 Dodd-Frank Act, banks have not only needed to hold on to more capital when making loans, but they've had to hire more compliance workers to handle a growing volume of required documentation.
Prev Next
For reprint and licensing requests for this article, CLICK HERE.