SPECIAL REPORT: John C. Cushman III: Building Momentum
Drive for dealmaking a badge of honor for exec known for long hours, support of Scouting.
Monday, March 16, 2015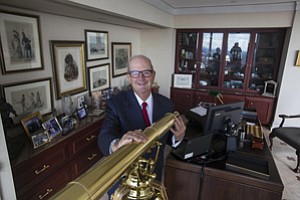 From his office on the 48th floor of the Figueroa at Wilshire office tower, John C. Cushman III has a clear view of the past – and the future.
Not to mention the ocean.
"Somewhere out there is an island," said Cushman, who has a brass telescope that was a gift from Bausch & Lomb for brokering that company's headquarters space in Rochester, N.Y. "You only see it a few times a year. I can see Catalina out there. I can see out to Malibu here. On a good day, I can see down to Orange County, to the beach."
Cushman, scion of a family whose investment in the real estate business now spans seven generations, sits on the board of Cushman & Wakefield Inc., a brokerage behemoth with 248 offices in 58 countries, employing more than 16,000 professionals.
His window also offers a view to the past, to his accomplishments over his 52-year career in real estate. There is City National Plaza, the 2.6 million-square-foot complex that drew him to Los Angeles from New York in 1967, and the 1.4 million-square-foot U.S. Bank Tower, which at 1,000 feet high is the tallest building west of the Mississippi River. Cushman was instrumental in leasing both properties, as he will be with the newest skyscraper coming out of the ground in downtown Los Angeles, the $1 billion Wilshire Grand Center being developed by Korean Air Lines Co. That building, which represents his future, is also visible from his window.
At 74, Cushman works as hard as ever and is as energized by the process – and the future – as someone just entering the business.
"There is almost nothing we haven't done in downtown L.A. and in Cleveland or Detroit or Munich, London or Paris, Frankfurt or Moscow," Cushman said of his business, now majority owned by Exor S.p.A, the investment arm of Italy's Agnelli family. "We are open every minute of every day in some part of the world."
And so is Cushman, who sleeps about three hours or so a night, works seven days a week and remains an integral part of the company, the third-largest real estate services firm in the world, after CBRE Group Inc. of downtown Los Angeles and Jones Lang LaSalle of Chicago.
As one of the only three Americans on the board, Cushman, who has previously served as both chairman and co-chairman, has not eased into a leisurely figurehead role. He remains an active dealmaker.
Prev Next
For reprint and licensing requests for this article, CLICK HERE.