SPECIAL REPORT: John C. Cushman III: Building Momentum
Drive for dealmaking a badge of honor for exec known for long hours, support of Scouting.
Monday, March 16, 2015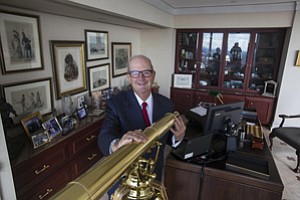 From his office on the 48th floor of the Figueroa at Wilshire office tower, John C. Cushman III has a clear view of the past – and the future.
Not to mention the ocean.
"Somewhere out there is an island," said Cushman, who has a brass telescope that was a gift from Bausch & Lomb for brokering that company's headquarters space in Rochester, N.Y. "You only see it a few times a year. I can see Catalina out there. I can see out to Malibu here. On a good day, I can see down to Orange County, to the beach."
Cushman, scion of a family whose investment in the real estate business now spans seven generations, sits on the board of Cushman & Wakefield Inc., a brokerage behemoth with 248 offices in 58 countries, employing more than 16,000 professionals.
His window also offers a view to the past, to his accomplishments over his 52-year career in real estate. There is City National Plaza, the 2.6 million-square-foot complex that drew him to Los Angeles from New York in 1967, and the 1.4 million-square-foot U.S. Bank Tower, which at 1,000 feet high is the tallest building west of the Mississippi River. Cushman was instrumental in leasing both properties, as he will be with the newest skyscraper coming out of the ground in downtown Los Angeles, the $1 billion Wilshire Grand Center being developed by Korean Air Lines Co. That building, which represents his future, is also visible from his window.
At 74, Cushman works as hard as ever and is as energized by the process – and the future – as someone just entering the business.
"There is almost nothing we haven't done in downtown L.A. and in Cleveland or Detroit or Munich, London or Paris, Frankfurt or Moscow," Cushman said of his business, now majority owned by Exor S.p.A, the investment arm of Italy's Agnelli family. "We are open every minute of every day in some part of the world."
And so is Cushman, who sleeps about three hours or so a night, works seven days a week and remains an integral part of the company, the third-largest real estate services firm in the world, after CBRE Group Inc. of downtown Los Angeles and Jones Lang LaSalle of Chicago.
As one of the only three Americans on the board, Cushman, who has previously served as both chairman and co-chairman, has not eased into a leisurely figurehead role. He remains an active dealmaker.
"Real estate is in his DNA," said Jeff Cushman, John's 45-year-old son and head of Cushman & Wakefield's Silicon Valley office. "It's never gonna come out of his DNA. He will be doing this, nonstop, until the day he drops."
There have been few distractions from the elder Cushman's singular focus on leasing large swaths of office space. Indeed, he concedes that all the dealmaking over the years meant he was too often absent from family events large and small.
If there has been one passion outside of work and family, it has been the Boy Scouts of America Foundation. He served as the foundation's national president from 2004 to 2006, and is currently a member of the national executive board. He is also active in the organization's local chapter, the Los Angeles Area Council Boy Scouts of America. The organization has been the most significant beneficiary of his philanthropic attention, including a $2 million donation to build the Cushman Watt Scout Center in L.A.'s Westlake neighborhood near MacArthur Park.
"He is an icon of the community in Southern California, and his investment in philanthropy, particularly in the Boy Scouts of America, is extraordinary," said Lew Horne, president of the Southern California region at rival CBRE. "He has certainly been a friendly and formidable competitor in the industry, but I will give John Cushman credit where credit is due: He has set a gold standard for business leadership. … He has been a mentor to hundreds of people. He has taken it to a totally different level."
It's for his decades of success in real estate, his impact particularly on downtown Los Angeles and his commitment to shaping the lives of young people that the Business Journal has named Cushman its Business Person of the Year. He joined the Business Journal's Business Hall of Fame at a luncheon March 4 at the Millennium Biltmore Hotel in downtown.
Changes loom
Two weeks after the Business Journal met with Cushman at his office, news broke that Exor was putting its 80 percent stake in the company up for sale. In a move that is atypical for a conglomerate, it is allowing the real estate firm to handle its own sale, with Chief Executive Edward Forst overseeing the process. Exor approved management's hiring of Goldman Sachs Group Inc. and Morgan Stanley to seek a private company that is not a direct competitor as a buyer, sources close to the matter said.
The Agnelli family, which co-founded Fiat and owns Fiat Chrysler Automobiles NV, paid $565 million for a 67.5 percent stake in Cushman in late 2006 and had since increased that stake to 81 percent. The business is now valued at between $1.7 billion and $2.3 billion. After Exor, John Cushman holds the largest stake in the business, though he won't say how large that interest is.
What is clear is that Cushman, who had a reputation in his early years for being flamboyant about his wealth, is doing just fine. When he's not traveling for work, he lives in a 4,300-square-foot condo at Granite Park Place in Pasadena. He also has a ranch in Driggs, Idaho, where he hosts an annual conference for "the rich and the famous," as a childhood friend put it; a second ranch on the western side of the Grand Teton mountain range; and a house in Indian Wells, near Palm Desert.
And he still gets around in comfort. His private plane has its own crew. Other than when he takes his Porsche 911 Turbo Cabriolet out for a spin, Cushman has a driver, who has worked for him for 23 years. He has an SUV at each of his homes, including a Jeep, a Chevrolet Tahoe Hybrid and a Suburban, all of which are much more low-key than the vehicles he owned earlier in life.
"I didn't know what to make of him at first," said William Puget, an executive director at Cushman & Wakefield's downtown office who has worked with Cushman for 36 years. "I came from a conservative background, and here was a guy who was driving around in a chauffeured limo or one of his several Rolls-Royces and talking about trips on his yacht. He was so showy, and I wondered how a guy like that could be so successful. But I later learned that some clients lived vicariously through him and that all of them respected him."
Business booming
Cushman said Cushman & Wakefield, now in its 98th year, had a record year in 2014 in both revenue and earnings before interest, taxes, depreciation and amortization. The company, which reports earnings every six months, posted sales of $1.28 billion for the six months ended June 30, an increase of 24 percent over the same period the year earlier.
Cushman was not at liberty to discuss the sale of the company, other than to say that he thought it was a great idea, and that he had been deeply involved in the discussions surrounding it, which began only recently. He said that he and John Elkann, the chairman and chief executive of Exor and the executive chairman of Cushman & Wakefield, tend to agree and work closely together.
"There is no friction against the majority shareholder: We're in lockstep," Cushman said.
Lockstep is important in order for Cushman & Wakefield to function. Despite a reduced governance role, Cushman has not become simply a figurehead. He still works every day and fields calls from Japan, Singapore and all corners of the United States at all hours and is still directly involved in dealmaking.
It was always so.
Cushman's wife of 50 years, Jeanine, his twin brother, Lou Cushman, and most who know him well attest that his life has been singularly focused on real estate leasing.
While he plunged forward in the real estate business "at ram speed," as son Jeff put it, he left little time for his family.
Working tirelessly and traveling frequently, Cushman credited Jeanine with the success of his four sons – three of whom are in real estate, the other an investment banker – because, he said, she was "the anchor of the family," raising them herself while he "should have been at home." He owes their success, and the fact that he now has 10 grandchildren, to her.
"When they were younger, he didn't relate to them as well, so I did bring them up to the time when he could work with them, at 11 or 12, when they got into Scouts, and then he took an interest in them," Jeanine said. "Then once they were old enough to discuss things, and he could talk business with them, he talked to them frequently."
Early years
Born in Montclair, N.J., Cushman never had any doubts about what business he would go into.
His great great great grandfather was Don Alonzo Cushman, one of the principal developers of the Chelsea neighborhood in New York.
"I grew up in a family where nobody knew any better," Cushman said. "They went into real estate because that is just what you did."
At different points in his career, John's father was an executive vice president, secretary and director of Cushman & Wakefield, which was co-founded by his grandfather and uncle.
All three of the elder Cushman men commuted each morning from Montclair to the company headquarters in Manhattan.
John and Lou would visit their father at work, gazing in awe at the tall buildings and the rush of city life. The twins were fiercely competitive, to a degree that often worried their mother, Florence Cushman. John was 20 minutes older, but Lou outperformed him academically and was better at most sports, "but not all sports," John said.
"He was smaller than me, and therefore became a real scrambler and a street fighter, which obviously served him well in his real estate career," Lou said.
John, Lou and their younger brother, David, attended public schools in Montclair, where John was active in student government. The boys were encouraged to be involved in their church, and in the Boy Scouts. Both John and Lou became Eagle Scouts, the highest level in scouting, soon after their 13th birthdays, much younger than the average age.
John cites their Scout master, Osborne Ken Taylor, who went by O.K. Taylor, as one of the people that most impacted his life. Taylor was an executive at Standard Oil Co. His troop meetings were disciplined and ran like clockwork; everything had a purpose.
"My troop was like a who's who," John Cushman said. Members included brothers Robert Trent Jones Jr. and Rees Jones, who later became renowned golf architects, and Buzz Aldrin, the second man to stand on the moon. The troop was competitive, with interpatrol contests and Scouts who were eager to raise their ranking.
Rees Jones describes John Cushman as hypercompetitive and "very driven to climb the ladder" in Boy Scouts, becoming patrol leader.
"He's basically the same person I knew back then," Jones said.
Lou Cushman, who is now vice chairman of Cushman & Wakefield, agrees that his brother's competitive spirit has not dimmed.
"Neither of us likes to lose and neither of us to this day suffers fools greatly," he said.
Jones remembers a young Cushman as both industrious and just plain lucky.
"When we were roommates in Boy Scouts, going to the National Scout Jamboree and traveling around Europe, we got rooms by lottery," Jones said. "John and I always got the one room with a bathroom. If we were playing baseball and there was a $10 bill in the stands, John would be the one to find it."
After attending Colgate University and spending some time abroad, John Cushman returned home in 1963 and began working at Cushman & Wakefield in New York, where it was no secret that he was vying, immediately and boldly, to run the company.
"There is no place better, because it's a barracuda tank, to learn the business and to learn to watch out for your backside than getting your education in New York City," Lou said of his brother's experience.
John, who got his start at the company "canvassing" buildings – going floor by floor to encourage tenants to move elsewhere, and often getting kicked off the premises in the process – said that if he had stayed in New York, "it would have been a much longer road up the ladder."
California love
In 1967, two years after marrying Jeanine, John got his big break when he was asked to open Cushman & Wakefield's first Southern California office, in Los Angeles. The young couple bundled up their 6-week-old son, Chip, and headed west, buying their first house in Pasadena for $50,000 and taking on a mortgage John wasn't sure he would be able to pay off.
"Downtown Los Angeles was a village then," he said, motioning to the view from his windows. "There was none of the stuff you see here."
His assignment in Los Angeles was to help lease the 2.6 million square feet under construction in the twin 52-story buildings then known as Arco Towers. The project was one of the city's first major office high-rise buildings.
"The project was a big risk," Cushman said. "If I failed, I was toast. I would have had to leave the country probably because I would have left two monuments 52 stories high, and a parking garage for 3,000 cars that was a monument to nothing. But it all worked out."
Cushman, then 27, quickly found a mentor in Robert O. Anderson, chairman of Atlantic Richfield Oil Co., which moved its headquarters into the Arco Towers.
"He was a true renaissance man," Cushman said. "This is a guy who would get up in the morning, the largest landowner in America at the time, extremely wealthy, and ride the range of his ranch in New Mexico with his ranch hands to look at his cattle. He would come home and maybe have a meeting with some famous poets, then get on a 737 and come to the Arco headquarters in Los Angeles. He would get in his plane at the end of the day and go to London or some place in the world and have dinner with Margaret Thatcher."
While Cushman did follow in his mentor's jet-setting footsteps, he has always been much more squarely focused on work.
He's known by friends and colleagues for having a work ethic that lives up to his catchphrase, which he will repeat at any given opportunity: "The harder you work, the luckier you get."
"After six or seven years of working with him, a lot of us at the company gave up trying to keep pace with him," said Puget, the C&W executive director, who added that despite Cushman's tireless nature, he is not a micromanager. "He is very quick on his feet and he works harder than any human being I have ever seen. His energy level is so great that sometimes colleagues, when we're traveling, will check into different hotels and not tell him because he has little tolerance for sleep."
Remarkably, Cushman does not consume caffeine. Especially in his earlier years, he was known for wearing people down in negotiations by simply keeping them going all night. His style, in the early years, was "intimidation," brother Lou said.
"John is tougher," he said. "I have a velvet hammer and John, he attacks it with a steel hammer."
John contends that he alters his style to fit each individual negotiation.
"Maybe some people find me intimidating, but that's not the intention," he said. "When I'm in a negotiation, I'm completely engrossed in process. You can't be casual, you have to be prepared. I always say you need to have more arrows in the quiver, otherwise you might come out short."
Rising, leaving
As he leased more and more space in Los Angeles, Cushman rose to become an executive vice president, and later a member of the executive committee and board member. In 1969, RCA Corp. bought into Cushman & Wakefield, and when RCA was acquired by Rockefeller Group Inc. in 1976, the new ownership sent him to the Harvard Business School "to be polished for the role of president," Cushman said. (Mitsubishi Estate Co. bought out the Rockefellers in 1989, eventually selling its stake to Exor in late 2006.)
But when Cushman returned with his M.B.A. in March 1978, he learned that he would not be taking over.
There were some people at the company, Lou said, who did not want John to be president. John particularly remembers butting heads with one of the three Peters brothers, siblings who had become successful brokers in New York's postwar building boom and were running Cushman & Wakefield.
"There was a senior officer at the company, Anthony J. Peters, who was a guy that I couldn't follow," John said. "He cried all the time. I ran into some headwinds and the best thing for me to do was to leave. So I said, 'Lou, it's time to go.'"
On April 1, 1978, John sold his stock and left the company.
"He called me from New York having just gotten out of a meeting to tell me that 'we' just resigned," Lou, who was a broker for Cushman & Wakefield in Houston at the time, recalled. "I was shocked."
To the displeasure of Cushman & Wakefield, the brothers called their new firm Cushman Realty Corp. John headed the firm's L.A. office while Lou worked from Houston. The business was profitable in six months, John said, and remained in business for 22 years.
"We were really the Navy SEALs of commercial real estate brokerages," said John, who at the new business negotiated the largest office lease in history: 4 million square feet for the world headquarters of Merrill Lynch & Co. at the World Financial Center in New York. Today, solid brass coasters bearing the old company name can be found at several of his office end tables and phone stations.
While they had achieved great success on their own, opening 11 offices with 198 employees, they saw a shift in client needs that they could not handle as company with no international presence, Cushman said.
"Eventually the big companies would want one to three providers. They might give one provider the Americas – Canada, the U.S. and South America," Cushman said. "I said to myself, 'We can't do that.'"
In 2001, the brothers merged their company with Cushman & Wakefield in a tax-free exchange of stock.
Maintaining focus
The lone diversion from all this work has been the Boy Scouts.
With the exception of gifts to Colgate and the University of Rochester, his wife's alma mater; contributions to Junior Achievement USA; and fundraising for the National Parks Foundation, on whose board he used to sit, Cushman's philanthropy has been squarely and generously aimed at Scouting.
"John is a candid and direct visionary who can see what Scouting can be as a pathway," said Chuck Keathley, the executive director for the L.A.-area council.
Former Secretary of Defense Robert Gates, now president of the Boy Scouts of America, has spent time with Cushman both on Scouts and at the annual retreats Cushman runs at his Idaho ranch.
"He has complete dedication to the movement to trying to grow it, to enable it to reach more kids around the country," Gates said. "As president, he was a very quiet but dedicated and resolved leader.
"I think I can probably reinforce what a lot of people know about John, which is that he is a man of total integrity, an ideal citizen. He cares about things."
Scouting, Cushman, said, imbued him with a respect for the outdoors, leadership, responsibility and how to be a team player.
"The principles of the Scout Oath and Scout Law are rock solid. I am a huge fan of the value proposition," he said, noting that these values are especially important in some areas of Los Angeles.
"Here we serve the inner-city kids, the kids that are really at risk," Cushman said. "This organization does so much for the at-risk kids who have never been into the wild."
Together, he and Jeanine, who also has been immersed in the cause, have raised millions of dollars for Scouting. For her contributions, Jeanine was honored at an event co-sponsored by the Los Angeles and San Gabriel Boy Scouts councils in their first "women in Scouting" event.
Lasting lessons
The lessons of his days as a Scout can still be seen – and felt – in Cushman's manner.
His handshake is strong and somewhat longer than average.
"I have done hundreds of transactions regarding billions of dollars on a handshake," he said. "I can read people well and if someone didn't follow through I'd change my strategy, but I give people the benefit of the doubt, because life, at the end of the day, is all about relationships."
A creature of habit, it would be clear, even if his assistant didn't make it clear, that Cushman always sits in a particular chair during discussions. It is the only one in a sitting area next to a land-line phone, one of several strategically positioned in his corner office. Cushman's cellphone also sits next to him at all times, frequently buzzing.
"John is on the phone for 20 to 24 hours a day," said Richard Bermingham, chairman of Bermingham Investment Co., a longtime friend who met Cushman through the Young Presidents' Organization, which provides networking opportunities for young chief executives and business leaders.
"We were once playing golf in the desert and he asked for a ride home to Pasadena," Bermingham recalled. "I said, 'Yes, but you will have to sit in the back and I will listen to a book on tape while you're on the phone.' He promised me, 'This time will be different,' and an hour and a half later he was still on the phone."
Son Jeff, the one who heads Cushman & Wakefield's Silicon Valley office, said his earliest memories of his father involve him glued to the receiver.
"I remember listening to him doing deals on a Saturday or Sunday, and then he would grab us and we'd go bombing off to some store to get something to fix something, and then when we were back home he'd hit the phones again," he said.
Now that Jeff is a part of the business, he is frequently the one on the other end of the line.
When Cushman took a call from his son during a recent interview his tone was no different than in it was on any of the other five calls with nonfamily members he took during a recent visit.
And when he hung up moments later he returned to the story he was telling exactly where he left off.
Cushman is fond of telling long stories, weaving one into another and back around again in an even, oratorical tone, as if he is reading off an invisible prompter. He makes eye contact, but does not hold it for too long. After countless graduation and keynote speeches, it is clear that he is accustomed to being listened to.
"John is never at a loss for words," said Puget. "Back in the days when Atlantic Richfield was one of John's best clients, this guy Paul Schneider, who was running real estate for the company, made the observation that asking John Cushman a question is like taking a drink out of a fire hose."
Arriving for an interview direct from a flight back from a Boys Scouts of America board meeting in Dallas, Cushman showed no effects of jetlag. Asked where he spends the most time, he pointed to the sky.
"I live in the air," he said. "I have a plane in a hangar and I go where I have to go. In 3.5 hours I can get from Miami to Alaska."
He responds to emails from his iPad through the plane's satellite Internet hookup while crossing time zones.
Staying busy
Over two weeks in February, he said, he met with a developer on a major project in Anaheim, flew to Cabo San Lucas to discuss the National Parks Foundation's Centennial campaign, flew to the Palm Desert area for a dinner with the head of the National Parks Service and then to Houston for a surprise birthday party for Cushman and Wakefield's top producer in America. From there, it was back to California to attend a Callaway Golf Co. board meeting in Carlsbad, and then meet with the head of "one of the biggest utilities in America."
In the time between these calendared events, from the back of a car on the way to his plane or in the lobby of the hotel where he is waiting to attend a conference, Cushman will be in his element: on the phone, dealmaking.
"Is this place just a rich man's ranch?" he said into the receiver during a visit. "It's not a real ranch. Nobody is going to make any money on this property as a ranch with cattle. What is it, 40 acres or something? But it is a lifestyle. What is it worth in a range?"
Cushman paused briefly.
"So we can't sell it for 50 million. But we'll have a heyday, a shooting match with buyers. This is going to be a real deal."
Deep connections
Cushman maintains that his success is the result of a mix of hard work and good luck. He also acknowledges knowing the right people.
"I built my career off of relationships," he said. "That helps in deals, that I was a friend of somebody."
He has served on the boards of 14 public companies, plus a handful of civic and governmental boards, including the board of the California Region I Homeland Security Advisory Council and the California Commission for Jobs and Economic Growth. He remains on the board at Callaway Golf and of Zaca Mesa Winery, a vineyard in the Santa Ynez Valley his family has owned for 41 years.
"When I know John Cushman is involved and we are direct competitors, we bring our A game because John has deep connections dating back to Young Presidents' Organization and deep relationships with board members in Southern California," CBRE's Horne said. "When he comes, he's not afraid to lean on those relationships, so we make sure we are ready."
Cushman's most deliberate effort to foster alliances with powerful people is an annual retreat – attended by billionaires, politicians and real estate honchos alike – that he has held at his Twin Creek Ranch in Idaho for more than 20 years.
Three days of activities and daily roundtable discussions follow a keynote speech, which in the past has been delivered by Gates; Rex Tillerson, chief executive of Exxon Mobil Corp.; and former Vice President Dick Cheney. Former New York Mayor Rudy Giuliani is slotted as the keynote speaker at this year's event, scheduled for September.
"I get the top real estate people to come," Cushman said, adding that he and his assistant, Roberta "Bobbi" Mathies, who has been with him for 38 years, plan the retreat themselves.
The retreat follows the same pattern each year: Guests arrive on a Tuesday for lunch and stay until Friday morning, coming in from all corners of the world. For three days, guests are subject to Cushman's three-activities-a-day rule.
"I like to play golf, jump on a horse and go fly-fishing," he said. "I could fly-fish for nine hours."
The retreat also features activities including pheasant shooting, canoeing and hiking.
"Then we have cocktails at night, three musical acts, dinner and the entire time people are talking business," Cushman said.
It's one thing to get the opportunity to hobnob with the rich and powerful, quite another to be their host. Cushman said the retreat has been instrumental to his success in connection-building, with deals often born on the 2,000-acre property.
Last year's Cushman & Wakefield retreat was attended by the likes of Dennis H. Friedrich, chief executive of Brookfield Office Properties; R. Scott Dennis, chief executive of Invesco Real Estate; Kevin T. Hanson, senior vice president of LNR Partners; and Richard C. Henderson, executive vice president of Wells Fargo.
"The setting was absolutely spectacular," said Gates, who delivered the keynote speech. "John and I and two other men went canoeing on the Teton River. We encountered a moose, which left us alone and we left it alone. It was an opportunity to talk about a lot of things and get better acquainted."
Guiding force
In addition to making connections for himself, Cushman is credited with being a mentor to "literally hundreds" of people coming up in the real estate industry, Horne said.
One of the things Cushman teaches those who look up to him, and repeats often when he speaks at conferences, is that it is important to know the intricacies of each market.
"The only way you can really understand commercial real estate is be a sponge for information on the micromarkets," Cushman said. "You have to understand the difference between one street and the next. People always want to generalize. How is the real estate market in America? That's a gigantic question, impossible to answer. All these cities have their own peculiarities. And you can really get hurt in real estate if you go there and you don't know exactly what is happening. You'll get beat up."
For reprint and licensing requests for this article, CLICK HERE.