Going Distance
health care: Telehealth firms hope to go far by allowing doctors to treat patients remotely using smart devices.
Monday, March 16, 2015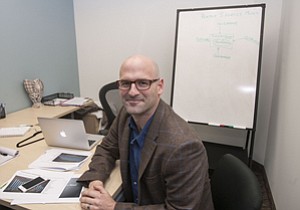 Say you have high blood pressure and your doctor tells you to check it once a day, record the stats and bring them to your follow-up appointment next month. But there's only a 50-50 chance you'll actually do that homework.
That disconnect between doctor and patient was part of the reason Eric Schames founded Opus Telehealth. While running a medical billing, collections and practice management company, he saw doctors giving patients glucose and blood-pressure monitor equipment, asking them to log the data and bring it back. But many forgot to hand in their homework or even do it in the first place.
"A light bulb went off," Schames said. "Hey, put a wireless chip or remote on one of these devices, sync it up in the cloud and check in on them on a daily or weekly basis."
He teamed up with Jennifer White, a medical industry consultant who, like Schames, operated mostly in the workers' compensation space, and they started sketching out Opus last spring. The firm launched in September out of an L.A. office near Los Angeles International Airport and began monitoring the first of about 200 patients for physicians at the end of January.
Schames and White are among a growing number of entrepreneurs and physicians in the L.A. area who have been leveraging tablets, smartphones and other devices to practice telemedicine, the remote diagnosis and treatment of patients, and telehealth, which uses electronic information and telecommunications to support long-distance health care.
Opus is trying to take a slice of what in 2014, the latest data available, was a $310 million market for telehealth in the United States. The company deals predominantly with workers' compensation patients who have additional chronic diseases such as obesity, high blood pressure, diabetes and depression. Opus monitors the conditions through a software platform patients use on tablets and mobile devices provided by the company.
For example, after a thermometer, blood-pressure cuff or scale captures a patient's vitals, they are then wirelessly transmitted to Opus' system on a tablet and the data is uploaded to the cloud and accessed by their physician. If a patient fails to check in, the system alerts the user with a reminder.
If vitals look unusual, Opus has contracted with a call center of nurses who will contact the patient. Doctors can also use the system for two-way video conferencing with their patients.
Schames said Opus is in the process of enrolling a few hundred more users in California through a benefits administrator and a large self-insured company that has more than 100,000 employees nationwide.
Opus either bills physician clients monthly for each patient using the service, or for individual services if they are contracted on an a la carte basis. Rates vary depending on the service and volume provided, and Schames would only say it costs less than $100 per patient each day, though it could be substantially less depending on volume of patients and the magnitude of services being used.
Teledoctor
The growth of telehealth has been aided by Medicare's decision to allow reimbursement for various aspects of it and telemedicine has been helped by state legislation enacted a few years ago that eased restrictions on its practice.
Molina Healthcare Inc. of Long Beach has been rolling out telemedicine coverage in some of its markets, helping limit unnecessary visits to the emergency room for simple ailments like colds or sinus infections, said Dr. Irene Krokos, Molina's senior regional medical director.
"Those visits raise costs and increase wait time for E.R. visitors too," Krokos explained. "Access to telemedicine care is key in helping bend the cost curve."
Telemedicine, said Dr. Pedram Salimpour, president of the Los Angeles County Medical Association, is a perfect complement to the doctor-patient relationship. Salimpour, a pediatrician, noted the service can save time when a patient needs to see a doctor for a routine issue that can be handled remotely.
"That time can be freed up for the patients who do need it," Salimpour said.
It can also allow doctors a more flexible schedule, said Dr. Noah Craft, a Torrance dermatologist who treats some of his patients over the Internet on a platform developed by Direct Dermatology of Modesto.
"You can do these consults in the middle of the night," said Craft, who's also a professor of dermatology at UCLA's David Geffen School of Medicine. "I've done them at 37,000 feet in the air and in foreign countries. It's a way to extend professional impact in a flexible way."
Though some physicians may not want to be more beholden to their smartphones, Craft said he likes the increased access a patient has to him.
"The overarching benefit is that it increases communication with patients, and a lot of doctors like that," he said, noting Direct Dermatology has a backup team of doctors, allowing him to disconnect when necessary.
Craft's Direct Dermatology patients have run the gamut from Californians covered by Medi-Cal in more rural parts of the state through clinics to direct-to-consumer patients at home who want to check a mole.
"You send us a consult directly," Craft said. "We diagnose, advise and prescribe to a pharmacy without meeting you. That's growing quickly."
Lowering costs
Craft, a clinical researcher, started his own telemedicine firm last year called Science 37. Based in Palms, it recruits and manages clinical trial participants remotely via a mobile application.
The company built software to enroll patients from their homes and ship drugs to them.
"If they need blood drawn or an infusion, we can send a mobile nurse to their home as well," Craft said. He added that any portion of a trial handled with this kind of telemedicine is still regulated by the Food and Drug Administration and an independent agency that monitors studies. Additionally, nurses already visit patients' homes to draw blood and infuse medications.
He said one of biggest hurdles to building a telemedicine company are the legal requirements.
"In every state, it's totally different," Craft explained. "The amount of capital invested in attorneys to understand legal structure and what you can and can't do is incredible. But once you know that and understand, it allows you to scale."
That is part of the reason Michael Yedidsion founded OnD Lab in 2009. The West L.A. company provides patients with a mobile health care delivery platform that collects vitals such as blood glucose, pressure and temperature, before transferring it to a server so doctors can access real-time data.
Yedidsion, who had run a home respiratory service since 1992, started OnD after having to contract with a company across the country to do in-home oxygen tests for its clients.
"Nationally, there were just a handful," Yedidsion said. "That's when I decided to collect engineers and talk about how we could do this on own our own."
It took three and a half years to develop the platform and more than $5 million from Yedidsion and a medical venture capital investor. Today, Yedidsion said that OnD contracts with physicians and payers serving more than 100,000 users throughout the country. It charges between $10 and $40 per patient per month depending on how much equipment is involved.
One challenge is keeping up with different patients' needs as they're added to the platform.
"You really have to be flexible in reworking your engineering continually," Yedidsion said. "I thought we were done a couple years ago, but on a daily basis you're tweaking programming to make sure you keep up with what the insurer wants and how the patient reacts to different protocols. It's time-consuming and costly."
But he doesn't regret jumping into telehealth.
"It's a good segment to go into," he said. "We knew we'd be somewhat unique and we still are."
For reprint and licensing requests for this article, CLICK HERE.