Going Distance
health care: Telehealth firms hope to go far by allowing doctors to treat patients remotely using smart devices.
Monday, March 16, 2015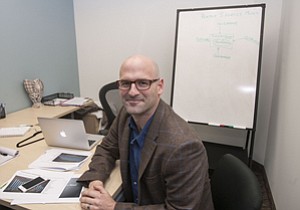 Say you have high blood pressure and your doctor tells you to check it once a day, record the stats and bring them to your follow-up appointment next month. But there's only a 50-50 chance you'll actually do that homework.
That disconnect between doctor and patient was part of the reason Eric Schames founded Opus Telehealth. While running a medical billing, collections and practice management company, he saw doctors giving patients glucose and blood-pressure monitor equipment, asking them to log the data and bring it back. But many forgot to hand in their homework or even do it in the first place.
"A light bulb went off," Schames said. "Hey, put a wireless chip or remote on one of these devices, sync it up in the cloud and check in on them on a daily or weekly basis."
He teamed up with Jennifer White, a medical industry consultant who, like Schames, operated mostly in the workers' compensation space, and they started sketching out Opus last spring. The firm launched in September out of an L.A. office near Los Angeles International Airport and began monitoring the first of about 200 patients for physicians at the end of January.
Schames and White are among a growing number of entrepreneurs and physicians in the L.A. area who have been leveraging tablets, smartphones and other devices to practice telemedicine, the remote diagnosis and treatment of patients, and telehealth, which uses electronic information and telecommunications to support long-distance health care.
Opus is trying to take a slice of what in 2014, the latest data available, was a $310 million market for telehealth in the United States. The company deals predominantly with workers' compensation patients who have additional chronic diseases such as obesity, high blood pressure, diabetes and depression. Opus monitors the conditions through a software platform patients use on tablets and mobile devices provided by the company.
For example, after a thermometer, blood-pressure cuff or scale captures a patient's vitals, they are then wirelessly transmitted to Opus' system on a tablet and the data is uploaded to the cloud and accessed by their physician. If a patient fails to check in, the system alerts the user with a reminder.
If vitals look unusual, Opus has contracted with a call center of nurses who will contact the patient. Doctors can also use the system for two-way video conferencing with their patients.
Schames said Opus is in the process of enrolling a few hundred more users in California through a benefits administrator and a large self-insured company that has more than 100,000 employees nationwide.
Prev Next
For reprint and licensing requests for this article, CLICK HERE.