Family Feud Could Sink Fishery
FOOD: Sibling fight over business pushes State Fish into Chapter 11.
Monday, March 9, 2015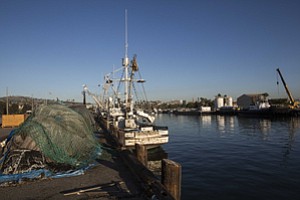 The DeLuca siblings inherited a boatload of heartache.
Heirs to State Fish Co. Inc., a once-thriving San Pedro fish-processing business, their relationship devolved into an avalanche of litigation after the death of their father, Sam, in 2002. Now, as a brother fights his sisters and allegations of theft and misappropriation of company money have been hurled, 83-year-old State Fish has been forced into bankruptcy.
Members of the family aren't talking about the acrimonious split. But it pits John DeLuca and his uncle Fred DiBernardo against DeLuca's sisters, Vanessa DeLuca, Roseann DeLuca and Janet Esposito, and the repercussions have been felt across the dockside community.
"It breaks my heart. They've just been around so long," said Elise Swanson, chief executive of the San Pedro Chamber of Commerce. "If you're in this harbor area, you definitely know State Fish. It's a very close-knit community."
Mounting pressure from the ongoing costs of litigation between the siblings, coupled with declining revenue as the supply of fish dwindles, drove State Fish and its subsidiary Calpack Foods to file for Chapter 11 protection in late January.
The tension among the siblings has its roots in a 1991 decision by Sam DeLuca and his wife, Rose, who died in 2012, to transfer a processing facility the family owned to their son, John DeLuca.
Rose DeLuca, who had already gifted other property to her daughters, said in court testimony she wanted her son to have the income from the property. She was concerned because her son's marriage was falling apart and she wanted to ensure that he and his children would be taken care of.
It was a decision that would lead to a massive feud that ultimately tore the family apart.
State Fish was the tenant in the building, and shortly after his father died, John DeLuca, who had taken over day-to-day operations as president of the company, sought to raise the rent by more than 50 percent, to $46,800 a month. His mother, then chief executive and majority shareholder at State Fish, argued the increase was not justified and that she never intended to give him the power to raise the rent.
The disagreement landed in Los Angeles Superior Court in 2006. After a three-year battle, the trial court ruled in State Fish's favor, saying John DeLuca did not act in the best interest of the corporation he helped run as he sought to increase rent. That decision, however, was overturned on appeal in 2011. State Fish moved out of the facility the following year.
In 2006, in the midst of the fight over the property, John DeLuca left the family business to form a competitor, J. DeLuca Fish Co. Inc., housed a few doors away. He still holds an 11 percent stake in State Fish, according to court records.
Generational divide
State Fish grew out of a small fish shop Sam DeLuca and his brothers, Jack and Frank, opened in 1932. By 1946, Sam DeLuca had taken over management of the business. He expanded it to add real estate to its portfolio on its way to becoming a larger packager and wholesaler of squid, mackerel, sardines, bonito and anchovies.
For years, State Fish's core business was in buying, processing and freezing the fresh catch from local boats – the "wet fish" business. Longshoremen unloaded tons of seafood daily at its San Pedro headquarters, a Spanish-style building nestled against the main channel of the Port of Los Angeles.
About a half-dozen other fish companies also lease space in the building, where a fleet of refrigerated semis waits along the opposite side of the building. From there, fish is moved to nearby facilities, where it is frozen and stored before being sold to grocery stores and fish dealers.
State Fish is still in that business, but the traditional model has proved to be far less lucrative than years past. The wet fish business generated about $12 million in revenue for the company last year, down from $24 million the year before and $48 million in 2012, according to court documents.
"That used to be the biggest division but it has shrunk down to 20 or 25 percent of revenue," said George Blanco, who was hired by State Fish as chief restructuring officer days before it filed for bankruptcy protection.
The decline in the wet fish business has come as fish stocks have declined and competition has grown. State Fish responded by ramping up efforts to diversify its revenue streams, creating Calpack in 2012 to produce custom food and beverage products, including fresh juices, dips, salad dressings and sauces.
While the company has nearly $35 million in assets, court documents show its wet fish component of the business is spiraling down and accounted for an $8 million loss last year alone.
Blanco said State Fish could sell some of its key wet fish assets, like its freezing facility in Wilmington and an offloading dock in San Pedro, or it might end up selling the entire business.
Despite the decline in the supply of fish, the industry remains an economic powerhouse in San Pedro, said Jack Baric, who was born and raised there and has produced a documentary about the community.
"In modern-day San Pedro, everyone knows somebody, whether they're a cousin or in my case my father, who works in the industry," he said. "The analogy would be if you went to Iowa, and you'd see all the families who farm."
Large facilities and blast-freezing equipment, which quickly freezes fish, are among the most valuable assets for fish companies like State Fish. And so the fight over the Wilmington processing plant gifted to John DeLuca prompted the first legal battle within the family.
Had the company only had to face pressure from declining catches, it might have avoided bankruptcy. But in spreading assets among his children, Sam DeLuca might have sown the seeds of its current trouble.
As generations pass, heirs to family-owned businesses often disagree on how to operate a company, said Bill Capps, chairman of the corporate practice in the Century City office of law firm Jeffer Mangels Butler & Mitchell.
"If you took a look at some very large businesses in Southern California, you'll find brothers fighting with brothers and cousins fighting with cousins," he said. "It's just the fact of life for many family businesses."
The force behind many disputes, he said, can be traced back to unmatched expectations. In many cases, family members squabble over compensation or whether to sell a business.
Many families sign shareholder agreements that outline allocation of power and contributions required to help avoid conflict, but Capps said that doesn't always work. He advises his clients to create a succession plan that would transfer ownership to a family member who's passionate about the company, intelligent enough to understand the finances and physically able to work.

Trading charges
"Litigation is a big distraction for any business," said Blanco, the chief restructuring officer.
"Part of it is just a distraction and not being able to focus, but it's not just one factor. New entrants into the market have also made it more challenging at the same time," he added.
The fight has done more than drive a wedge between the siblings – it has removed DeLuca family members from control of the business for the first time.
State Fish last year appointed two outside directors, Mark Stolper and Kirk Waldron, to serve on its board. Stolper, executive vice president and chief financial officer of West L.A. radiology company Radnet Inc., and Waldron, chief financial officer at Gardena electronics manufacturing service company Qual-Pro Corp., did not return calls seeking comment.
And in recent weeks, each of the DeLuca sisters resigned from their executive positions with the company, handing over day-to-day management to Blanco, managing director of Avant Advisory Group in downtown Los Angeles.
Their departure came in the wake of John DeLuca's accusation that his sisters were bankrolling their personal legal fees with State Fish money. A Superior Court judge last year found there was enough evidence to show the sisters used company funds "as a personal piggybank" to finance their personal legal expenses and was poised to remove them from their executive positions when their resignations were offered. Vanessa DeLuca, the former chief executive, said in a court document her resignation in January was in the best interest of State Fish and Calpack.
"This distances the (companies) from the cost and distraction of the shareholder litigation, which is negatively impacting the (companies') financial and operating performance," she said.
For their part, the sisters alleged that their brother had taken company secrets with him when he and his uncle formed J. DeLuca Fish nine years ago. The court rebuffed that claim in January, ruling there was insufficient evidence to prove documents had been stolen.
For all the testimony and discovery associated with the litigation, a true mystery linked to the dispute remains.
Jeffrey A. Tidus, a prominent Palos Verdes attorney who represented DiBernardo and John DeLuca shortly after they split to form their own business, was fatally shot in December 2009 in what remains an unsolved murder.
He was found in his front yard, a few hours after meeting with DiBernardo about the ongoing case.
The Los Angeles County Board of Supervisors last month extended a $10,000 reward for information on the incident, which Detective Joe Espino, the case's lead investigator in the Los Angeles County Sheriff's Department, said is still being investigated.
"It's certainly not a closed case or a cold case by any means," he said.
For reprint and licensing requests for this article, CLICK HERE.