Situation Looking Up for Buyers of Mountaintop
REAL ESTATE: Court ruling may clear way for megamansions at site.
Monday, March 2, 2015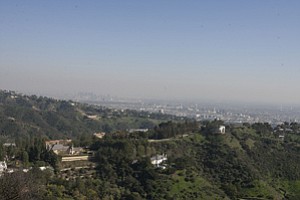 Behind a 16,000-pound gate, a perfectly paved road winds through 157 acres of lush land with spectacular views that stretch from downtown Los Angeles to the ocean. The site, atop the hills between Benedict and Coldwater canyons, is among the last large undeveloped plot in the area.
That could soon change. The co-owners of the property, Charles "Chip" Dickens and Victorino Noval, cleared a major hurdle last week in their effort to build six estate homes atop the mountain at the end of Tower Grove Drive near Beverly Hills.
A decision by a bankruptcy court judge affirmed a deal over the disputed debt on the property, a ruling that could mark the end of a long-running battle between Dickens and Noval's Tower Park Properties, which bought the site in 2004 for $24 million from the estate of Herbalife founder Mark Hughes, and Alexander Hughes, the 23-year-old son of the company founder. The sole beneficiary of the $400 million Hughes estate, Alexander Hughes has been fighting the sale approved by the trustees for the last six years.
Taken as a whole, the property, dubbed Vineyard Beverly Hills, is now said to be worth more than $1 billion. But Dickens and Noval seem to be sticking to a plan to build six homes on the site, each mansion likely priced at more than $100 million.
Jeff Hyland, president of residential brokerage Hilton & Hyland in Beverly Hills, has an exclusive contract to sell the homes. He said the developers are finalizing contracts with architects and that construction is likely still about a year away. Within the next month or so, he said, a private vineyard will be planted for future residents to share.
"It will probably be the best and most exclusive subdivision built in the country," Hyland said.
At least on paper.
Despite a ruling last week that appeared to signal an end of the litigation, Eric V. Rowen, co-chair of the real estate litigation practice at Greenberg Traurig representing Hughes, vowed to press on.
"It's not over, and we think the bankruptcy court's decision is a travesty," he said.
Rowen has argued that the sale to Noval and Dickens was botched by the estate's trustees at the time, claiming they failed to act in the trust's best interests.
Court records show various trust-owned entities loaned Tower Park $50.3 million to help finance the sale and future construction. Tower Park defaulted on the loans shortly after the sale closed, and, with interest, the debt ballooned to about $80 million. The Hughes trustees, however, reduced that amount to $58 million in 2013.
Prev Next
For reprint and licensing requests for this article, CLICK HERE.