Lots of Sales
AUTOMOTIVE: Dealerships' margins have taken back seat as incentives, low interest rates have revved up business.
Monday, June 29, 2015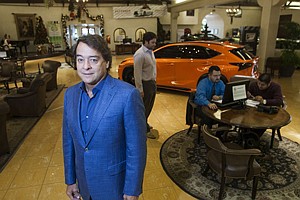 U.S. auto sales last month raced to their highest number in a decade, but L.A.'s car dealers say it's a checkered victory.
Aggressive manufacturer incentives and rock-bottom interest rates might draw customers to the showroom, but they've whittled down the margins that dealers can get on car sales. And as carmakers continue to improve quality – and customers take shorter-term leases – there are fewer opportunities for dealerships to score profits from repairs and services.
"Volume and sales are going up, and we're seeing that in our markets especially," said Victoria Rusnak, chief executive of Pasadena's Rusnak Group, operator of 15 Southern California dealerships. "But the thing that has to be balanced against that is the compression in margins on a lot of new-car sales."
According to data from Woodcliff Lake, N.J., industry research firm Autodata Corp., U.S. dealerships in May were on pace to sell 17.8 million new cars this year, the highest mark since July 2005. May figures aren't out yet for Los Angeles, but April data from the Greater Los Angeles New Car Dealers Association showed a 13 percent jump in sales compared with a year ago and an 11 percent increase through the first four months of the year over the same period in 2014.
But the top line can be deceiving. Mike Sullivan, owner of dealership group L.A. Car Guy, said despite booming sales he's "down to grocery store margins."
"There's nothing in my business that's not under pressure," he said.
That's forced many dealers to build around areas where they can find profitable business lines.
Victoria Rusnak is more positive than most, but some of that might be due to one of her bigger advantages: Her company sells high-end cars, which have more lucrative margins. With wealthier Angelenos benefiting disproportionately from the stock market recovery, she's not at a loss for BMW and Mercedes customers.
Also, as luxury customers are more likely to pay more for better service, Rusnak has been redeploying some of her resources in that direction, investing in better customer service and creature comforts to try to give her dealerships an advantage.
"Our goal is to build value in not only the vehicle but in the service and support that comes around that in order to maintain some kind of margin," she said.
But even that isn't as reliable a line of business as it used to be, as cars across the board need less service than they once did, said Sullivan.
"We're building dramatically better cars," he said. "Someone with a 24- or 30-month lease only gets to see me twice in a cycle. If he has an issue, we're going to handle it, but he probably doesn't have an issue."
Rusnak has also gotten a lifeline from the firehose of Chinese money flowing into Los Angeles. Last year, Rusnak told the Business Journal that Chinese customers made up about half of the sales at her luxury dealerships and that business has become even more important since.
Warren Browne, an auto industry consultant from Northville, Mich. and former president of General Motors Co.'s Russian division, said U.S. auto dealerships should be on pace to sell 16.6 million cars this year, based on the nation's economic growth, unemployment and other factors. But sales are ahead of that pace – by more than 1 million cars – thanks to incentives alone, which Browne said calls into question the sustainability of this kind of growth.
"Some people in the media are getting excited that we're going to be going back to the old days," Browne said. "But General Motors went broke in the old days giving (cars) away."
But this party is unlikely to go on indefinitely. Browne pointed out that last year car sales rose nationally for the fourth straight year. Since 1960, they've never gone up five years in a row, but Sullivan said that's sure to happen this year – which is why he's worried about a hard landing.
Browne said it's simply not in automakers' DNA to hit the brakes until it's too late and they start bleeding money.
"My view is the manufacturer is going eat those incentives when interest rates go up," he said. "Nobody's blinking here."
Sullivan agrees.
"I don't want to sound depressed – it's a pretty damn good market – but something here is going to give," he said.
A correction in the auto market could be bad news for more than just the automakers. The low interest rates that Browne says are helping to artificially inflate car sales might also be making banks more aggressive in car lending. America has seen what happens when commercial banks chase a hot asset in the name of returns.
There have long been auto-title lenders willing to lend to cash-strapped, credit-challenged borrowers at generally exorbitant rates. But now commercial banks are accommodating folks who want to use their car as a piggy bank. Pittsburgh's PNC Bank is offering a cash-out auto loan, in which borrowers can refinance their cars through the bank and pull some money out, effectively using the leftover equity in the car as collateral for the cash advance.
A PNC spokeswoman said the cash-out loans are not proactively marketed and are largely an accommodation to existing clients, making up less than one half of 1 percent of the bank's total outstanding auto loans. She also said they are only issued to borrowers with strong credit scores – which is decidedly not the market auto title loans are intended for.
Still, that doesn't reassure Browne, who said using a depreciating asset as collateral sounds alarm bells in his mind.
"Break the glass and pull the ring," he said.
For reprint and licensing requests for this article, CLICK HERE.