Online Video Firm Looks To Connect in Singapore
INTERNET: Maker holds overseas boot camp to link with tech-savvy youth.
Originally published June 22, 2015 at midnight, updated June 23, 2015 at 11:43 a.m.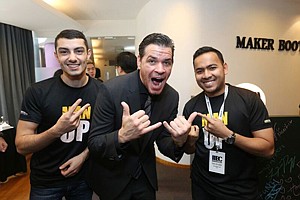 In late May, dozens of teens and twentysomethings came together for Disney-owned Maker Studios' first-ever creator "boot camp," to learn the ins and outs of how to make compelling YouTube videos from some of the company's brightest stars.
But this two-day workshop did not take place at the online media company's Culver City headquarters, nor did it take place on the Walt Disney Co. studio lot in Burbank or anywhere else in the United States for that matter.
Rather, the boot camp happened in Singapore, an Asian financial hub that represents a significant business opportunity for Maker and others in the digital entertainment world who are hoping that country's smartphone-wielding young people plugged in to its lightning-fast Internet will both make and consume online content in the future.
"We think there's a lot of growth potential." said Courtney Holt, Maker's chief strategy officer, regarding Singapore and the larger Southeast Asian market. The multiplatform entertainment network has had an office there since late 2013.
"There's a large amount of mobile video consumption. It made sense to be active in that market," Holt added.
In Singapore, which has the 12th-fastest Internet in the world (the United States has the 16th), 87 percent of the population owns a smartphone, according to analyst Media Partners Asia.
According to Nielsen Co. data released in September, online video consumption is high across Southeast Asia, with the majority of digital consumers watching videos at least weekly.
That opportunity could be particularly appealing to Maker management. Disney bought the company in March of last year for $500 million in cash, but the deal could reach close to $1 billion depending on Maker's performance and growth.
YouTube 101
The boot camp featured panel discussions and hands-on workshops designed to help creators make more compelling videos, promote their content via social media and build a strong brand to attract a fan base.
Applicants were asked to submit videos representing the theme "Best Day of My Life" and describe a previous experience or imagined ideal day. More than a hundred applications were reviewed for 30 available slots. Winners were selected based on creativity and quality.
On the final day of the event, the participants and instructors produced videos together in different parts of the city.
"Walking around with some of the YouTube talent in Singapore, I was blown away by how much we got stopped and recognized in the streets," said Sam Macaroni, one of the Maker stars who traveled to Singapore to help lead the boot camp.
One of the attendees was 28-year-old Jyoti Singh, a native of Bangalore, India, who now lives in Singapore and makes YouTube videos under the moniker "SuperPrincessjo." Her clips feature makeup and beauty tips geared toward Southeast Asian women.
Singh said she learned ways to boost viewership and increase the earnings potential of her channel.
"It was definitely very valuable," she said in an email. "YouTube and online content are just booming in Asia. Singapore has the greatest potential … because of the talent and fast Internet."
Gateway to Asia
From a digital content perspective, the country makes sense for several other reasons, said Eunice Shin, a business development and strategy executive at West L.A. consultancy Manatt Digital Media.
First, about 80 percent of Singapore's 5.5 million residents speak English, which is useful when creating content designed to be viewed by as many people as possible. Another reason for Singapore's popularity, said Shin, is that the country boasts a large number of millennials. That ties into the third, and perhaps most important factor of all: appealing to multinational corporations that pay for stars to feature their products in videos.
While networks such as Maker typically give creators anywhere from 50 percent to 80 percent of YouTube ad revenue, branded content often represents a much more lucrative income stream for both parties.
"Maker and everyone else goes where the brands want them to go, because that's where their money comes from," said Shin. "The value that these companies have to brands is to be able to say, 'We have tremendous reach across millennial audiences.'"
While Hong Kong is another popular base in Asia for global companies, the fact that YouTube is blocked in mainland China probably makes that location unappealing for Maker and others.
While South Korea is home to the fastest Internet in the world and a population that devours online videos and games, its residents don't speak English with nearly the same proficiency as Singaporeans, said Shin.
"Everybody's talking about Singapore," said Drew Baldwin, founder of Tubefilter Inc., a site that covers the online entertainment market. "Singapore is really a gateway to Asia because it's regarded as the most Westernized city."
For reprint and licensing requests for this article, CLICK HERE.