Building Blocks
ARCHITECTURE: Frank Gehry discusses how his blueprint for success includes low-cost industrial materials, chain-link fences.
Monday, June 22, 2015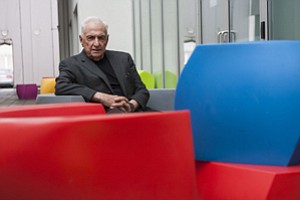 Architect Frank Gehry's industry-changing career took off after he remodeled what became his Santa Monica home with industrial materials and a chain-link fence in 1978 to show beauty in the utilitarian. From there, Gehry went on to design a series of striking buildings that earned him the revered Pritzker Architecture Prize in 1989. Despite accolades within the architectural community, he didn't become a household name until 1997 with the opening of the Guggenheim Bilbao in Spain and, five years later, downtown L.A.'s Walt Disney Concert Hall. He will receive the third annual J. Paul Getty Medal, established to honor leaders in the fields in which the J. Paul Getty Trust supports, in September. The Toronto-born architect, a fan of sailing and live jazz, explained in a recent interview with the Business Journal at the Playa Vista office of Gehry Partners how he's kept beauty in architecture through old and new projects.
Question: When you get new commissions, is there pressure from the client to do something different or more innovative?
Answer: I'm always pushing myself to do something that's not like what I did last time. And new clients always bring a new perspective. When you work with clients and listen to them like I do, and spend time with them and make the building really for them, it does turn out to be different.
Along those lines, you just designed a boat, your first. How did that come about?
Richard Cohen, the owner, is an old friend and former client, and now he's a new client. He called me one day and said, "I know you're a sailor and I'd like to build a sailboat and would you be interested?" I said, "Yeah, I would." He hired Germán Frers, the Argentinian boat designer. I'm the decorator, but I directed him. I wanted a flat top, no bump-ups. If you're going to race it, it's great to have a flat top and it looks beautiful on the sea.
What had you designed for him previously?
We did a building for him in the '80s at the corner of Massachusetts Avenue and Newbury Street in Boston. It was an existing building and we added a floor at the top and it won some big award in Boston, which was strange because Boston has a very conservative architectural persona. So when that group heard I was designing it, they panicked. But when it was built, they gave me an award.
Prev Next
For reprint and licensing requests for this article, CLICK HERE.
Stories You May Also Be Interested In