Solar Farm Heats Up Prospects for Job Program
ENERGY: 8minutenergy project may generate work for Homeboy graduates.
Monday, June 15, 2015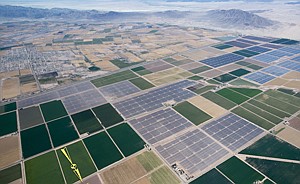 In August, Mid-Wilshire solar power developer 8minutenergy Renewables will begin construction on an $800 million solar power farm, dubbed Springbok, in Kern County, an installation that will provide electricity to about 1 million Los Angeles Department of Water and Power customers.
Not only will the 150-megawatt Springbok project help the city-owned utility meet a goal of obtaining 33 percent of its energy from renewable sources by 2020, the facility will also provide jobs to dozens of formerly incarcerated men and women who participated in Homeboy Industries' four-month solar panel installation training and certification program in conjunction with East Los Angeles Skills Center.
Tom Buttgenbach, president of 8minutenergy, said perhaps 40 or more of the program's graduates could be hired to work on the project over the course of the next year and beyond, pending Los Angeles City Council approval of the final two phases of construction.
"That's a very realistic number," said Thaddeus Skiles, an employment counselor at Homeboy who heads the solar training program.
Each of the workers, Buttgenbach added, can expect to earn between $12 and $16 an hour performing entry-level solar construction work.
But their job prospects won't end there.
Through an arrangement among 8minutenergy, Homeboy and the International Brotherhood of Electrical Workers, graduates of Homeboy's program will be hired as IBEW electrical trainees for work on the Springbok project and others in the pipeline.
Once their work on the project is completed to 8minutenergy's satisfaction, the company will provide each worker with a letter of recommendation for entry into the union's five-year apprentice program to train for a career as an electrician, which can deliver a wage around $50 an hour upon completion.
"They're automatically in the program if they perform well," Buttgenbach said.
In an initial partnership, about a dozen Homeboy graduates worked on the first phase of a Mount Signal solar project developed by 8minutenergy near the Mexico border for San Diego Gas & Electric. That project was completed in May 2014 and is touted as one of the world's largest solar farms.
A long commute limited the number of participants in that project, and while the Springbok project isn't exactly around the corner, its location 70 miles north of Los Angeles is expected to draw more interest.
Buttgenbach said he was impressed with the quality of work exhibit by Homeboy graduates the first time around and he looks forward to growing their ranks on future solar projects.
"The Homeboy guys and gals are all doing really well," he said. "They have the right attitude and they show up on time."
Moderating Media
TaskUs co-founders Bryce Maddock and Jaspar Weir have carved a unique niche in the L.A. tech scene. After bootstrapping operations for more than six years, the two have finally taken in outside investment, raising $15 million from Filipino private equity firm Navegar last week.
Though their Santa Monica outsourcing firm is not really a tech company itself, its services have proved valuable for a number of local startups that need to staff up quickly during periods of rapid growth.
Take Dollar Shave Club. When the Santa Monica men's razor etailer released its first commercial on YouTube in 2012, which subsequently went viral, Chief Executive Michael Dubin needed help dealing a the massive flood of customer inquiries and turned to TaskUs.
"I was at South by Southwest, and I got a phone call from Michael," recalled Maddock, who said Dubin told him he needed help across all departments, but one in particular.
"Do you have anyone who can pack razors?" he recalled Dubin asking.
Maddock explained that his Filipino workforce typically handled customer service and office-type work rather than physical labor. So he quickly put together a team of 12 administrative staffers who worked for several weeks helping the company sift through and respond to a mountain of email.
"That weekend we staffed a team in the Philippines to deal with the breakout success," explained Maddock, TaskUs' chief executive.
But it's really the large number of content-related tech ventures in Los Angeles that have worked in TaskUs' favor, said one of the company's former clients.
"That's a bigger part of what they're doing in L.A.," said Thomas Swalla, former chief operating officer at Savings.com in West Los Angeles.
Though he's now president of StudyMode.com in West Hollywood, Swalla said his old company is still using TaskUs employees in its content operations division, where they categorize and polish copy on the website.
Other local companies that have hired TaskUs include West Hollywood dating app Tinder and Venice anonymous social media platform Whisper, which each use TaskUs employees to sort through enormous amounts of images and text posted to their apps every day in order to flag or remove inappropriate content.
All told, TaskUs has 14 clients in Los Angeles that employ roughly 340 of its Filipino workers. Since each arrangement is different, Maddock declined to say how much employees are paid.
"Anything that involves user-generated content or mass production of media can benefit from outsourcing," he said. "You have to put in some rules of the road so you don't offend the masses."
Staff reporter Omar Shamout can be reached at oshamout@labusinessjournal.com or (323) 549-5225, ext. 263.
For reprint and licensing requests for this article, CLICK HERE.