Largest Firm's Split Decisions
LAW: Some attorneys rule out future at megamerged Dentons.
Monday, June 15, 2015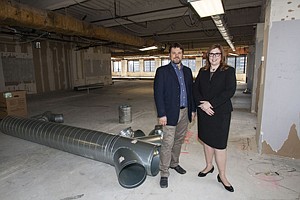 Once Dentons finalizes its mergers with McKenna Long & Aldridge and the Dacheng Law Offices in China, it will become the largest law firm on the planet, with roughly 6,600 attorneys in more than 50 countries.

But for some L.A. lawyers, there's little appeal in working at such a giant firm and McKenna has been hit with a flurry of departures in the weeks since its April announcement of the Dentons merger.
While the two deals have caused a rift in the local legal landscape, they've also opened the door for new entrants.
Withers Bergman snagged eight partners from McKenna's private client services group last month, prompting Withers to open three offices in California, including one in Century City.
Meanwhile, other McKenna lawyers have opted to jump ship and join competing firms with existing L.A. hubs. The largest group to move locally went to Pillsbury Winthrop Shaw Pittman last month. Pillsbury bolstered its downtown L.A. outpost with 14 McKenna lawyers, including eight partners.
But McKenna Chairman Jeff Haidet said the volume of departures seen locally and at his firm's other U.S. offices is on pace with projections he had when the firm announced the merger two months ago.
"There's not a big merger, especially at a law firm, where you don't have that kind of thing," Haidet said. "This is a transformational transaction. The nature of what we are as a firm has significantly changed. So when something like that happens, people will make an evaluation of how that fits in with their practice."
Each lawyer had his or her own reasons for moving, but several cited having little interest in being part of the world's largest law firm as a deciding factor. Among them was James Gallagher, who had served as co-chairman at McKenna before joining Pillsbury last month.
"The fact that it's the world's largest firm, with 7,000 lawyers – that, from my perspective, is not desirable" Gallagher said. "They didn't ask me (about the merger). If they asked, I would not have been in favor."
The primary reason for his departure, though, stems from Dentons' pending merger with the Chinese firm, said Gallagher, who represents U.S. government contractors. Dacheng does a lot of work with the Chinese government, which he said would not sit well with his clients.
"It makes (my clients) uncomfortable at a minimum," he said, adding that the volume of departures in recent weeks surpassed his expectations.
Prev Next
For reprint and licensing requests for this article, CLICK HERE.