Largest Firm's Split Decisions
LAW: Some attorneys rule out future at megamerged Dentons.
Monday, June 15, 2015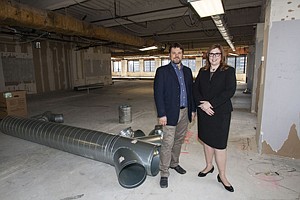 Once Dentons finalizes its mergers with McKenna Long & Aldridge and the Dacheng Law Offices in China, it will become the largest law firm on the planet, with roughly 6,600 attorneys in more than 50 countries.

But for some L.A. lawyers, there's little appeal in working at such a giant firm and McKenna has been hit with a flurry of departures in the weeks since its April announcement of the Dentons merger.
While the two deals have caused a rift in the local legal landscape, they've also opened the door for new entrants.
Withers Bergman snagged eight partners from McKenna's private client services group last month, prompting Withers to open three offices in California, including one in Century City.
Meanwhile, other McKenna lawyers have opted to jump ship and join competing firms with existing L.A. hubs. The largest group to move locally went to Pillsbury Winthrop Shaw Pittman last month. Pillsbury bolstered its downtown L.A. outpost with 14 McKenna lawyers, including eight partners.
But McKenna Chairman Jeff Haidet said the volume of departures seen locally and at his firm's other U.S. offices is on pace with projections he had when the firm announced the merger two months ago.
"There's not a big merger, especially at a law firm, where you don't have that kind of thing," Haidet said. "This is a transformational transaction. The nature of what we are as a firm has significantly changed. So when something like that happens, people will make an evaluation of how that fits in with their practice."
Each lawyer had his or her own reasons for moving, but several cited having little interest in being part of the world's largest law firm as a deciding factor. Among them was James Gallagher, who had served as co-chairman at McKenna before joining Pillsbury last month.
"The fact that it's the world's largest firm, with 7,000 lawyers – that, from my perspective, is not desirable" Gallagher said. "They didn't ask me (about the merger). If they asked, I would not have been in favor."
The primary reason for his departure, though, stems from Dentons' pending merger with the Chinese firm, said Gallagher, who represents U.S. government contractors. Dacheng does a lot of work with the Chinese government, which he said would not sit well with his clients.
"It makes (my clients) uncomfortable at a minimum," he said, adding that the volume of departures in recent weeks surpassed his expectations.
One of the biggest downsides to working at a giant global law firm is the vast potential for conflicts among clients, said Kathy Jorrie, former managing partner of McKenna's downtown L.A. office who also joined Pillsbury last month.
"In the world of law firms, you can't represent one client and sue another client," Jorrie said. "You have to be careful. … The law firm can't be on both sides of a transaction or both sides of litigation."
As a result, some lawyers might be tempted to move to a different firm rather than give up big clients.
On the flip side, a large global platform can be a huge advantage for lawyers in corporate and merger and acquisition practices. When a firm has offices in key foreign markets – such as the Middle East and China, for instance – Haidet said it tremendously benefits firms' business clients looking to expand into markets overseas.
Dentons has roots dating back to 1742. But it wasn't until 1990 that the firm opened its L.A. office in downtown. Today, it has about 2,600 attorneys spread throughout more than 75 locations. As of March, only 32 lawyers worked out of the downtown office.
Dentons' merger with Dacheng in Beijing – which is expected to be finalized before the end of this year – will more than double its global head count. Dacheng is among the largest law firms in China, boasting more than 4,000 attorneys worldwide, according to the firm's website.
After Dentons announced early this year that it would merge with Dacheng, it announced its deal McKenna. The latter merger will likely be completed before the more complicated Dacheng transaction.
McKenna, a Washington, D.C.-based firm that planted its flag in Los Angeles in 1980, has been plagued with problems for years, especially after it merged with Luce Forward Hamilton & Scripps in 2012, according to Larry Watanabe, a legal recruiter in Solana Beach.
McKenna last year ranked 42nd on the Business Journal's list of largest law firms in Los Angeles County, with 64 attorneys in its local practice. By late March, that head count had slipped to 43 and McKenna was down to No. 71. The latest round of departures would put the number of attorneys in its L.A. office at around 28, a 56 percent decline from last year's number.
The drastic decline, Watanabe said, is largely due to the unsuccessful melding of McKenna and Luce. Shortly after the two combined, profits began to slip sharply.
"When Luce merged with McKenna, there were a lot of partners who left. Frankly, they moved because they didn't want to be a part of a national law firm," he said. "Make no mistake about it … when Luce merged with McKenna, Luce needed to merge and when McKenna merged with Dentons, McKenna needed to merge."
'Great opportunity'
One group that's certainly not complaining about the recent transition is Withers, the law firm that just snagged a big chunk of former McKenna lawyers to open three offices in California.
David Stein, head of Withers' wealth planning group in New York, said he had been eyeing a major Golden State expansion ever since his firm opened its San Francisco office early last year.
"It was just a great opportunity for us to find this McKenna group that is not only at the highest caliber but also has a scale to it that makes it a real group coming in the door," Stein said. "We have critical mass right away. While you can grow bit by bit, it's much more effective to take on a cohesive and substantial group like this when you have the opportunity."

Withers launched its Century City office this month with Elizabeth Bawden and Michael Brophy as partners and Christine Steiner as counsel. Bawden is the sole McKenna attorney to make the move in Los Angeles; other former McKenna attorneys in the group are starting Withers' offices in San Diego and Rancho Santa Fe.
"It certainly was the announcement of the merger that prompted us to evaluate our opportunities," Bawden said. "Bigger can be better for a lot of things, and I believe my colleagues at McKenna who are remaining with the merging firms definitely see the opportunity that Dentons' size brings to their practice, but there are others of us who don't see the advantage of being part of the biggest law firm in the world."
There are plenty of attorneys, however, who see the bonuses, said Haidet, McKenna's chairman.
Indeed, the firm has been bombarded with lawyers interested in joining the merged entity ever since the plan was announced, he said. In Los Angeles, one attorney has already jumped onboard.
Kelvin Wyles rejoined McKenna last month after learning about the merger. He had previously worked at the firm from 2006 to 2011.
"It was intriguing," Wyles said. "Obviously, I was aware of groups leaving but upon reflection I considered it a plus."
For reprint and licensing requests for this article, CLICK HERE.