Hot Office Market Adds Retail Sizzle
DEVELOPMENT: Runway aims to fill Playa Vista's shopping void.
Monday, June 15, 2015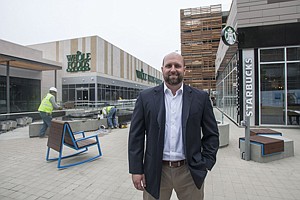 Playa Vista was once the largest undeveloped patch on the Westside, a wasteland sandwiched between Westchester and Marina del Rey.
Even today, after the neighborhood has become a hot location for media, advertising and tech firms, it remains a retail desert, with few places for workers to gather, shop or grab a bite.
But that's about to change. The 14-acre Runway development is nearing liftoff; it will deliver tens of thousands of square feet of shops and restaurants to the area after more than a decade of delay.
Though construction of the residential, retail and office complex off Jefferson Boulevard won't wrap up until September, the project's retail space is already 80 percent leased and a Whole Foods Market is set to open this week.
Carl Muhlstein, managing director at real estate firm Jones Lang LaSalle's downtown L.A. office, said it's been strange to see Playa Vista grow and develop into a red-hot office market without much retail development. He noted that the area was so short of restaurants that tenants often had little choice but to build cafeterias for their employees.
"It amazed me how many office deals took place without any real community-serving retail," said Muhlstein, who has been doing business in the area since 1999. "It's just amazing how long retail took."
The master-planned community has had a long history of delayed retail development, largely the result of environmental litigation. And while Whole Foods will be opening this week, joining other tenants already open including a Cinemark multiplex and a CVS pharmacy, Runway is still facing some challenges in drawing retailers of soft goods such as apparel stores.
Chris Daniell, division retail manager for Runway developer Lincoln Property Co. in Playa Vista, said there's still a concerted effort to land a national retailer along the lines of an Urban Outfitters or Apple, and that drawing such a tenant is a key step to filling the rest of the project's unleased space.
"It's such a herd mentality because retailers have a list of neighbors they like to play around," Daniell said. "A lot of the leasing will fulfill itself. It'll only be natural after we land that big apparel deal."
Rocky start
Runway broke ground two years ago as part of a larger Playa Vista master-planned development that has been in the works since the late 1980s.
The more than 1,000-acre site, formerly an airfield owned by Howard Hughes, has been passed among a handful of developers since then. Most recently, Canadian developer Brookfield Residential Properties took over the project in 2012 after acquiring previous owner Playa Capital, a real estate development firm controlled by New York's Goldman Sachs.
Construction of the latest part of the area's development, including Runway, didn't start until 2013, held up by lawsuits from the city of Santa Monica, environmental groups and representatives from the Gabrielino Tongva tribe, all filed after the Los Angeles City Council approved an environmental impact report for development on the site in 2004.
It took the better part of a decade to put those cases to rest, with various appeals leading all the way to the California Supreme Court. That court declined to hear a final appeal in March 2012, allowing the project to move forward – just in time to take advantage of the area's new status as a hot tech and media office market.
Runway, developed by Lincoln, Phoenix Property Co. and Paragon Commercial Group, includes 420 residential units, nearly 33,000 square feet of offices and – most importantly for retail-starved Playa Vista – 220,000 square feet of retail space, with 40,000 of that reserved for restaurants.
Along with the Whole Foods set to open this week, which will house its own restaurant with 24 beers on tap, the two other anchor tenants at the complex are the $9 million theater Cinemark Playa Vista and CVS, which both opened in March.
Daniell said in addition to the anchor tenants, the project will bring in restaurant concepts including Abbot Kinney's Hal's Bar & Grill and farm-to-plate Urban Plates, and specialty shops such as YogaWorks and high-end nail boutique Varnish Lab.
"The thought going into each deal and marketing the project has been, yeah, we'll have the big national names but that's in combination with the local followings," Daniell said. "You keep people on the property enjoying themselves, they're going to end up visiting the retailers."
Intimate space
Runway features expansive sidewalks, tree-lined streets and a wooden boardwalk featuring rocking chairs accented in bright blue. There's plenty of open spaces for visitors and residents, and even glass-encased fire pits with seating located between Whole Foods and a yet-to-open Starbucks.
Most of the retail space is on the ground floor, with three stories of apartments above.
Matt Jarvis, partner and chief strategy officer at ad agency 72andSunny, said he's had a front-row seat to Runway's construction. The agency moved next door to the site in 2011, two years before construction started.
"It's been super exciting," he said. "When we moved here it was a ghost town and slowly but surely it's gotten busier with more energy and more people."
That energy is partly what attracted Whole Foods to the area.
Whole Foods Regional Vice President Erica Dubreuil said the grocery chain started looking at the development two years ago.
"The future occupancy, the density of that site is going to be amazing," she said. "We knew the site was going to be a good one."
With offices nearby full up, daytime traffic has exploded in the area, making it attractive for retailers. But once residential units begin opening this fall, retailers should have additional incentive to open up shop, said Peter Spragg, vice president at Colliers International's downtown L.A. office.
"In Playa, there was a large amount of land that brought daytime traffic, which is a huge draw for retailers, but also the residential gives you a 24-hour captive audience," he said. "Everyone is priced out of Santa Monica, and Playa is the perfect opportunity to get the best of both worlds."
For reprint and licensing requests for this article, CLICK HERE.