Hotels Say Sustainable Moves Could Stick Around
HOSPITALITY: Some water cuts have reduced costs, generated more business.
Monday, June 8, 2015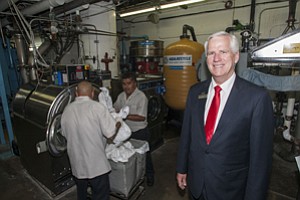 California's persistent drought might be turning lawns brown across Los Angeles, but some hotel operators are seeing green.
From recycling laundry water to serving meals on disposable plates that aren't washed, hotel executives are not only cutting water use but they are generating savings that, in some cases, pay for the changes and even help feed new business opportunities.
"If we didn't reduce our consumption, our water costs would probably be at least 50 percent higher than we have right now. We're clearly saving money," said Michael Czarcinski, general manager of the Westin Bonaventure Hotel & Suites Los Angeles downtown. The hotel has cut its water use by 22 percent since it installed a laundry water-reuse system in July.
It's a double-bottom-line effort: Moves by hotels toward water reduction and sustainability are becoming increasingly important to event planners seeking to fill sustainability quotas for corporate events, said Darren Green, senior vice president of sales for the Los Angeles Tourism and Convention Board.
"That has gone from something that has given us a competitive advantage to something that is required now," Green said.
Faced with a mandate from the Los Angeles Department of Water and Power to cut water use by 16 percent, the Westin Bonaventure Hotel needed to get creative.
It had already taken some steps: Bathrooms used to have two shower heads each. Management converted all showers to single-head systems seven years ago, and followed up by changing all those heads to low-flow units. It also replaced bathroom faucets with low-flow alternatives, said Czarcinski.
So when the DWP mandate came down last summer, the hotel responded by installing a system that cleans, stores and reuses water from its laundry facility that each year washes 7 million pounds of guest and kitchen towels, bed and banquet linens, and uniforms.
The system now returns 80 percent of the water back into the wash cycle, Czarcinski said, saving the hotel about 1 million gallons of water a month.
The cost of the $200,000 system was cut to $92,000 after city and utility rebates, he said, and the hotel recouped that cost in 10 months, thanks to savings not only from using less water but less energy associated with it.
With all its water-saving efforts, the hotel has saved $213,000 a year since 2008 and has exceeded the DWP reduction mandate by reducing its water consumption by 22 percent.
"The financial return is way above good," Czarcinski said. "It's just not dollars and cents but corporate responsibility."
Other efforts
New to L.A.'s hotel scene, the Residence Inn by Marriott Los Angeles LAX/Century Boulevard already had low-flow commodes, leaving it little room to further reduce its water-use footprint under the new restrictions, said General Manager Tom Beedon.
He said the hotel opted to replace the china it used to serve roughly 400 full breakfasts every day with paper plates, napkins, bowls and flatware that can be recycled.
"We noticed that we were running the dishwasher a lot to run plates, bowls and silverware, so we went to a supplier and went for recyclable materials," Beedon said. Most guests use the recyclables, even though the hotel makes it optional.
Unlike the Westin Bonaventure, the change has resulted in a cost increase for the Residence Inn of about $650 a week. Still, said Beedon, the hotel views it as an investment.
"If you're a business now, and you don't have this type of mind, you're going to start losing your competitive edge," he said. "People want to see you're responsible and facing issues."
Most L.A. hotels are practicing some degree of water conservation, said Bob Amano, executive director of trade group Hotel Association of Los Angeles. Many have taken advantage of government and utility rebates to install low-flow toilets and shower heads, and waterless urinals. Most also have been asking guests not to have their bed linens and towels washed for the duration of their stays.
His association has also encouraged the hotels to become certified by Washington, D.C.-based Green Seal Inc., which sets standards for sustainability. About seven L.A. hotels are now certified, including the Westin Bonaventure, Amano said.
Convention lure
Cutting energy and water use – the biggest costs after labor – can not only add up to substantial savings for hotels, it is increasingly important to event planners, said Jaime Nack, president of the Southern California chapter of the Green Meeting Industry Council, and president of Three Squares Inc., a Santa Monica sustainability consulting business.
Event planners are outlining exactly what practices they want to see being used by businesses they are going to use for every aspect of an event, she said. That trend is driven by event planners when they work with companies committed to sustainable practices.
"Events are essentially an external representation of their brand," Nack said.
Additionally, she said, event attendees are becoming more aware of when sustainable practices are in place or not in place.
Czarcinski said every single request for proposal the hotel gets from a group planner now wants to know its sustainability policy.
"If we don't have one, we certainly won't be top of the list for selection," he said. "Having a sustainability policy that's measureable and clear gets us to the table."
While leisure travelers make up roughly 85 percent of L.A.-area visitors, said the tourism board's Green, "(sustainability) is more important for group planners than leisure travelers, but it's still something that leisure travelers look at."
For reprint and licensing requests for this article, CLICK HERE.