Ex-Champ Still in Boxing's Corner
SPORTS: De La Hoya charts future after 'fight of century' fail.
Monday, June 8, 2015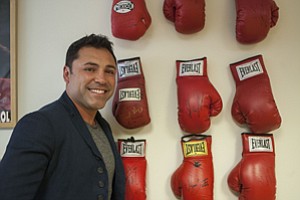 He acknowledges, though, there's at least one obstacle to Alvarez achieving that kind of stardom on this side of the border: "To get that instant and important connection with the audience, he has to learn English."
As part of the plan for their man to take over the sport, Golden Boy has Alvarez practicing his language skills almost as much as his boxing technique. De La Hoya said he sent Alvarez the Rosetta Stone language learning program.
"It may be the best investment I ever made," the 42-year-old De La Hoya laughed.
Boxing's future
Just a week after last month's "fight of the century" nonevent in Vegas, Alvarez's knockout win over James Kirkland drew the largest cable TV audience for a fight since 2006, with 2.3 million viewers on HBO, according to Nielsen Media Research. That big number for a fight on cable suggests Alvarez could be ready to step into the major leagues of the boxing industry: PPV.
"It's all in his hands, literally," De La Hoya said. "When Canelo becomes a superstar, there will be a domino effect. I will have a platform to bring through other exciting fighters I've identified."
In a career which saw him win 10 world titles at six different weight classes, De La Hoya's fights generated $700 million in pay-per-view buys. He said breaking into the field of fighters who can draw big pay-per-view audiences is a huge challenge for a boxer, but not an insurmountable one. Nor is it for promoters.
"If you put on the right fights, people will pay for what they want to see," he said. "It's the 'Field of Dreams' policy of 'If you build it, they will come.'"
That means bringing in fighters that fans are willing to pay to watch. And De La Hoya believes his experience in the ring gives Golden Boy an advantage in luring talent.
"Other promoters like Don King and Bob Arum have never laced up the gloves," he said. "But I have and that attracts talent."
He co-founded Golden Boy Promotions with partners, including fellow boxing stars Bernard Hopkins and Ricky Hatton, back in 2002, seven years before he retired from the ring. He owns a majority stake.
De La Hoya expanded his business interests in 2006 with real estate venture Golden Boy Partners, which builds retail, commercial, and residential developments in urban Latino communities.
Golden Boy Promotions, one of boxing's most active promoters, presents shows in venues across the United States and on networks such as Showtime, HBO, HBO Latino and ESPN. Promoters are much like producers, putting together fighters, arranging a venue, negotiating financial relationships, etc.
The 22-employee company promotes arena fights for its bigger stars, but also organizes the monthly L.A. Fight Club series, which showcases emerging local boxers at the more intimate Belasco Theater in downtown Los Angeles. De La Hoya calls that series, which debuted earlier this year and is televised on Fox Sports 1 and Fox Deportes, one of his proudest achievements.
"There's great talent here and maybe the next De La Hoya is out there," he said.
While not keen to discuss revenues, he says Golden Boy is a growing business and will continue to be so by putting what the customer wants first.
"I think one of the reasons we've been so successful is I've not made it all about me. I have this motto which works: 'My ego is not my amigo,'" he said. "Yes, Golden Boy is a business, but the day I start running it like one is the day I lose the respect of the fans."
Prev Next
For reprint and licensing requests for this article, CLICK HERE.