Children's Hospital Enters Age of Regional Service
HEALTH CARE: Expansion plan focuses on community, outpatient treatment.
Monday, June 1, 2015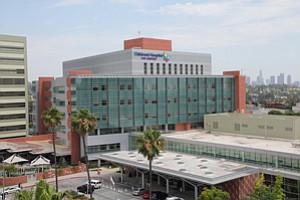 Though Children's Hospital Los Angeles serves the tiniest of patients, its footprint is becoming large.
The Los Feliz hospital has been opening clinics across Los Angeles County over the last several years, and with the addition of its latest outpatient center in Encino this week, it now has five small satellites staffed with its doctors.
"Many of our sister pediatric hospitals across the nation have embarked on a strategy to regionalize services in their respective communities," said CHLA Chief Executive Rich Cordova in an email. "Our focus was regionalizing our expert specialists and working closely with existing pediatricians in the community. That way we could be closer to families and referring pediatricians."
Expanding through clinical outposts and physician affiliates, as opposed to opening additional hospitals, isn't just a trend among pediatric medical centers. USC, UCLA and Cedars-Sinai Medical Center are among those that have established outpatient practices beyond their core facilities. Some reach as far south as Orange County and as far north as Bakersfield.
"I'm seeing it across all types of hospitals," said Susan Kanvik, a senior health care director at consulting firm Point B Inc.'s Phoenix office. She's seen academic medical centers, regional hospital systems and multistate faith-based health care groups growing by acquiring or building outpatient centers. "It's all about establishing a satellite so they can bring those patients into their fold."
Such footprint expansions have been motivated by a variety of factors. There's been a decline in hospital utilization as more procedures can be done in outpatient settings and providers are incentivized to reduce readmissions.
It's also cheaper than trying to expand inpatient services and gets a hospital network's name out into the community. Sometimes it also can introduce a greater mix of payers for providers that primarily serve patients on government assistance, which can be challenging.
"Each organization, depending on the role they play, will seek to provide care to as large a population as they can," said Laura Jacobs, executive vice president at El Segundo health care consulting firm Camden Group.
CHLA, a century-old hospital, started its expansion in 2010 by opening an Arcadia clinic featuring a variety of pediatric specializations. New centers in Valencia, Santa Monica and Torrance soon followed.
The hospital usually leases anywhere from 3,000 to 10,000 square feet of medical office space at a location and rotates its own physicians through the facilities rather than buying already established groups.
"We looked at the geography and population of Los Angeles and the proportion of kids able to access CHLA-based care," said Lara Khouri, vice president of health system development and integration and chief strategy officer at Children's Hospital. "We realized for lots of children, accessing the expertise our physicians and providers can deliver just wasn't there."
For reprint and licensing requests for this article, CLICK HERE.
Prev Next