Product Placement
BEAUTY: Skin care firms flesh out strategy to keep items from unapproved sellers.
Monday, July 20, 2015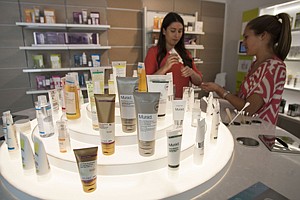 While surfing CVS.com, shoppers might come across a bottle of Murad Inc.'s Skin Perfecting Lotion and drop it in their virtual basket. There's just one hitch; Murad claims the chain isn't allowed to sell its products.
In fact, the El Segundo skin care company's cleansers, creams and masks are only supposed to grace the websites and shelves of select salons, spas and beauty supply stores. But that doesn't stop Murad's products from showing up in other places.
"It's a game of cat and mouse," said Richard S. Murad, general manager of the firm founded by his uncle, dermatologist Howard Murad, in 1989.
In truth, it's not much of a game to the company, which sued CVS Health Corp. last month alleging the chain coaxed Murad products from authorized distributors or other middlemen to illegally resell the goods.
"It's a big problem for any business and the Internet explosion hasn't really helped us at all," Richard S. Murad said. "It's not under the radar anymore. If you Google a brand name and 100 stores are selling your product that you didn't sell to, it gets a little crazy."
Manufacturers of products including moisturizers, shampoos, handbags and even pharmaceuticals often sign exclusive deals with retailers to carry their goods as a way to create an air of exclusivity or to align themselves with particular markets. That, in turn, has created a black market of sorts for products that are diverted to unauthorized retailers.
Diversion, most prevalent in the beauty and fashion industries, accounted for as much as $63 billion in lost consumer goods sales in 2009, according to a Bloomberg report.
Some companies turn a blind eye to product diversions, but others, such as Murad, spend serious cash enlisting lawyers, investigators and a variety of packaging practices to root out the culprits.
"Every point in the chain is susceptible, including the manufacturer," said Mark Riedel, an attorney with Santa Monica law firm Conkle Kremer & Engel who focuses on brand protection.
Manufacturers typically have one or more distributors throughout the country or world, and international partners tend to be more vulnerable than stateside ones, he said.
"A lot of companies will grant additional discounts to international distributors because of duties, taxes and licensing issues," Riedel said, adding that foreign-bound ships full of goods sometimes sail right back to the United States.
Cutting out middlemen isn't necessarily the answer, though. It can be impractical for smaller businesses to handle distribution internally – they just don't have the resources – and larger ones might need help reaching far-flung customers.
Prev Next
For reprint and licensing requests for this article, CLICK HERE.