Connected
Tech startups eager to link with Gary Winnick
Monday, July 20, 2015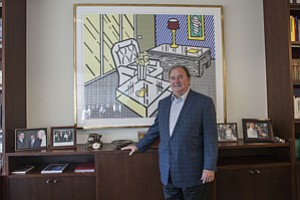 Gary Winnick can't retire.
"I retired twice in my life. I retired at age 37. I lasted through lunch," he said. A few years later, when he was 41 and not needing to work, he retired again. "I took up kickboxing and weight lifting at Gold's Gym in Venice. … I did that for six months. Then I said I'm going back to work and probably will never retire."
He has kept his word, so far, but some might have wondered if there were a third retirement on Winnick's resume. The 67-year-old chairman and founder of Winnick & Co. has been out of public sight for 13 years.
The one-time chairman of telecommunications firm Global Crossing, Winnick has kept a low profile since he was criticized for selling $734 million worth of Global Crossing stock before it filed for Chapter 11 bankruptcy. The move made for ugly headlines and he's been dogged by the press since.
"I haven't been off the radar. I just don't spend my time with the media because it's not of great importance to me," said Winnick. "If I had something to sell then I might use the media, but I'm not selling anything. And I have no apologies for anything."
Winnick might have nothing to sell these days, but he is a buyer – and becoming a big one – in L.A.'s tech startup scene.
"I believe L.A. is going through a resurgence that will carry this city through the next 100 years," he said of the recent technology boom. "We want to participate in that."
The first indication that he was stepping into the tech scene came in a press release early last year saying Winnick & Co. had invested in T+Ink, a New York developer and designer of patented "thinking ink" products used to digitize all forms of publishing. Winnick, the release said, would step in as chief executive, and he brought in Kent Kresa, former chief executive of Northrop Grumman Corp., to serve on the board.
Since then, his firm has made direct investments in Santa Monica startups MD Insider and Pluto.TV. And in an effort to take a stake in many early stage L.A. companies, he recently invested money with Venice venture capital firm Crosscut Ventures.
Those activities, according to Winnick, are just the beginning.
Early years
Winnick was the master of high-risk, high-reward financing for the first two chapters of his career.
Winnick joined Drexel Burnham Lambert in the 1970s when it was a sleepy yet respectable Wall Street investment bank. But it was on the verge of being transformed into a national player by Michael Milken's innovative use of low-grade, high-yield corporate debt, commonly known as junk bonds. Milken figured out that, despite the name, some junk bonds returned investments rather well.
"Would Rupert Murdoch own the Fox empire had he not had the financing from Drexel Burnham? Would John Malone be one of the greatest cable entrepreneurs in history without the capital of Drexel Burnham? The answer is no," said Winnick. "Would Steve Wynn be the casino mogul he is today, basically transform Vegas, without the capital that was made available to him from Drexel Burnham? Probably not."
Winnick left Drexel in 1986 to start Beverly Hills private investment firm Pacific Capital Group. Pacific Capital invested in a variety of vehicles, from real estate to corporate debt.
It wasn't until 1997 that he would start his big second act.
That year, he founded telecommunications company Global Crossing on the idea that the demand for Internet bandwidth capacity would surge. The company was financed through leveraged buyouts and a wild ride on the public stock market, which, despite little profit, valued the company at an astounding $54.5 billion by 1999.
In many ways, Winnick's fundraising skills, honed at Drexel, were made for the soaring ambitions of the dot-com era.
"I raised $24 billion for Global Crossing," he recalled. "You know how much money I raised for that seed round? $735 million. Now, where in the books would you find a seed round of $735 million?"
At its peak, Global Crossing owned more than 100,000 miles of fiber-optic cable, reaching 27 countries. Its sky-high stock price pushed Winnick to No. 1 on the list of Wealthiest Angelenos in 1999 with an estimated net worth of $6.2 billion.
"Obviously Global Crossing was very transformational. The Internet would not be the Internet today without that network. Would we have an iWatch today? Would we have an iPhone today?" asked Winnick in an interview at his office on Wilshire Boulevard in Beverly Hills' Golden Triangle.
"The founder of Google told me without Global Crossing there would be no Google, he said. "I wish I could have put those words in his mouth, but I didn't. That was Eric Schmidt."
Through a Google spokeswoman, Schmidt declined to comment.
Global Crossing's high flying didn't last long. When the public realized it needed far less Internet bandwidth than Global Crossing was selling, the company went bankrupt. Winnick was excoriated in the press for his offloading of $734 million in company shares, questioned by the Securities and Exchange Commission and criticized by members of Congress.
New opportunities
Now, 13 years removed from Global Crossing's bankruptcy, Winnick sees fit to speak publicly about investing his own money through Winnick & Co.
"We're a different kind of investment entity. We are part family office and we'll always be part family office, but then we are part entrepreneur, part investor. We run a number of businesses. We own a number of companies outright," said Winnick.
The design of Winnick & Co. looks similar to Chicago's Pritzker Group, a private investment firm led by Hyatt Hotel heirs Tony and J.B. Pritzker. Winnick & Co. will simultaneously invest via outside managers and make direct investments, said Winnick, as well as fundraise for certain larger deals.
To boost direct investing, Winnick & Co. plans to hire two or three managing directors by year's end. To spread its capital further afield, it will invest in two more L.A. venture capital firms in the coming months. Winnick & Co. also has been incubating about a half-dozen business ideas internally via a venture program.
It has eyes on a number of industries, including health care, construction, life sciences, cryptocurrencies, Internet-delivered video, logistics and possibly a sustainability partnership with the World Bank Group, said Winnick.
And Los Angeles is a particular area of interest.
"I think some of the great companies of L.A. are in their infancy today," he said. What's more, "it's just a fantastic city. I want people to know that."
Of all of the firm's investments, big things are especially expected out of Santa Monica startup MD Insider.
"Tech is the bridge, it is the gateway to tomorrow," said Winnick. "Global Crossing did that. Drexel Burnham Lambert did that. MD Insider has the potential to do that."
Winnick & Co. co-invested $9.5 million in MD Insider's Series A round in April, alongside Jason Ader, a prominent New York investor. The startup uses big data computing techniques to rank the performance of doctors for employers and health care providers. Winnick sees the company as transformative.
"We spend $3 trillion on health care in America and we have no transparency. Absurd," he said. "This company, MD Insider, in my view is going to change that."
To be sure, tech investing is a particularly volatile space to be in. Winnick & Co. is already out of T+Ink, the company it took a majority stake in a little more than a year ago. Kresa is off the board, as is Winnick, and neither he nor T+Ink management would discuss the investment.
Rainmaker
Beyond pledging his own money to the L.A. tech ecosystem, Winnick's ability to raise gobs of dough hasn't been forgotten by local venture capitalists.
"He is a master fundraiser and can do big things," said Brett Brewer, managing director of Crosscut, the venture capital firm that received an investment from Winnick & Co. this spring.
"Gary, to his credit, is all about scale," Brewer said, "thinking in ways where there are no constraints on capital. That is an invaluable thing in terms of investing."
Nate Redmond, managing partner at Santa Monica's Rustic Canyon Partners, said Winnick's backing would be valuable to a company, and not just financially.
"I do believe that if he gets behind a company that is an advantage for that company," he said. "He's just a smart, thoughtful person with a lot of energy and connections and has great salesmanship."
Winnick is clearly among the best-connected individuals in Los Angeles. He was a co-investor with Goldman Sachs and Morgan Stanley in the Playa Vista redevelopment project, a co-investor in private equity firm Colony Capital's buyout of Miramax and was an early investor in online document firm LegalZoom.
Winnick even bought a 70 percent stake in Santa Monica's Colony in 2000, though he said he no longer owns that stake.
"I've sold that interest back, although we continue to invest alongside Colony Capital," said Winnick. "Tom (Barrack, founder of Colony Capital) has become a very good partner and become a very close friend."
With connections like that, Winnick means deal flow for L.A.'s venture capitalists.
"We like the fact that Gary has people over there (at Winnick & Co.) that are meeting with companies and sharing ideas with us," said Crosscut's Brewer.
Winnick's controversial past isn't too much of a concern.
"We think (public persona) through with every investor," said Brewer. "The pros outweigh the cons in this case."
Another local venture capitalist, who spoke on condition of anonymity, put it this way: "L.A. is a forget-the-past, look-to-the-future place. People show up with all sorts of colored pasts." The important questions are: "What are you working on? And what do you want to do?"
"I like to play in the sandbox. That's what I like to do," said Winnick. "Why do I get up in the morning, get dressed and come to work? Because to me this is more fun than going to the golf course."
For reprint and licensing requests for this article, CLICK HERE.