Yeti Acquired by Investment Group
Thursday, July 16, 2015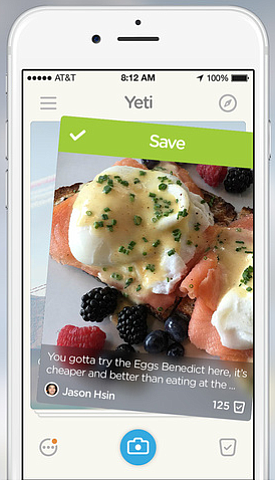 To keep place-discovery app Yeti alive, the founders of its parent company, Hyphos, have sold a majority stake to a private investment group led by Santa Monica's JA Partners and Seattle's Edgewater Ventures.
West L.A.'s Yeti is an app that helps users discover places and activities around town. It had only been around for a year, but the founding team believed the app was at cross-roads: It either had to raise a large amount of money to pay for user acquisition or sell to a larger tech company. In the end, they opted to sell, but to a small group of private investors.
"It became clear that if we sold to a major tech company, the product would be dismantled, myself and others on the team would have to join, and I really felt my ability to innovate and solve a big and exciting problem wouldn't happen there," said former Chief Executive and co-founder Alex Capecelatro.
Now, Hyphos will live on under new leadership. The app company will now be managed by Chief Executive Andy Mazzarella and Chief Technology Officer Paul Dumais.
Yeti's format allows users to tailor place or activity recommendations by swiping right or left for approval or disapproval, a design recommendation that came from Tinder founder and former Chief Executive Sean Rad. Yeti is often used as a travel companion, helping users find interesting sightseeing spots as they visit new cities.
Hyphos wouldn't disclose user numbers, but said Yeti has users in 120 different countries. The company had previously raised $875,000 in seed funding and the acquiring investment group will likely inject some cash into the firm, Capecelatro said.
The new owners will also likely "do more curated local recommendations, such as the top 100 things in L.A. or being able to buy tickets with the app," he said.
Hyphos has undergone transition before. The company's core focus from 2011 to 2014 was an app called At the Pool, which helped to connect people with common interests. After Capecelatro and team realized people were hungrier to find new places, rather than new friends, they shifted focus to Yeti.
Capecelatro will remain an advisor to Hyphos. Meanwhile, he's also landed a new gig as chief executive of Josh, an artificial intelligence startup in Denver that helps control Internet of Things devices via voice commands.
Technology reporter Garrett Reim can be reached at greim@labusinessjournal.com. Follow him on Twitter @garrettreim for the latest in L.A. tech news.
For reprint and licensing requests for this article, CLICK HERE.