AirMap Raises Funding for Drone Airspace Map
Wednesday, July 15, 2015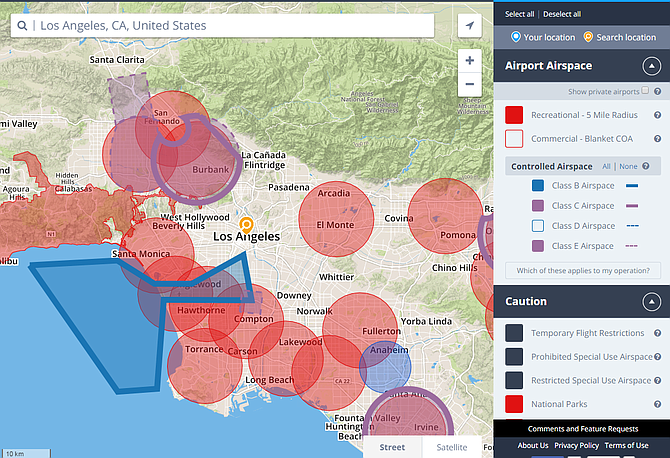 Drone airspace mapping company AirMap of Santa Monica has raised a $2.6 million seed round, according to a Security and Exchange Commission filing.
The mapping company provides information on Federal Aviation Administration-controlled airspace, for example around airports and helicopter pads, to drone pilots and those developing drone apps.
The mapping service also outlines certain voluntarily obeyed "No Fly Zones" over private property and advises drone pilots on other areas to avoid, such as hospitals and theme parks.

AirMap said its website was built to keep drone operators on the right side of the law.
"Airspace rules are complex and convoluted," said Ben Marcus, in a blog post announcing AirMap's beta testing this April. "It can be incredibly frustrating for a unmanned aircraft system operator who wants to operate safely and legally to figure out where he or she can or can't fly."
AirMap is used by several drone filming companies and an industrial drone service company. More robust commercial drone uses, such as spraying crops, work on power lines or capture land imagery, are being tested and in some cases have been approved for limited use by the FAA.
AirMap grew out of concern that chaos could ensue if recreational drones, commercial drones and human-piloted aircraft all take flight means access to airspace restriction information will be increasingly important.
Its mapping information will also be necessary to help drones eventually become self-piloted.
Technology reporter Garrett Reim can be reached at greim@labusinessjournal.com. Follow him on Twitter @garrettreim for the latest in L.A. tech news.
For reprint and licensing requests for this article, CLICK HERE.