Hospital Owner In Recovery Mode Is Drawing Suitors
Monday, July 13, 2015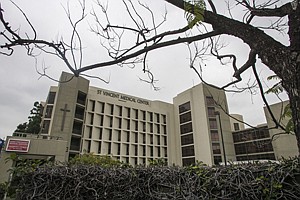 After a long, contentious sale process, the clouds could be lifting for the Daughters of Charity Health System. Not only has the group bolstered its finances, but it might be closing in on a deal for its beleaguered hospitals. A sale could be announced in the coming days.
St. Vincent Medical Center in downtown Los Angeles and St. Francis in Lynwood are two of the six California hospitals the Catholic system has been working to sell for more than a year as it hemorrhaged about $10 million a month.
The bleeding seems to have slowed after Daughters of Charity received $54 million in delayed funds in February from a state program for hospitals treating a significant number of Medicaid patients. A turnaround plan announced in April, including layoffs and service reductions, also helped.
But finally securing a buyer in the wake of state Attorney General Kamala Harris' conditions that ended up squelching an $843 million March bid from Ontario-based Prime Healthcare Services would be a huge win for the health system.
Daughters of Charity spokeswoman Elizabeth Nikels said the organization has been working with top-tier buyers interested in acquiring the entire health system. Those include some previous contenders as well as new ones. She wouldn't divulge who was involved, but added that the system hoped to announce a buyer by the middle of this month.
Those bidding to acquire the health system include New York private equity firm Blue Wolf Capital Partners, New York private investment firm BlueMountain Capital Management and an unnamed South Korean firm, according to Bill Rouse, executive assistant to the officers at United Nurses Associations of California/Union of Health Care Professionals. Rouse has been involved in negotiations on behalf of the union's nurses at St. Francis.
Nikels said the system has not narrowed the search to three bidders and would not comment further.
Representatives of both BlueMountain and Blue Wolf, which are unrelated, declined to comment.
Contenders?
BlueMountain manages $21 billion in assets, according to its website. Among other vehicles, it invests in distressed opportunities including turnarounds and recapitalizations. It was not identified as an interested party in last year's sale process.
Blue Wolf, on the other hand, made it to the final round of bidding last fall. Daughters of Charity ultimately selected Prime, despite UNAC/UHCP and Service Employees International Union-United Healthcare Workers West's claims that the Ontario health provider prized profits above all else.
Those unions strongly backed Blue Wolf, which has made no secret of its continued interest in the system.
For reprint and licensing requests for this article, CLICK HERE.
Prev Next