Studio Hopes Yellow Creatures Speak to Audience
FILM: Universal unleashes creative campaign to push 'Minions' into stardom.
Monday, July 6, 2015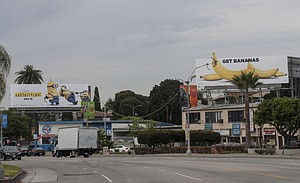 What are yellow, shaped like Twinkies and speak in an indecipherable language? Minions.
The animated figures, which first popped on screen in Universal Pictures' 2010 film "Despicable Me" as supporting characters and quickly drew a fan club of their own, are now getting the star treatment.
As Universal and producer Chris Meledandri's Illumination Entertainment prep for the release of "Minions," a prequel to the "Despicable Me" franchise, they are spending huge sums to saturate the market with millions of Minions.
From the creative application of billboard designs to the actual application of three large inflatable minions atop the Cinerama Dome in Hollywood, Universal is going all out in support of the latest release in the franchise.
No budget for the national campaign was available, and Universal didn't want to talk about the marketing effort prior to the film's July 10 release. Still, it's impossible not to take note of the money and effort the studio is expending to keep its new stars happy.
Keith Rivers, principal and creative director at agency Workhouse Creative in Seattle, said even though a film's characters might have a strong fan base it's still necessary to launch a strong marketing campaign.
"Existing audiences only provide the inspiration for a film studio to initially invest into the movie idea, but it won't carry the weight of the box-office earnings single-handedly," Rivers said. "An extensive marketing campaign that is crafted before a movie is almost a mandate for a successful earning."
There are high hopes for the opening weekend box office for the film, which features the voices of Sandra Bullock and Jon Hamm, will be the biggest title to release this weekend.
David Levine, founder of Culver City creative and experiential marketing firm Love Observed Vision Explored Inc., said when it comes to entertainment marketing it can be hard to capture a consumer's attention, especially for a film.
"Most people market movies the same way (and) it tends to be about an individual or star," Levine said. "I think their campaign is quite different and part of it is they have these fun characters that everyone likes and speak their own language."
Seeing yellow
Minions appeared in the first two "Despicable Me" films, which are estimated to have grossed more than $1.5 billion worldwide.
The studio leveraged the characters into marketing deals with brands such as McDonald's, Nestle, Kraft and Progressive Insurance as part of the promotion for the earlier films, and those efforts have now evolved into a new set of partnerships.
Universal recently partnered with color system Pantone to create a custom color, "Minion Yellow," to help promote the new film. It's reportedly the first time in three years that Pantone created a color.
The studio also struck a deal with e-commerce giant Amazon.com Inc. last month to have customers' boxes transformed into yellow boxes covered with Minion characters, the first time Amazon has allowed advertisements on its boxes. There is also an online store on Amazon for customers looking to shop for Minion merchandise.
Michael Pachter, an analyst who follows Amazon at Wedbush Securities in downtown Los Angeles, said he's doubtful the e-vendor is receiving a significant amount of revenue from the deal.
"Advertising is based on eyeballs," Pachter said. "If they're delivering a million packages a day, it's like a million views on a billboard, so the rates are probably similar to that."
Amazon and Universal have kept quiet on the financial terms of the deal, but the partnership could help cut some of Amazon's shipping costs. Pittsburgh research firm SJ Consulting Group Inc. estimated the company ships about 3.5 million parcels a day.
Pachter added Universal is most likely handling production costs, which made it a more attractive deal for the online retailer.
"Amazon is not doing it for the revenue," he said. "They're doing it because you're writing about it."
Tom Alexander, founder and chief executive of El Segundo digital media company PK4 Media, said Universal has been able to cover every medium in an effort to drive consumers to the box office.
"They did a great job of building awareness and taking what were odd, supporting characters and creating a whole new movie." Alexander said. "You're seeing (Minions) out of home, hearing about them on the radio, television – those multiple touchpoints reinforce the intent to go see the film."
While Alexander said there's still a risk of oversaturating the market with Minion-crazed advertisements, it still might be worth it for Universal.
"It's that awareness," he said. "If no one knows, no one is going to watch it."
For reprint and licensing requests for this article, CLICK HERE.