Startups Opening Door to Crowd
INVESTMENT: Firms now can get funds from nonaccredited investors.
Monday, July 6, 2015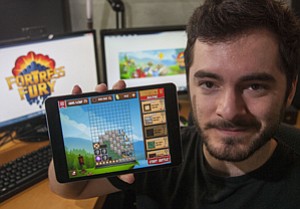 As YouTube-star-turned entrepreneur Jordan Maron can tell you, it's always wise to answer a phone call from your grandmother.
That's what he did early last year, and a year and a half later the knock-on effect from that conversation resulted in a partnership with Howard Marks, former chairman of Activision Publishing Inc., to launch a mobile-gaming company.
XReal, their Santa Monica startup, is one of the first companies in the nation to take advantage of new Securities and Exchange Commission rules that went into effect in June that allow businesses to sell shares directly to nonaccredited investors, those whose net worth is less than $1 million.
XReal, which has developed a competition-based mobile game called Fortress Fury, is one of four companies gauging interest from potential investors on an online platform developed by StartEngine, Marks' Santa Monica tech accelerator.
StartEngine is trying to capitalize on the new rules, known as Regulation A+, by providing startups with an equity crowdfunding portal. Ron Miller, the StartEngine partner managing the crowdfunding platform, said that by giving smaller investors an equity stake, Regulation A+ enables backers to avoid the potential frustration of contributing to a Kickstarter-type campaign only to miss out on a potential windfall after a public offering or exit.
Just look to Irvine's Oculus VR, which raised $2.4 million from a Kickstarter campaign in 2012. Though more than 9,500 people gave the company money in exchange for first dibs on its virtual reality headsets and other perks, none of them saw a dime after its $2 billion acquisition by Facebook Inc. two years later.
"What happened with Oculus was probably the best advertisement for investment-based crowdfunding we could have thought of," said Miller. "For the first time ever, companies can convert their customers into investors, who now become brand ambassadors."
'Testing waters'
Though he didn't have any previous business experience in the video-game industry, Maron had definitely played them. He's been recording himself playing and commenting on popular video games and uploading them to YouTube under the moniker CaptainSparklez since 2010.
The videos of his "Call of Duty" and "Minecraft" game play have become so popular that he's garnered more than 8.5 million subscribers to his YouTube channel, which receives more than 40 million page views a month, making him one of the most popular gaming-video creators on YouTube.
Marks contacted Maron after tracking him down through his grandmother to see if he might be interested in creating a game, and together they formed XReal.
The startup has been joined by Surkus, a downtown L.A. mobile platform for businesses to find curated audiences for events using social media data, in using StartEngine's site in the hopes of stoking investor interest.
While XReal, which released its game May 14, has not taken any outside funding, Surkus participated in StartEngine's accelerator and has received about $600,000 from several sources, including StartEngine. Its mobile app launched in March.
Both companies are using a "testing the waters" period allowed by Regulation A+ to see how many people are interested before calculating share prices. XReal is looking to raise between $2 million and $5 million in a potential offering, while Surkus is in the market for $1 million. The "crowd" part of the crowdfunding effort is key: To appeal to the broadest possible audience, investment opportunities range from $200 to $5,000.
Investors who express interest are under no obligation to invest should the company's SEC application be approved, nor are the companies required to go through with the offering. Because expressions of interest might not result in actual dollars if potential backers get cold feet, Miller suggests startups aim to generate 30 percent to 40 percent more in financial interest during the test period than they actually need to raise in order to protect themselves.
StartEngine collects a fee of between $20 and $50 on each transaction, depending on the size of the investment. It can also take an equal amount in warrants, which would give StartEngine the right to purchase shares at the same price as they were offered on the platform within 10 years, according to Miller.
About 30 companies have applied to test the waters so far, with 10 making the cut, though not all have been cleared to move ahead.
"We are becoming increasingly selective as we get market feedback in terms of what it takes to be successful," said Miller. "These are companies that have meaningful traction, solid teams, an existing fan or customer base as well as a budget to help create a professional campaign and promote it."
Surkus co-founder and Chief Executive Forest Zukerman said his company had attracted nearly $150,000 in share reservations over the course of 10 days "and we haven't even started our marketing yet."
Stepping up
Jennifer Post, a partner at Raines Feldman in Beverly Hills and chair of its securities practice group, said her law firm has received a few calls from companies interested in learning more about Regulation A+. She has mixed feelings about the rules and would advise investors and entrepreneurs to be cautious.
"The reward of being an early investor is that the valuation is lower and you get a bigger piece for your money," said Post. "The risk is that over time lots of people sit on top of you in capitalization and the company can't achieve a big-enough exit to get all the investors out."
Plus, said Post, the accounting and legal paperwork required by the SEC for a company's Regulation A+ registration can be expensive, potentially costing between $50,000 and $75,000.
"There are costs and time lines and headaches with regulation you don't have to take on if you're trying to raise money privately," said Post.
Early signs are that ordinary investors are prepared to step up and get in on the ground floor of a potentially lucrative tech company.
Miller said the four companies testing the waters on StartEngine's website have garnered a combined $12 million in share reservations from about 3,900 individuals – about $3,000 each on average – in less than two weeks, though he didn't offer an individual company breakdown.
Other crowdfunding sites are entering the fray as well.
WayBetter, a New York company that makes products designed to help people change bad habits, drew more than $10 million worth of interest on SeedInvest Technology's website in less than one week.
"We're talking with a lot of different companies" about raising money from nonaccredited investors, said Andrés Diana, managing director of the New York company's L.A. office. "A lot of them want to see how things play out."
For reprint and licensing requests for this article, CLICK HERE.