Startups Opening Door to Crowd
INVESTMENT: Firms now can get funds from nonaccredited investors.
Monday, July 6, 2015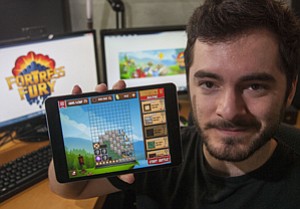 As YouTube-star-turned entrepreneur Jordan Maron can tell you, it's always wise to answer a phone call from your grandmother.
That's what he did early last year, and a year and a half later the knock-on effect from that conversation resulted in a partnership with Howard Marks, former chairman of Activision Publishing Inc., to launch a mobile-gaming company.
XReal, their Santa Monica startup, is one of the first companies in the nation to take advantage of new Securities and Exchange Commission rules that went into effect in June that allow businesses to sell shares directly to nonaccredited investors, those whose net worth is less than $1 million.
XReal, which has developed a competition-based mobile game called Fortress Fury, is one of four companies gauging interest from potential investors on an online platform developed by StartEngine, Marks' Santa Monica tech accelerator.
StartEngine is trying to capitalize on the new rules, known as Regulation A+, by providing startups with an equity crowdfunding portal. Ron Miller, the StartEngine partner managing the crowdfunding platform, said that by giving smaller investors an equity stake, Regulation A+ enables backers to avoid the potential frustration of contributing to a Kickstarter-type campaign only to miss out on a potential windfall after a public offering or exit.
Just look to Irvine's Oculus VR, which raised $2.4 million from a Kickstarter campaign in 2012. Though more than 9,500 people gave the company money in exchange for first dibs on its virtual reality headsets and other perks, none of them saw a dime after its $2 billion acquisition by Facebook Inc. two years later.
"What happened with Oculus was probably the best advertisement for investment-based crowdfunding we could have thought of," said Miller. "For the first time ever, companies can convert their customers into investors, who now become brand ambassadors."
'Testing waters'
Though he didn't have any previous business experience in the video-game industry, Maron had definitely played them. He's been recording himself playing and commenting on popular video games and uploading them to YouTube under the moniker CaptainSparklez since 2010.
The videos of his "Call of Duty" and "Minecraft" game play have become so popular that he's garnered more than 8.5 million subscribers to his YouTube channel, which receives more than 40 million page views a month, making him one of the most popular gaming-video creators on YouTube.
Marks contacted Maron after tracking him down through his grandmother to see if he might be interested in creating a game, and together they formed XReal.
Prev Next
For reprint and licensing requests for this article, CLICK HERE.