Real estate quarterly:Selling Shopping
Downtown Los Angeles hopes to broaden its draw as area's retail moves beyond bars and eateries to soft goods, including fashion.
Monday, January 26, 2015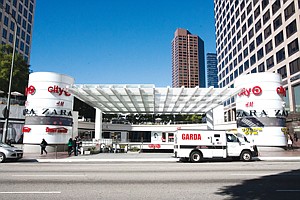 Downtown Los Angeles has something for almost everybody – finally.
Cultural institutions are flourishing, sports and nightlife venues are buzzing all week long and the dining bar has been raised above common, albeit tasty, street food.
But for all that has come to downtown over the course of its 15-year renaissance, there remains one missing puzzle piece: shopping.
A robust retail environment – from dry cleaners to grocery stores to luxury fashion boutiques – is a crucial component of any major metropolis. And while downtown L.A.'s retail scene has lagged other development, the urban core is finally on the cusp of an explosion.
"The retail picture in downtown is evolving, from one of food, beverage and hospitality for the better part of a decade to now starting to see a rather rapid introduction on the fashion front, or what we call soft goods," said Derrick Moore, a principal at real estate brokerage Avison Young.
In the last couple of years, a handful of independent boutiques and national chains such as Zara, H&M, Urban Outfitters and, most recently, Gap, have opened stores there, paving the way for more retailers to make the leap. Developers are beginning to recognize the growing need for retail downtown, hatching plans that may deliver millions more square feet of retail to the 5.8-square-mile area.
"Retail is the last leg of the stool," said Hal Bastian, a consultant who has worked toward the rebirth of downtown for more than 20 years. "We've had sports and entertainment, culture, hospitality. But we've been weak on retail and now that's finally happening."
Many people point to 1999 as the year that downtown began to take a swift turn toward revitalization. That year, Anschutz Entertainment Group opened the Staples Center, and the city implemented the adaptive reuse ordinance, which encourages the conversion of aging commercial buildings into housing and proved instrumental to bringing a new residential population to the area. But it was not until much later that retail in the area really began to blossom.
Brigham Yen, who began working downtown in 2004 for the Downtown Center Business Improvement District and now works for boutique real estate firm Miren.Co in Little Tokyo, said that before 2007, getting retailers to agree to open stores downtown was a hard sell.
"Back then, downtown was viewed as scary," he said. "It was as if the sidewalks rolled up after office workers went home at 5 o'clock."
Taking chance
As is often the case in urban areas, most of the first retailers to take a chance on downtown were restaurants and bars. It wasn't until seven or eight years ago that the area began to appeal to a broader set of retailers.
In 2007, L.A. Live opened to a warm reception, and city advocates convinced Compton grocery store chain Ralphs to open its premium Fresh Fare concept on Ninth Street. A couple of years later, French-themed eatery Bottega Louie – a restaurant that came to serve as a beacon for restaurateurs and retailers eyeing downtown – opened on Grand Avenue at Seventh Street.
"That corner was significant in making believers out of a lot of people in downtown," said Moore. "(Bottega Louie) was a beautiful restaurant with a great price point, it had a New York look with Las Vegas energy, and it had a two-hour wait to get in. The success of the place has not diminished, and it was great for a lot of restaurateurs outside of downtown who began to say, 'We can do something special downtown, we can do something high end; there's definitely a market.'"
The successful debut of Bottega Louie and Ralphs Fresh Fare were turning points for retail in downtown because, as real estate brokers are quick to point out, retailers don't like to be pioneers. Instead, they prefer to be surrounded by competitors that have already proved a market.
Lee Shapiro, executive vice president of Kennedy Wilson Brokerage Group in Beverly Hills, said retailers are being drawn to downtown by attractive demographics. The area's population has nearly doubled in the last 10 years to 53,000 people, with a median income of nearly $99,000, according to a survey by the Downtown Center Business Improvement District.
"Retailers want to locate in downtown now due to the growth of the residential market and also because of the proven return on investment that other retailers there have achieved," he said.
"Bottega Louie is the highest-grossing restaurant in all of Los Angeles, and Seven Grand, a whiskey bar across the street, is the highest-grossing bar," added Clare DeBriere, executive vice president and chief operating officer for downtown L.A. developer Ratkovich Co. "Once you start to dig into the facts versus the perception, the facts are amazing for retailers."
Changing minds
And the perceptions are changing, which is having an impact on skittish retailers.
"Retailers are followers, especially national retailers," said Brian Cornelius, vice president of retail development for Ratkovich.
One of the first projects to bring national retail chains to downtown was Figat7th, a semisubterranean mall.
New York real estate company Brookfield Office Properties Inc. acquired the project as part of a larger portfolio in 2006 and poured $40 million into renovating the 330,000-square-foot retail center. It then made waves in 2011 when it announced that Target Corp. would lease a major chunk of the former mall to open its new urban concept, City Target.
Ed Hogan, national director of retail leasing for Brookfield, said retailers' reluctance to be the first to enter a market made filling the newly renovated shopping center a challenge. Once Target signed on, more businesses fell in line.
"Retailers do not want to be pioneers, because when you open a retail store you have to be profitable day one," he said. "You can't wait for the neighborhood to turn around. If you're not immediately profitable, you're not going to survive."
Sport Chalet, Bath & Body Works, Victoria's Secret, Zara and H&M have all since opened stores at Figat7th, which is now fully leased for the first time in more than a decade.
To the east of Figat7th, the Broadway Theater District has seen similar success leasing retail space recently, though the mix of retailers moving in is more eclectic owing to the fact that properties along the street are owned by a variety of landlords with differing ideas and agendas for the area.
One national brand, Philadelphia clothing retailer Urban Outfitters Inc., blazed a trail for hip, independent retailers on Broadway when it opened in late 2013. Today, in addition to a Ross Dress for Less and a new Gap factory store, fashion-forward retailers such as Acne Studios, Oak, Tanner Goods, Kinfolk Studios, AltHouse, Seven Points and Apolis line the street in the burgeoning retail district.
"I was frankly stunned when Acne Studios, a Swedish brand I had never heard of, opened up on Broadway," said Carol Schatz, chief executive of Central City Association, a non-profit that advocates for downtown business interests. "It's really amazing to me the sort of hip, high-end retail we're starting to see in the historic core."
Investments flow
A greater influx is on the horizon. At least nine projects with major retail components are in the works downtown, promising to open at least 1.2 million square feet of new or refurbished retail space.
The largest of those is the redevelopment of a regional mall at 700 S. Flower St. that has long been anchored by Macy's Inc. The property, now known as the Bloc, is midway through a $180 million renovation by Ratkovich and Washington, D.C., financial partner National Real Estate Advisors. Slated to be completed this fall, the imposing brick behemoth, built in 1973, will be converted into an open-air urban center complete with 400,000 square feet of retail, a 750,000-square-foot office tower and a hotel.
DeBriere, who handles leasing at the Bloc, said she sees a bright future there with the right tenant mix.
"We want to bring Seventh Street and this whole area back to being the heart of downtown," she said. "We want vibrant activity at all hours of the day."
In the summer, Austin, Texas, movie theater company Alamo Drafthouse agreed to open a nine-screen, 800-seat venue at the Bloc. In addition, last month Macy's committed to renovate its outdated space into a 250,000-square-foot flagship store. The Bloc has also signed San Francisco luxury menswear retailer Wingtip to a 22,000-square-foot lease.
Jeff Kanne, chief executive of National Real Estate Advisors, said the firm saw a lot of upside to investing in downtown.
"From an outsider's perspective, I see a downtown that has finally reached a critical mass in a way that's interesting, has a lot to offer and is lively enough that people will want to live and work downtown," he said. "The retail portion of the project is actually the smallest part; the hotel, office and even the parking is bigger. But the retail is what ties it all together."
Several of the largest developments in downtown's South Park neighborhood also promise to bring significant retail square footage to the area. Fig Central, a project by Beijing developer Oceanwide that will bring apartments and hotel rooms in two towers rising 53 and 38 stories tall, will have about 166,600 square feet of retail in a two-story, open-air galleria at the center of the property. The development, which will cover a full city block across the street from Staples Center, is expected to break ground as soon as next month.
Though it is looking to national, regional and local retailers, Oceanwide has yet to sign any preconstruction leases.
Other projects with retail components in the works include:
The $1 billion Metropolis project in South Park by Shanghai developer Greenland Group, which will have 67,000 square feet of retail space.
The 12th & Fig project at 1220 S. Figueroa by downtown landlord L & R Group of Cos. will bring about 47,000 square feet.
And the Wilshire Grand project by Korean Air and Hanjin Group, which has about 45,000 square feet.
On Broadway, where Urban Outfitters and the Ace Hotel have for the last year drawn a crowd of hip millennial consumers, the 1 million-square-foot Broadway Trade Center office building might soon convert space to add to the retail mix. Though not confirmed, there are widespread rumors that as much as 200,000 square feet of space in the five-story former May Co. department store will soon be host to stores for Apple Inc. and its recent acquisition, Culver City headphones maker Beats Electronics.
Gathering momentum
A few blocks away, another long-anticipated retailer will soon set up shop. Premium grocery chain Whole Foods Market Inc. will open a 42,000-square-foot store later this year at 770 Grand, part of a seven-story luxury apartment building being built by San Francisco developer Carmel Partners.
Avison Young's Moore said that, like the opening of Bottega Louie in 2009, the announcement in 2013 that Whole Foods would open a grocery store downtown went a long way to validate the area as a viable retail market.
"I think there was a collective sigh of relief after the Whole Foods deal was signed," he said. "I think with that and a few other market deals – with Smart & Final and even Wal-Mart in Chinatown – anyone who was questioning whether this was a fad, they now knew it was the real deal. Downtown is a viable neighborhood and it has arrived."
Up on Bunker Hill, a place many consider the cultural center of downtown, retail is taking a more modest foothold.
The long-delayed Grand Avenue megaproject by Irvine developer Related California is beginning to make headway, though how much of the $700 million mixed-use project will be devoted to retail has yet to be determined. There is an expectation that the Frank Gehry-designed development will bring a significant supply of retail and entertainment space to complement the already announced 300-room SLS Hotel.
"Between our Grand Avenue projects, the Ratkovich redo of Macy's and now these two Chinese groups building near the Staples Center, it's taken some time but the train has clearly left the station," said Bill Witte, chairman and chief executive of Related. "Downtown is now not just for downtowners; it's a cool destination for people on the Westside and in the suburbs."
Big things are happening a bit further afield from the commercial center of downtown, too, in the Arts and Fashion districts. The massive apartment development known as One Santa Fe, for example, recently leased up most of its 40,000-square-foot retail yard with tenants that include Café Gratitude, Van Leeuwen Ice Cream, beauty shop Malin + Goetz and GROW Market.
At 555 Mateo St. in the Arts District, not far from a Blue Bottle Coffee Co. café (formerly Handsome Coffee Roasters), Century City specialty retail developer Blatteis & Schnur Inc. and financial partner ASB Capital Management of Bethesda, Md., have proposed transforming five vacant warehouses into a 130,000-square-foot retail center. The project, announced in the summer, is awaiting City Council approval before construction can begin.
A similar project in the Fashion District is further along. Downtown developer Lena Group Inc. began work in the summer on City Market South, the first phase of a project that promises to transform a 10-acre former produce mart into an estimated $1 billion creative office, retail, housing and hotel project. Its 75,000-square-foot retail component is scheduled to open this summer.
Peter Fleming, chief executive of City Market, said he expects to be able to announce retail and restaurant tenants for the first phase of the project next month.
Still waiting
But for everything that has happened to enhance the retail scene in downtown over the last several years, much more is needed to transform the area into a cohesive urban area with walkable shopping districts.
"Right now you have pockets of retail neighborhoods, and the challenge for downtown is to connect those pockets in meaningful ways so that the shopping experience isn't segmented," said Brookfield's Hogan.
Service retail, such as dry cleaners, yoga studios and shoe repair shops, are still sparse, as is what should be a diverse mix of affordable fast-casual food options.
And people who live and work downtown say there remains a need for entire categories of retail. Yen and Bastian agree that hard goods – furniture and home goods stores – are still sorely missing. So too, are high-end retailers such as Gucci and Prada.
"I hope that in the future we'll have high-end stuff and low-end stuff. I want both Balenciaga and Big Lots," Yen said.
But without aiming so high, residents have a short list of specific retailers they'd most like to see. That list includes an Apple store, a Tiffany & Co. jewelry store, and the mother of them all, a Trader Joe's grocery store. The latter, which downtowners for years have been clamoring for, announced last year that it will open a store just outside downtown near the USC campus. But for some, that's not good enough.
"My Holy Grail was Trader Joe's, which is opening a store at University Village by USC," said Bastian. "They're under the impression that downtowners will schlep down there to go grocery shopping, but I don't think that'll be the case. I'll be their first cash customer when they finally see the light."
For reprint and licensing requests for this article, CLICK HERE.