Lego Strategy Taking Shape
ENTERTAINMENT: Toymaker follows Disney's footsteps in film.
Monday, January 26, 2015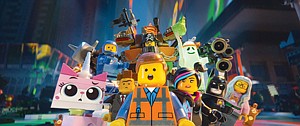 Lego, the family-owned Danish toy firm, is building its case brick by brick to be considered the world's leading entertainment and merchandising business – to the consternation of some L.A.-based companies.
On the strength of $468 million in worldwide box office for last year's "The Lego Movie" – including $258 million in the United States – the company was propelled past El Segundo's Mattel Inc. to become the world's leading toymaker, at least in the first half of last year.
"Mattel has been caught off-guard a bit by losing business to Lego, especially among girls," said Mattel analyst Stephanie Wissink of investment bank Piper Jaffray in Minneapolis. "Now that little girls are playing with Lego bricks rather than Barbie dolls and these new movies will continually reinforce the rival's brand, the company is going to have to rethink how it competes."
And Mattel is not the only L.A. company Lego might be going after.
With its commitment to make – and cross-promote – three more films in its branded franchise, Lego, with help from partner Warner Bros., might have Walt Disney Co. in its crosshairs.
"I'm not sure Lego should think of Mattel as their competition anymore," said David Robertson, professor of practice at the University of Pennsylvania's Wharton School of Business. "Disney may be the more relevant comparison."
Robertson, author of "Brick By Brick: How Lego Rewrote the Rules of Innovation and Conquered the Global Toy Industry," suggests that the path the company is now on is reminiscent of the one Disney took on its way to dominance as a media and merchandising business.
"Disney grew into the company they are now through telling stories, then building theme parks and selling toys and other merchandise around those stories," he said. "Lego is now expanding its network, and in another five to 10 years it's possible that we may be seeing them as a company that tells rich, compelling stories with accompanying plastic bricks, instead of a company that makes boxes of plastic bricks."
Lego became the world's biggest toymaker in September when it reported revenue of $2.03 billion in the first half of the year while Mattel reported $2 billion. Mattel is to report its full-year earnings Friday morning.
Expanded partnership
With three new Lego films greenlit, Hollywood's next big-money movie franchise is established and Burbank's Warner Bros. is only too happy to be extending its partnership with the toy firm.
For reprint and licensing requests for this article, CLICK HERE.
Prev Next