Lego Strategy Taking Shape
ENTERTAINMENT: Toymaker follows Disney's footsteps in film.
Monday, January 26, 2015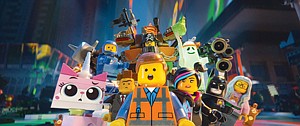 Lego, the family-owned Danish toy firm, is building its case brick by brick to be considered the world's leading entertainment and merchandising business – to the consternation of some L.A.-based companies.
On the strength of $468 million in worldwide box office for last year's "The Lego Movie" – including $258 million in the United States – the company was propelled past El Segundo's Mattel Inc. to become the world's leading toymaker, at least in the first half of last year.
"Mattel has been caught off-guard a bit by losing business to Lego, especially among girls," said Mattel analyst Stephanie Wissink of investment bank Piper Jaffray in Minneapolis. "Now that little girls are playing with Lego bricks rather than Barbie dolls and these new movies will continually reinforce the rival's brand, the company is going to have to rethink how it competes."
And Mattel is not the only L.A. company Lego might be going after.
With its commitment to make – and cross-promote – three more films in its branded franchise, Lego, with help from partner Warner Bros., might have Walt Disney Co. in its crosshairs.
"I'm not sure Lego should think of Mattel as their competition anymore," said David Robertson, professor of practice at the University of Pennsylvania's Wharton School of Business. "Disney may be the more relevant comparison."
Robertson, author of "Brick By Brick: How Lego Rewrote the Rules of Innovation and Conquered the Global Toy Industry," suggests that the path the company is now on is reminiscent of the one Disney took on its way to dominance as a media and merchandising business.
"Disney grew into the company they are now through telling stories, then building theme parks and selling toys and other merchandise around those stories," he said. "Lego is now expanding its network, and in another five to 10 years it's possible that we may be seeing them as a company that tells rich, compelling stories with accompanying plastic bricks, instead of a company that makes boxes of plastic bricks."
Lego became the world's biggest toymaker in September when it reported revenue of $2.03 billion in the first half of the year while Mattel reported $2 billion. Mattel is to report its full-year earnings Friday morning.
Expanded partnership
With three new Lego films greenlit, Hollywood's next big-money movie franchise is established and Burbank's Warner Bros. is only too happy to be extending its partnership with the toy firm.
"They have been spectacular partners in establishing what is a key franchise for Warner Bros.," said Greg Silverman, the studio's president of worldwide production. "No one knows their consumers better than Lego, and we have benefited enormously from their expertise in reaching the widest possible audience."
Lego is understood to have a lucrative deal with the studio, enjoying escalating first-dollar gross on the movies, according to sources. That means the toy company gets a share of each movie's gross box-office revenue from its first day of release onwards, which is the kind of deal normally only reserved for A-list movie stars.
It eclipses standard toy firm-studio partnerships such as the Hollywood deals made with Hasbro, which reportedly receives only a producer's fee for the "Transformers" and "G.I. Joe" franchises.
"The film has had a positive impact on our business, and we believe the new movies will help build the brand and inspire people to be creative, which is extremely important," said Jill Wilfert, Lego's vice president of global licensing and entertainment, who works out of a Hollywood office. "The mission of our company is to 'Inspire the Builders of Tomorrow' and we do believe that Lego movies can help deliver on this goal."
The first movie in the series was conceived and produced by L.A. producer Dan Lin, previously best known as a producer on the Robert Downey Jr. "Sherlock Holmes" movies, who is now overseeing the expansion of the Lego movie universe. That includes a sequel to last year's hit as well as stand-alone films based on two of Lego's most popular lines of toy sets, Batman and ninja set Ninjago.
"We have an ambitious plan for the future Lego movies," Lin said. "Creatively we feel that we have more compelling stories to tell using Lego as an art form. On a business level, we put together a terrific team, assets and proprietary technology for the first Lego movie that we are now augmenting for our future films."
He confirmed there will be a huge marketing plan to support these films, just as there was with the first movie.
Simultaneously released with the first film were new toy sets inspired by scenes from the movie, promotional tie-ins with McDonald's and Barnes & Noble and "The Lego Movie Videogame" launched on Xbox, PlayStation and other platforms, all which helped send global earnings surging.
And regionally, the Legoland California Resort theme park in Carlsbad got a big attendance boost.
"The movie has had an incredible impact on us," said theme-park spokesman Jake Gonzales. "Attendance is up and our internal research shows that 24 percent of our guests were directly inspired to visit the park by seeing the movie."
He declined to reveal revenue or attendance data.
Familiar faces
"The Lego Movie," which reportedly had a $60 million budget and was primarily made in Australia by Sydney-based digital effects firm Animal Logic, followed the adventures of Lego minifigure Emmet, a construction worker who finds himself on a quest to save the world as part of a fellowship of strangers, including some of the most recognizable and heroic fictional characters.
The partnership with Warner Bros. allowed Lego to make use of characters owned by DC Comics, like the studio a unit of Viacom Inc. That allowed Batman, Superman, Wonder Woman and Green Lantern to make appearances in last year's film. Lego was also able to tap into the popularity of the "Harry Potter" series, also a Warner film property, and use Lego versions of Albus Dumbledore and other Potter characters.
Despite being housed under one studio roof, "Lego Movie" filmmakers consulted with Christopher Nolan, director of the "Batman" franchise; Zack Snyder, director of the "Superman" franchise; and "Harry Potter" creator J.K. Rowling over the use of the iconic characters in "Lego Movie."
The use in the film of "Star Wars" characters Han Solo, C-3PO and Lando Calrissian was made possible by a licensing deal made with Lucasfilm just before that company was sold to Disney.
Wilfert, Lego's Hollywood liaison, makes licensing deals with studios to bring copyrighted characters into the Lego universe and serves as executive producer on all the company's movies.
"We luckily have long-standing relationships established with many IP owners across all of the major studios and we were able to leverage the relationships to help the filmmakers and Warner Bros. secure the rights to use licensed characters in the film," she said. "The inclusion of the DC characters was completely organic to the creative process and the creative concept and was not something that WB pushed for."
For reprint and licensing requests for this article, CLICK HERE.