Discretion Paid In Bank Deal
lending: City National touts reserve in pickup by RBC.
Monday, January 26, 2015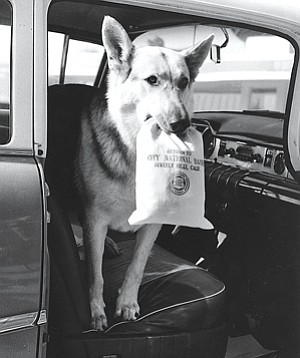 Tinsel Town is full of rumors, but there wasn't a peep about the sale of Hollywood's bank until the deal was announced last week: City National Bank, the "bank to the stars" and the largest lender in Los Angeles, will be acquired by Toronto's Royal Bank of Canada for $5.4 billion.
It's a deal that took everyone by surprise, including those who closely follow the bank. City National's longtime chief executive, Russell Goldsmith, though, said that level of discretion is a hallmark of his bank's culture – and one reason why it was such an appealing target.
City National wasn't on the market, hence the surprise, but Goldsmith said the chance to partner with RBC, not to mention the size of the deal, was too good to pass up.
"We weren't looking to sell. We had no strategy to sell," he said. "Sometimes in life, a great opportunity knocks on the door and you have to respond to it."
Goldsmith said the combination of City National and RBC was a perfect match for a variety of reasons, mentioning the banks' complementary business models and the fact that there will be hardly any consolidation – that is, firing – of employees. RBC manages $260 billion for high-net-worth clients in the United States, but it has no commercial banking operations here, meaning it can't offer loans to its wealth management clients in the U.S. With City National, it can.
"They don't have a bank in the United States," Goldsmith said. "Those folks are not getting banking services from RBC. RBC would like to provide them with mortgages and business loans, and now with City National, they can do that. I can't think of a bank that would be a better fit."
Good deal
Matthew Clark, an analyst who covers City National for the New York office of Birmingham, Ala., investment bank Sterne Agee & Leach Inc., said it looks like a good deal all around, but, like others, it came as a shock to him when it was announced on Jan. 22.
"Nobody saw this coming," Clark said. "This was a big surprise."
RBC will pay on average about $47.25 in cash and three-quarters of a share of RBC stock for each share of City National Corp., the bank's parent company, which equates to a total of about $93.80 for each City National share.
Once the deal closes, expected to happen in the fourth quarter, City National Corp., the holding company, will cease to exist, but City National Bank will remain. What's more, it will continue to be based in downtown Los Angeles and Goldsmith will stay on as chief executive. Goldsmith has led the bank since 1995, when he took over for his father, Bram, who had served as chief executive since 1975.
For City National clients, Goldsmith said nothing much will change.
Clark said the price, despite being about a 26 percent premium to where City National's shares were trading before the deal was announced, made sense for RBC because of the quality of City National's deposits and its strong brand name.
"I think RBC's getting a pretty good deal," he said. "You're talking about a premier California-based franchise."
City National, founded in 1954, is well-known for catering to a showbiz clientele and remains a market leader in the entertainment business. With more than $32 billion in assets, it's the largest bank headquartered in Los Angeles County.
The bank famously lent Frank Sinatra $240,000 to pay a ransom after his son was kidnapped, and in the last few years opened offices in Atlanta and Nashville, Tenn., in order to better serve its clients involved in the music business. Goldsmith said teaming up with RBC – with its operations not only in Canada, but also in the United Kingdom – will give City National's entertainment clients more options when producing films in those countries.
"You see more clients in entertainment doing production in Toronto and Vancouver," Goldsmith said. "We're going from being the premier entertainment bank in the United States to the premier entertainment bank in North America, and not long after that the premier entertainment bank in the English-speaking world."
Next up?
Goldsmith said that the merger with the Canadian finance giant won't cause City National to stray from the personal touch for which it's famous, whether it's been providing that loan to Sinatra or delivering cash to clients on a moment's notice. Instead, he believes that, with RBC's strong credit rating and global capabilities, City National will be able to provide more services to its customers.
"With a balance sheet that's almost $800 billion and a credit rating that's so strong, it gives us the ability in some cases to take an even bigger lending position," Goldsmith said. "There are a lot of exciting opportunities that wouldn't have been out there for us if we had remained independent."
Los Angeles has seen a bevy of bank deals over the past few years – including Chinatown's Cathay General Bancorp's purchase of Asia Bancshares Inc. in Flushing, N.Y. last week (see page 10) – but this is by far the biggest. CIT Group Inc. in Livingston, N.J., agreed to buy Pasadena's OneWest Bank last summer for about $3.4 billion in a deal expected to close in the first half of this year.
Clark fingered First Republic Bank in San Francisco, a longtime rumored sale target, as a likely next domino to fall in California, but said last week's developments will be welcomed by most financial institutions.
"It's good for all banks when something like this happens," he said.
For reprint and licensing requests for this article, CLICK HERE.