Discretion Paid In Bank Deal
lending: City National touts reserve in pickup by RBC.
Monday, January 26, 2015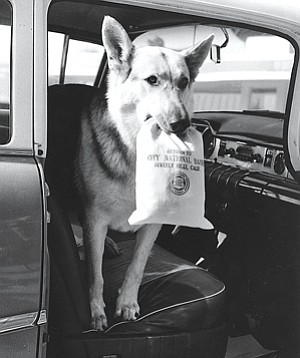 Tinsel Town is full of rumors, but there wasn't a peep about the sale of Hollywood's bank until the deal was announced last week: City National Bank, the "bank to the stars" and the largest lender in Los Angeles, will be acquired by Toronto's Royal Bank of Canada for $5.4 billion.
It's a deal that took everyone by surprise, including those who closely follow the bank. City National's longtime chief executive, Russell Goldsmith, though, said that level of discretion is a hallmark of his bank's culture – and one reason why it was such an appealing target.
City National wasn't on the market, hence the surprise, but Goldsmith said the chance to partner with RBC, not to mention the size of the deal, was too good to pass up.
"We weren't looking to sell. We had no strategy to sell," he said. "Sometimes in life, a great opportunity knocks on the door and you have to respond to it."
Goldsmith said the combination of City National and RBC was a perfect match for a variety of reasons, mentioning the banks' complementary business models and the fact that there will be hardly any consolidation – that is, firing – of employees. RBC manages $260 billion for high-net-worth clients in the United States, but it has no commercial banking operations here, meaning it can't offer loans to its wealth management clients in the U.S. With City National, it can.
"They don't have a bank in the United States," Goldsmith said. "Those folks are not getting banking services from RBC. RBC would like to provide them with mortgages and business loans, and now with City National, they can do that. I can't think of a bank that would be a better fit."
Good deal
Matthew Clark, an analyst who covers City National for the New York office of Birmingham, Ala., investment bank Sterne Agee & Leach Inc., said it looks like a good deal all around, but, like others, it came as a shock to him when it was announced on Jan. 22.
"Nobody saw this coming," Clark said. "This was a big surprise."
RBC will pay on average about $47.25 in cash and three-quarters of a share of RBC stock for each share of City National Corp., the bank's parent company, which equates to a total of about $93.80 for each City National share.
Once the deal closes, expected to happen in the fourth quarter, City National Corp., the holding company, will cease to exist, but City National Bank will remain. What's more, it will continue to be based in downtown Los Angeles and Goldsmith will stay on as chief executive. Goldsmith has led the bank since 1995, when he took over for his father, Bram, who had served as chief executive since 1975.
Prev Next
For reprint and licensing requests for this article, CLICK HERE.