HopSkipDrive Carpools Parenting and Tech
Tuesday, January 20, 2015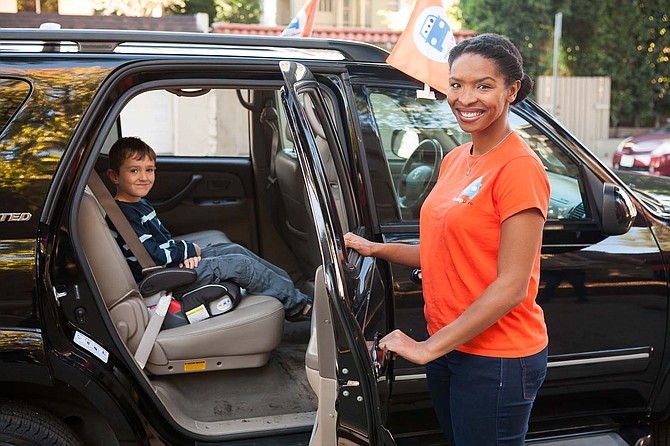 Parenting isn't an easy road, but one L.A. startup says help is just a hop, skip and jump away.
HopSkipDrive has beta-launched as a ride-sharing app for parents who struggle to find safe carpools for their children. Founded by three moms with backgrounds in tech, law and marketing – and who have eight children among them, all under the age of 12 – the DTLA startup promises to help alleviate the stress that comes with driving.
"We're not childcare," Chief Executive Joanna McFarland said. "But we're going to help your kids get to their next activities."
McFarland declined to share the company's driver cut – Uber, by comparison, keeps 20 percent of each ride's revenue. She also declined to disclose the size of HopSkipDrive's seed funding provided by angel investors.
Passenger safety is one of the biggest issues plaguing ridesharing apps such as Uber, Lyft and SideCar. L.A. and San Francisco attorneys filed suit against Uber last month to seek an injunction that would halt operations in part due to allegedly lax background checks for drivers. Lyft settled with prosecutors while SideCar, at the time, was still in negotiations.
McFarland said HopSkipDrive has a 15-point certification process that requires drivers to be at least 25 years old and have at least five years of childcare experience, whether as a parent, teacher, nanny or camp counselor. Drivers are subject to background and driving record checks, and cars are inspected by mechanics. The app has also partnered with driving analytics startup Zendrive to monitor behaviors such as speeding or texting while driving.
These are steps that go beyond what most parents do when calling in carpool favors from friends, McFarland said. But with children as the targeted passengers, HopSkipDrive has a tougher sell to parents who might not be jazzed about putting their little ones in strangers' cars.
The app currently has less than 100 drivers who operate mostly in East Los Angeles, including South Pasadena, Los Feliz, Silver Lake and Eagle Rock. The service expanded into West Hollywood, Hollywood Hills, Larchmont and Hancock Park last week.
Staff reporter Melissah Yang can be reached at MYang@labusinessjournal.com. Follow her on Twitter @MelissahYang for the latest in L.A. tech news.
For reprint and licensing requests for this article, CLICK HERE.