Smart-Home Business Sees Utility in Water, Power
TECHNOLOGY: Chet Pipkin talks Belkin International's expanded offerings.
Monday, January 19, 2015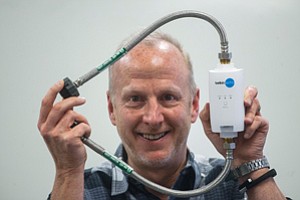 Five years ago, Playa Vista's Belkin International Inc. began developing a range of smart-home products that are operated remotely by mobile devices. The first fruits of those efforts, sold under the WeMo brand, hit the shelves more than two years ago. Now, Belkin is looking to expand its customer base beyond its Internet-connected crock pot, webcam, light bulbs and other home products. It is exploring enterprise opportunities for products that gauge water and power usage. Founder and Chief Executive Chet Pipkin recently discussed Belkin's plans and the hurdles facing the "Internet of Things" marketplace at his company's sleek Playa Vista headquarters.
Question: How did you decide to venture into the smart-home market?
Answer: We were coming off the heels of developing a unified message platform – text to voice, voice to text and voice over IP. We were just doing that as Skype and Vonage were coming to market. We said, "We kind of missed on that one, so what's the right thing to do in that same sort of setup with cloud and app?" When we started to dive into what that might look like, it became pretty overwhelmingly obvious – that the time would be coming quite soon around the space of smart home.
How did you go about it?
The important thing was to build a platform that anticipates the scale of all these different things. From the platform, we could launch our first thing, second thing and third thing. The more things you add, the smarter everything is and the better it all works as one.
Five years and multiple products later, are you meeting sales targets?
Yeah, it's really a fun time for the category.

But it's also crowded. Apple and Google have competing platforms and are staking their claim in the market.
I think you'll see most leading brands doing a good job of working to make sure things work together as well as they can. People aren't going to want, nor should they be expected to have, 65 different apps to do 65 different things in their home.
We've got a lot of interaction points with Apple already, so Apple's a natural one. When the smart-home space really starts to explode, you're going to get a lot of entries in a lot of fringe ways, so some of those might be a little tougher to predict.
How do WeMo Water and WeMo Power work?
WeMo water allows it to be inserted in a very straight-forward fashion anywhere in the home's plumbing and it starts to give us insight on something that none of us have ever had much insight on before: where water's being used in the home. Whether it's my kitchen sink, shower, irrigation system or appliance using water, and how much water is being used. WeMo Power works in a similar way. From a single point of contact in the home we can tell what's using electricity, when it's using it and how much is being used.
How connected are you to the "Internet of Things"?
I have a wife and seven kids. I know that it's important to us, as they're young and growing up, to know when they're home and when they're not home. Being able to do things like using Linksys Smart Wi-Fi software on my router at home, I can easily see that their smart device is connected or not. If it's connected, they're probably home. It doesn't guarantee me they're home, but they're probably home. And if they just got home, and our deal is that they should be doing homework for the next two hours, if the Xbox fires up in 15 minutes, they might not be doing their homework.
Beyond monitoring kids, WeMo Power and WeMo Water seem tailor-made for commercial customers. Was this an intentional shift?
Our hope would be that this is a solution that would be made available to everyone who would benefit from it. Whether that comes more through business or the consumer themselves, I think we would embrace both ways. Seldom is it only one particular way that things happen, and I think in this example that it would start to reach consumers in multiple ways.
Many of your products seem geared toward families and homeowners. What about everyone else?
We've got a tendency to say smart home or connected home, so I think the vision for a lot of us is a house maybe with a picket fence around it. What we're learning is that where these experiences are coming to life is very often in people's apartments. It's a good reminder that we have to be careful about the names and labels we use.
So how does that knowledge affect your marketing?
I don't know if we've really figured it out yet. As we started to get that insight over the last six to nine months, it started to dawn on us: Even as we're doing our graphic imaging and everything, we had been showing a home. I don't know if we've started to see images yet that show an apartment for example. That makes it seem like we don't get it and we're not aware. There's an awareness inside the organization around this theme.
For reprint and licensing requests for this article, CLICK HERE.