Off the Leash
veterinary: VCA expands health care offerings for pets as owners shell out more for treatments postrecession.
Originally published January 19, 2015 at midnight, updated January 19, 2015 at midnight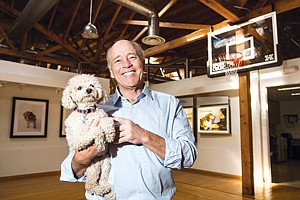 It's a good time to be a dog. Some wear cashmere sweaters, feast on venison and squash for dinner and board in luxury animal hotel suites when their owners are away.
It follows, then, that doting owners willing to shell out serious cash for pet amenities would likewise be willing to spend a little to keep their furry companions healthy.
That willingness is a large part of what has unleashed the stock of VCA Inc., which operates animal hospitals and laboratories and is getting into other aspects of pet care. Its stock has climbed 150 percent over the past two years, recently trading at an all-time high of just over $50 a share.
Chief Executive Robert Antin thinks the growth can be explained by that Pomeranian at the pub or that schnauzer in your yoga studio.
"All you have to do is walk down the street, I don't care what city you're in," said Antin sitting in the company's West L.A. headquarters. "Pets are playing a much more important role (in our lives)."
An improving economy hasn't hurt either.
Veterinary care generated more than one-quarter of the $58.5 billion spent on pet care in the United States last year, according to the American Pet Products Association. And dollars spent on pet health continued to grow throughout the recession, even if the rate of growth slowed to 2 percent in 2012, compared with 10 percent in 2007.
Either way, the financial downturn might have shaken up the country's largest network of freestanding, full-service animal hospitals in a good way.
"Running up to the recession, VCA would just roll up animal hospitals and labs and get bigger, and that was all they needed to do," said Debbie Wang, equity analyst with Morningstar Investment Services Inc. in Chicago. "The recession made it such that they couldn't necessarily rely on the same strategy as before when people are just not really willing to spend as much on pet health care. I think that's made them reassess how things might be different and how they need to adapt."
In the past few years, VCA has given the cash on its balance sheet a workout. It's been buying back shares, thinking creatively about acquisitions and getting pet owners to invest in long-term health care.
Pup to hound
Antin, his brother Arthur and partner Neil Tauber started the company, then Veterinary Centers of America, in 1986. Antin, now 64, had been an officer of American Medical International Inc., a health care facility owner and operator catering to humans, and co-founded AlternaCare Corp., a publicly held owner and operator of patient surgical centers.
A basketball fanatic, Antin has a half-court in the center of VCA's cavernous headquarters on West Olympic Boulevard. Multicolored baseball caps brandishing the company's ticker "WOOF" line the wall.
Antin said they chose the ticker symbol when the company debuted on the Nasdaq in 2001 under the name VCA Antech, which referenced the lab portion of the business. Last year, the name changed to VCA Inc.
The firm first went public in 1991, when it was generating just $14 million in revenue, Antin estimated.
"We were lucky to survive," he said. "It wasn't the operations we ever had trouble with, just the financial structure."
That initial offering, Antin said, was managed by a firm like the one depicted in "The Wolf of Wall Street," a chop shop that would hustle stock. The shares never really traded in a public market, but rather in a back room, and investors were also given warrants at 20 cents a share. VCA wasn't allowed to raise more money unless the stock went up 50 percent, which squeezed the company.
West L.A. private equity firm Leonard Green & Partners bought the business for about $550 million in 2000, Antin said, recapitalizing VCA before taking it public again about a year later. The 2001 IPO brought in about $150 million.
At the time, VCA operated about 200 vet hospitals and 15 diagnostic labs. Today, it has more than 600 hospitals and nearly 60 labs. The hospitals provide about 80 percent of total revenue, which reached $1.8 billion for all lines of business in 2013.
Cat's meow
Antin credited some of VCA's recent growth to a brisker acquisition pace.
"In 2014 we acquired about $120 million in revenue on the hospital side," he said. Meanwhile, same-store revenue increased by 2.3 percent for the nine months ended Sept. 30. Antin said internal growth had been supported by a greater Internet presence and text-messaging clients to remind them of appointments.
VCA also completed a $125 million stock buy-back program last year, and the board also authorized repurchase of up to an additional $400 million worth of shares.
Management has also devised some creative strategies to bolster the business without necessarily having to make huge investments, said analyst Wang, pointing to a deal struck last year for doggie day-care franchise Camp Bow Wow and last week's announcement of a partnership with pet medical insurance provider Trupanion.
Through its franchises, Camp Bow Wow has exposure to about 400,000 to 500,000 pet owners a year, Antin said. And though franchisees are not required to refer to VCA hospitals, it does give the company more exposure.
"Pet owners are more likely to take a pet to a Camp Bow Wow for day care much more frequently than to a veterinarian," Antin said.
VCA doesn't see a lot of revenue from pet insurance yet, but the Trupanion deal could be a match for the VCA Care Club wellness program, a package of discounted doctor visits and recommended diagnostics that clients can buy for their pets. Antin said the program, which the company started rolling out in more than half of its hospitals last year, has been popular, but the financial results won't be seen for a while.
Initiatives like VCA Care Club could help carry the business going forward.
"One of the big questions (in the industry) has to do with are people going to go back to doing preventive care," said Wang. "Before the recession, pet wellness was a big driver."
She said VCA was in good shape in terms of cash generation from its steady core business.
The number of pets in the United States is forecasted to increase at an annual rate of 2.1 percent over the next four years, according to market research firm IBISWorld. VCA is aiming to build out its business without relying too much on all those schnauzers multiplying, just more of them getting dental cleanings and other care.
For reprint and licensing requests for this article, CLICK HERE.