Work/Life: Lisa Hirsch
Owner of the Studio (MDR) on privacy, leaving the entertainment industry and owning a business.
Tuesday, February 17, 2015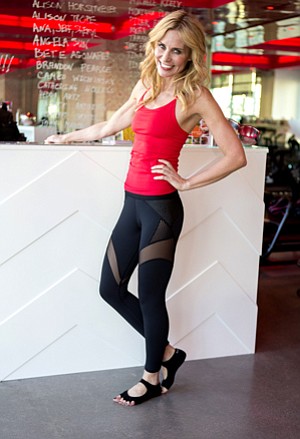 Lisa Hirsch, the 43-year-old owner of the Studio (MDR), a boutique fitness operation with studios in Marina del Rey and Culver City, spent 15 years as a music industry executive, working for the likes of Virgin Records and Sirius Satellite and dealing with artists that included Janet Jackson and Courtney Love. After years of splitting her time between her native New York and Los Angeles, Hirsch relocated to Venice in 2007 to focus on a longtime passion that sat latent during her music career: fitness. Eight years later, she has two popular studios and a third slated to open this spring in Playa Vista. We spoke with her about how she finds balance as a relatively new business owner.
Question: Describe your morning routine.
Answer: It varies. I generally wake up around 5:30 or 6 a.m. and start my day by walking the dogs. I have two of them. Right away, I eat something. I usually have two breakfasts a day. I either do some cardio or jumpstart my work day. I'll either jump in shower and head to one of the studios or just plug away answering emails, chatting with clients and going through finances.
How do you maintain work/life balance?
My job can be 24 hours a day, just to make sure everything is up and running and clients are happy. It's hard when you have your own business to walk away from it. I manage tasks by making lists to make sure I get everything done. But then I make sure that I get up from the computer and take a walk or get on the phone with my mom. I try to keep family close. I just had my brother come in and do a lot of finance stuff with us. I can't travel as much as I did when I was in entertainment, so instead I make time for the normal things, just walking on the beach and making sure that life is as round and full as possible.
How do you make time for what's important to you?
I make sure that when I leave the studio or leave work, I leave it. I turn off electronics and close my laptop. I don't bring my phone to table with me. It's very important for me to have a private life. I plan different things – bowling, going to the comedy club, spending quality time with friends. I spend time with my boyfriend. I definitely need alone time as well.
Why did you leave a successful entertainment career behind?
No matter what job I have, I put my all into it, and I started to get burned out. When I was first introduced to this workout by Sebastien Lagree, I fell in love. I had met our current head trainer, Ky Evans, at another studio and he had basically guided me to change my body. I wanted to bring it to other people, and I had never opened a business before, so I just jumped in. It's a big change. It's a big shift from what I was doing in entertainment, and it's challenging at times, but it's so rewarding. It's been an incredible ride. I look forward to opening several more of these studios.
For reprint and licensing requests for this article, CLICK HERE.