Smooth Operator
BEAUTY: Nicci Levy looks to move needle on Botox injections with storefront clinic offering salon-style service.
Monday, February 16, 2015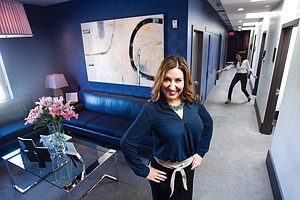 You can style your hair at a chain of salons dedicated to blowouts, and you can tame your eyebrows at branded boutiques for waxing only. Now a Beverly Hills entrepreneur wants to bring this focused beauty service concept to smoothing your wrinkles.

Nicci Levy, a former sales representative for Allergan Inc. with a background in cosmetics, is attempting to recast the experience of getting a shot of Juvederm or Botox as a beauty maintenance ritual. She's out raising money to launch Sproose, a high-end storefront clinic for injectable cosmetics.
The idea, she said, is to offer relatively simple cosmetic medical procedures to folks who want white-glove treatment: The staff will remember that they enjoy a soy vanilla latte, keep notes on exactly how and where dermal filler or Botox treatments went during previous visits and maybe touch up their face in the makeup room with a professional stylist.
Levy said she needs to raise between $500,000 and $750,000 if she's to launch the brand and open in Beverly Hills by May. She's been tapping industry colleagues, physicians and friends for her first funding round.
"I understand it has to be safe and medical," said Levy, 36. "Assuming that can be handled, why can't I call, get in, get out and have a beauty-driven experience and not sacrifice the quality?"
She said that she has lined up a number of professionals to help get the enterprise off the ground: A lawyer is assisting with company formation, she is in negotiations for a storefront, and she has tapped a public relations agency, branding person and interior designer. All she needs is the funding in place to start cutting the checks.
A big chunk of that initial money will go toward paying rent for a spot with that coveted Beverly Hills ZIP code, but Levy said being in the right location is an important part of her business plan.
Sproose will charge per treatment, won't take insurance reimbursements and is aiming for middle-of-the-road pricing. Levy wants the first location to have four or five employees. Meantime, she is working as a consultant brokering medical equipment and software for physicians, but she'll focus all her attention on Sproose when the first outlet opens.
Blush beginnings
Levy began working for MAC Cosmetics after graduating from the University of California, Davis. After rising through the ranks to pilot a personal shopper program for Nordstrom's cosmetics department at its South Coast Plaza location in 2006, she said that she left to develop a training program for Calvin Klein beauty, a makeup brand that had been licensed by City of Industry-based Markwins International.
Eager to find something that didn't require as much national travel, she started working for Allergan in 2009 as a business development manager for its Latisse, Juvederm and Botox products in Beverly Hills. Though it might have seemed like preaching to the converted, it proved a great challenge.
"The job paid on growth, not existing volume" she explained. "And my area was highest volume and lowest growth."
She won business by explaining to physicians that she had come from corporate cosmetics, where a woman walks into a department store and has 20 counters to choose from.
"In Beverly Hills, it's the same thing," Levy said. "Brighton Way has 100 offices that do same thing."
She made it her mission to help her physicians figure out how to set themselves apart and remain competitive.
At Allergan, she saw that physicians needed to become more entrepreneurial, a skill not necessarily taught in medical school. She also realized that many women were treating injectable procedures like just another beauty maintenance ritual.
Connecting the two, she came up with the idea for something to fill a gap between a medi-spa peddling hundreds of services and in-office doctor's treatments. She thought the Drybar hair-blowout model for injectables made perfect sense.
Levy left Allergan to get more entrepreneurial experience working for a couple of medical industry startups and started developing Sproose in March. Her plan calls for clinics to be staffed by nurse practitioners, physician assistants and registered nurses to handle injections under the supervision of medical doctors.
She enlisted Dr. Steven Yoelin as medical director, an ophthalmologist by training who has focused his Newport Beach private practice on injectables since 2001.
"I've always said if any of the reps from the various companies decided to open a business or went to school and got a degree and became injectors, they would be formidable," said Yoelin, whose role will be to ensure the company is in compliance with medical regulations. "They've seen what works, seen so many offices, they know what the patient experience is about."
Granted, an injectable-only clinic wouldn't be able to solve everybody's wrinkle woes.
Dr. George Rudkin, program director for plastic surgery at UCLA, who offers injectables and other treatments in his own practice, said other options might be better for some patients. For example, somebody older with significantly loose skin looking to smooth their face might not be a good candidate for fillers.
"There are patients that require other options such as skin resurfacing or surgery, and I think ideally you want to be assessed for what techniques will be best for your unique problem and desires and want to be able to offer those different things," Rudkin said.
Yoelin said Sproose would make sure during initial consultations that patient expectations were understood.
"If they're outside of what you're able to provide, as happens with any provider, it's really important that it be talked about and treated by the appropriate practitioner," he said. "It doesn't mean everybody will fit in that box."
Yoelin, who is not a partner in the business, was sanguine about the prospects for Sproose's success.
"I know this field well, I've been doing it for so long and we're not in competition," Yoelin said of other injectors. "There's enough lines and wrinkles for all of us in Southern California."
For reprint and licensing requests for this article, CLICK HERE.