Hackman Drums Up Buyer for Beats HQ Site
Sale: Blue-chip tenant helps net $90 million deal for Hayden Tract buildings.
Monday, February 16, 2015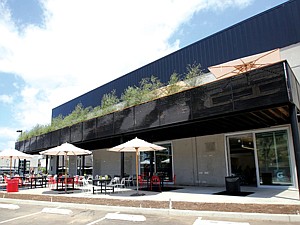 Dr. Khawar Siddique, one of four co-owners of Beverly Hills Spine Surgery, purchased the property at 8436 West Third St. in an off-market sale. The transaction, which closed Feb. 5 according to real estate sources, came to about $632 a square foot.
CIM purchased the nine-story, 38,000-square-foot building from the DGA pension fund in July 2013 for just $14 million. CIM intended to remodel and convert the '80s-era office building into a residential property, but the unsolicited offer was too good to refuse, sources said.
Siddique was eager to own a property close to Beverly Hills Spine Surgery's offices at 444 S. San Vicente Blvd. The group intends to occupy a portion of the property, known as the Joseph Youngerman building, using it for medical and administrative offices, sources said.
Siddique and CIM did not respond to requests for comment.
Lynwood Fields and Bob Safai of Madison Partners represented the seller.
Daniel Chiprut, senior managing director of Commercial Asset Group Inc., represented the buyer.
Trojan Trade
The site of popular USC hangout 901 Bar & Grill has been sold, and the deal might portend changes coming to the corner of South Figueroa and 30th streets.
A venture formed by Jade Enterprises, a downtown L.A. real estate investment and development firm run by Brian and Jacob Taban, purchased the site, which also includes a Carl's Jr. and an El Pollo Loco, from a limited liability entity formed by Darryl Holter, chief executive of Downtown L.A. Motors Group. The Holter family had owned the property since 1971. Terms of the deal were not disclosed.
The principals of Jade declined to discuss the purchase, but the site is in the path of a great deal of redevelopment as older properties give way to projects mixing retail and student housing, said Chris Caras, a senior vice president with CBRE Group Inc., who represented the seller.
There are no plans right now for redevelopment, Caras said, "but one would think (the property) would not stay that way forever, based on what's happening."
Staff reporters Jonathan Diamond, Hannah Miet and Carol Lawrence contributed to this report.
Prev Next
For reprint and licensing requests for this article, CLICK HERE.