Business Deal Bounces Lakers Legend into Court
SPORTS: Auctioneer sues to settle score with Kareem Abdul-Jabbar.
Monday, February 16, 2015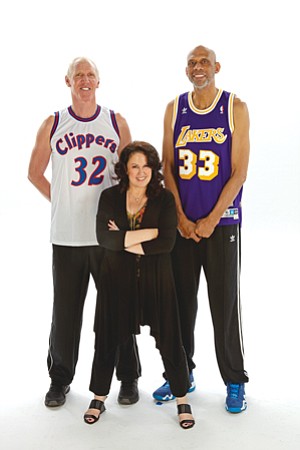 Life outside of "Showtime" has not always been golden for Los Angeles Lakers great Kareem Abdul-Jabbar.
His house burned down, he sued his former business manager for allegedly mishandling money and, for a while, depended on memorabilia sales to get by. That began to change in 2005, after he teamed up with longtime friend Deborah Morales to produce a documentary, "On the Shoulders of Giants."
The project kicked off a deeper business relationship: Morales formed a management company, Iconomy, to find new revenue streams for retired celebrities and athletes, and signed Abdul-Jabbar as her first client.
But Abdul-Jabbar still occasionally sells memorabilia, and that has netted both him and his manager in a hoop of trouble.
He consigned some 400 pieces of memorabilia to be sold by Julien's Auctions of Beverly Hills in 2012. He delivered about 150 of the items, then had second thoughts and asked for six back. When Julien's would not return them, he refused to send the balance. Declining to release him from the deal, the auctioneer went to arbitration and was awarded nearly $584,000. The basketball legend balked, and his refusal to pay the award has landed him, Morales and Iconomy in court.
"We never wanted to go through litigation as we tried to resolve on many occasions prior," said Darren Julien, chief executive of Julien Entertainment.com Inc., the auction house's parent, in an e-mail.
Though disputes over obligations in a contract are common, it is highly unusual for auctioneers to take former clients to court.
Most auction houses rely on word of mouth to maintain a steady business, said Alan Lipkin, senior vice president in the Encino office of Regency-Superior Auctions, and as a result are rarely litigious.
"If people feel cheated, they're not going to refer you to others," said Lipkin, who has been in the business for more than two decades. "We set up a contract initially to avoid conflict."
Greener pastures
But for their fight with the auction house, Morales and Abdul-Jabbar have generally had a productive professional relationship.
"Before I started managing Kareem, he was doing memorabilia shows," she said. "That's how he was making a living."
Now, Morales has set up 35 paid speaking engagements, book signings and other promotional trips for Abdul-Jabbar this year. The duo is also wrapping up another documentary about the National Basketball Association legend's personal life that is set to air on HBO later this year, as well as another film about race relations in America.
What's more, Abdul-Jabbar is slated to release his 11th book later this year. "Working with Iconomy, Deborah was able to show what I'm all about beyond the obvious things, relating to basketball," Abdul-Jabbar said. "It's nice to get the opportunity to be involved with things that don't have anything to do with sports."
Moving beyond sports was hard for Abdul-Jabbar, a 7-foot-2 giant of the game.
Over his 20-year NBA career, Abdul-Jabbar accumulated 38,387 points, more than any other player, earning six championships.
His storied career started at a Catholic high school in New York, and continued during his four years at UCLA, where he won three national championships in as many years.
As the first overall draft pick in 1969, Abdul-Jabbar joined the Milwaukee Bucks. There, he won his first NBA title before being traded to the Lakers in 1975. He went on to earn five more rings in Los Angeles as a key part of the "Showtime" era led by Earvin "Magic" Johnson. He retired in 1989 at 42.
Despite his success on the court, the life of the legend was far from trouble-free.
In 1983, Abdul-Jabbar's house in Bel Air caught fire and burned to the ground. Three years later, he sued Thomas Collins, his then-business manager, alleging a series of poor investments that lost much of his fortune. Abdul-Jabbar sought $50 million from his former manager, and after several years of litigation, the matter was settled for undisclosed terms.
But things have turned around dramatically, he said, especially since he joined forces with Morales a decade ago.

On rebound
Iconomy's aim is to help retired athletes and celebrities diversify their sources of income.
Morales's client list now includes retired Lakers A.C. Green and Michael Cooper as well as Bill Walton, who won two national championships at UCLA in the 1970s.
"It has grown maybe 20 or 30 times from when I started," she said. "I've seen a huge increase in opportunities that weren't there before."
The connection with Abdul-Jabbar for the documentary came as Morales was just starting to get her strength back from spending a year bedridden with fibromyalgia, a painful disorder affecting the entire body.
"I tried everything to get well, but the only thing I found that works is a positive mental attitude," she said. "The way out of the illness is to have a purpose-driven life."
The film, "On the Shoulders of Giants," tells the story behind the Harlem Rens, an all-black basketball team active from the 1920s to 1950s and was recognized by the National Association for the Advancement of Colored People as the best documentary in 2013.
It also spurred a flood of opportunities for Abdul-Jabbar.
"We went through a lot of trouble to get it done," he said. "But people got a better idea of what I was capable of away from the game."
Iconomy, which now has five full-time employees, also thrived in the wake of the film's success. The company is now in the process of securing several more clients, Morales said, all while coordinating speaking events, book deals, product endorsements and even more films for its existing clients.
"It's growing exponentially," she said. "We're not doing memorabilia shows to make a living, so it's all good."
But there's still a nagging issue lingering in Los Angeles Superior Court.
Courting trouble
The trouble began in 2013, when Julien's Auctions accused Iconomy, Morales and Abdul-Jabbar of fraud after he decided for sentimental reasons to keep six of the items he had planned to auction.
Shortly after a contract was signed in 2012, Julien's took possession of about 150 pieces of memorabilia, including a personalized engraved tea set, several awards and jerseys, a custom-made rocking chair that was given to Abdul-Jabbar when he retired from the Lakers in 1989 and his UCLA letterman's sweater.
That's when Abdul-Jabbar realized a handful of those items were too personal to part with. But the auction house, citing a contract provision barring the removal of any piece of property from the sale, disagreed and launched its first fight to force the entire sale to continue.
That dispute landed in arbitration last year. The proceedings determined the auction could not take place, and Julien's was awarded nearly $584,000 for damages and legal fees. The award, though, hasn't yet been confirmed in Superior Court.
Abdul-Jabbar's attorney, Evan D. Smiley, said the contract was never signed by the NBA star, but by a representative of his retirement savings plan. What's more, the attorney claims Julien's misrepresented itself from the start because Abdul-Jabbar was told there wouldn't be any issues if he decided to keep a few of the items slated for auction.
It wasn't until November, after Abdul-Jabbar fired back at Julien's in court, that the former Laker was given the initial 152 items back.
"Abdul-Jabbar's lifetime achievements were being held hostage without any authority by Julien's," Smiley said.
Now, a late January filing by Julien's alleges Morales and Iconomy conspired to bilk the auction house of its original arbitration award by creating a "sham company" to fraudulently protect the athlete from any personal liability.
"They're just trying to get some money out of this thing," Smiley said. "It's just so unfortunate because Kareem is a guy, who unlike many athletes, hasn't gone off and sold these things throughout his lifetime."
Julien's, on the other hand, claims it could have grossed as much as $10 million if the auction of all 400 items occurred last year as planned. And because the sale fell through, the auction house says it lost a great deal of money. It's still fighting to collect the original $584,000 award, plus legal fees and damages it has accumulated since.

"We're absolutely entitled to that money," said Sonia Y. Lee, a Beverly Hills attorney representing Julien's. "What they're doing is so egregious. All they have to do is the right thing. To the bitter end, they're making us crawl through cut glass just to get what's due to us."
A Superior Court judge agreed earlier this month to consider the auction house's petition for its original arbitration award.
Robert Darwell, a senior partner in the downtown L.A. office of law firm Sheppard Mullin Richter & Hampton, is not involved in this case but often represents artists and galleries in auction sales. While litigation in this realm isn't very common, the lawyer said more disputes arise when personal property is at stake.
"Memorabilia is more personal in nature, so if the celebrity is alive, they're more sensitive about it and they're more likely to put up a fight, even if it's more modest in the grand scheme of things," Darwell said.
Though the ongoing feud has certainly been a thorn in Iconomy's side, Morales said it hasn't held her company back.
"The lawsuits are a distraction but it's not really the end of the world for me," she said. "It's going to go away."
For reprint and licensing requests for this article, CLICK HERE.