Business Deal Bounces Lakers Legend into Court
SPORTS: Auctioneer sues to settle score with Kareem Abdul-Jabbar.
Monday, February 16, 2015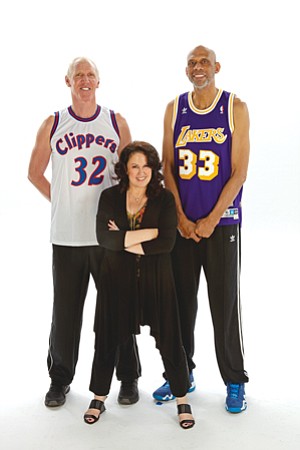 Life outside of "Showtime" has not always been golden for Los Angeles Lakers great Kareem Abdul-Jabbar.
His house burned down, he sued his former business manager for allegedly mishandling money and, for a while, depended on memorabilia sales to get by. That began to change in 2005, after he teamed up with longtime friend Deborah Morales to produce a documentary, "On the Shoulders of Giants."
The project kicked off a deeper business relationship: Morales formed a management company, Iconomy, to find new revenue streams for retired celebrities and athletes, and signed Abdul-Jabbar as her first client.
But Abdul-Jabbar still occasionally sells memorabilia, and that has netted both him and his manager in a hoop of trouble.
He consigned some 400 pieces of memorabilia to be sold by Julien's Auctions of Beverly Hills in 2012. He delivered about 150 of the items, then had second thoughts and asked for six back. When Julien's would not return them, he refused to send the balance. Declining to release him from the deal, the auctioneer went to arbitration and was awarded nearly $584,000. The basketball legend balked, and his refusal to pay the award has landed him, Morales and Iconomy in court.
"We never wanted to go through litigation as we tried to resolve on many occasions prior," said Darren Julien, chief executive of Julien Entertainment.com Inc., the auction house's parent, in an e-mail.
Though disputes over obligations in a contract are common, it is highly unusual for auctioneers to take former clients to court.
Most auction houses rely on word of mouth to maintain a steady business, said Alan Lipkin, senior vice president in the Encino office of Regency-Superior Auctions, and as a result are rarely litigious.
"If people feel cheated, they're not going to refer you to others," said Lipkin, who has been in the business for more than two decades. "We set up a contract initially to avoid conflict."
Greener pastures
But for their fight with the auction house, Morales and Abdul-Jabbar have generally had a productive professional relationship.
"Before I started managing Kareem, he was doing memorabilia shows," she said. "That's how he was making a living."
Now, Morales has set up 35 paid speaking engagements, book signings and other promotional trips for Abdul-Jabbar this year. The duo is also wrapping up another documentary about the National Basketball Association legend's personal life that is set to air on HBO later this year, as well as another film about race relations in America.
Prev Next
For reprint and licensing requests for this article, CLICK HERE.