New Matter Raises $6.5 Million for 3D Printers
Tuesday, February 10, 2015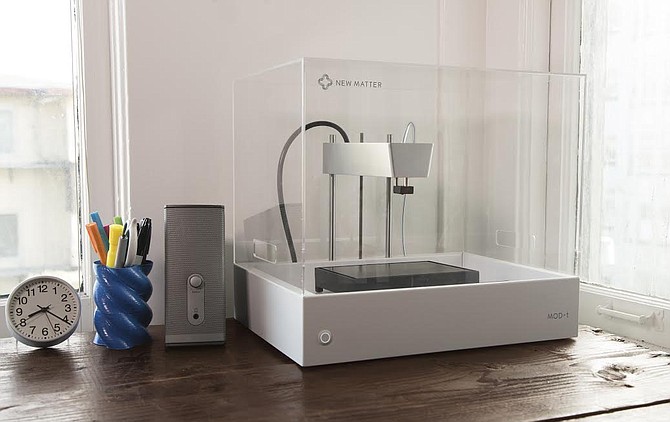 New Matter, an Idealab startup that has created a low-priced 3D printer, has raised $6.5 million in Series A funding to bring its production online and staff up.
The funding will first go toward fulfilling roughly 2,600 preorders of its Mod-T printer, which came through the startup's Indiegogo crowdfunding campaign where it raised more than $650,000. The 3D printer manufacturer is already in early discussions with retailers and hopes to stock brick-and-mortar and online stores with its printers, which will retail for less than $400, in the second half of this year. Chief Executive Steve Schell said 10,000 units sold in New Matter's first year would be considered a success.
New Matter plans to also sell complementary printing accessories such as filament: the material used to create the 3D objects.
The Pasadena startup is growing rapidly and hopes to double its 15-person staff this year.
Well-known 3D printing brands – MakerBot and 3D Systems, to name a couple – sell their hardware for thousands of dollars. Those high prices have largely kept 3D printing a rich man's hobby. But New Matter hopes its considerably lower priced printer will break the mass market and make 3D printing more accessible.
When asked whether the average family would need an at-home 3D printer, Schell pointed to history, saying that what often begins as exclusive technology eventually finds its way into the hands of the everyday consumer.
"You can point to numerous examples where people said that about other tech, from computers to anything else, and were wildly wrong," he said.
New Matter has now raised a total of $7.5 million. Alsop Louie Partners led the Series A round, with participation from Arden Road Investments, Biotechonomy, Dolby Family Ventures, First Round Capital, Idealab and FrogVentures.
Staff reporter Melissah Yang can be reached at MYang@labusinessjournal.com. Follow her on Twitter @MelissahYang for the latest in L.A. tech news.
For reprint and licensing requests for this article, CLICK HERE.