Cosmetics Firm Takes Shine to Lip Gloss Brands
BEAUTY: Markwins buys Lip Smacker, Bonne Bell lines with plans for revival.
Monday, February 9, 2015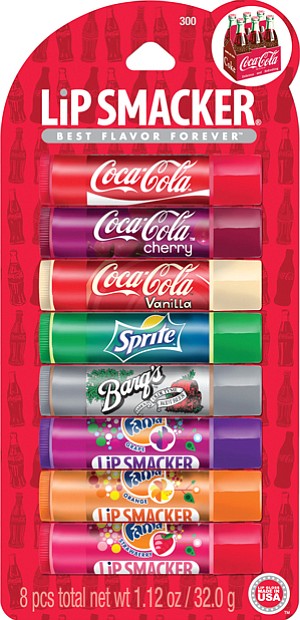 Lip gloss for young girls, in fun flavors such as pink lemonade, raspberry jelly and Coca-Cola, was such a hot seller in the 1980s and '90s that the Lip Smacker brand became a pop favorite.
But the shine has since worn off and Aspire Brands, based in Norway, this month passed Lip Smacker and another struggling line, Bonne Bell, to Markwins International Corp., a City of Industry cosmetics manufacturer that hopes to restore some luster to the brands.
Terms of the deal were not disclosed, but Bill George, Markwins' president and chief operating officer, said the acquisition is the consummation of a two-year courtship, one that gives Markwins an opportunity to expand its customer base.
The company caters to older teens and adults with its cosmetic brands Wet n Wild and Physicians Formula.
"The Bonne Bell and Lip Smacker businesses are really oriented towards a much younger consumer," Gregory said. "I mean, their sweet spot is ages 6 to 16. So, if we look at Markwins' portfolio of brands it's a really interesting situation where we (now) have something for women of all ages."
Markwins plans to bring Bonne Bell's production to its facility in the City of Industry and continue to sell the product throughout the United States. Bonne Bell, meanwhile, announced last week that it will close its manufacturing facility in Westlake, Ohio, and lay off 91 employees. Bonne Bell makes a line of cosmetics aimed at teens; the Bonne Bell Co. owned Lip Smacker, and both brands were sold to Aspire at the same time.
George said Markwins had the Lip Smacker and Bonne Bell brands on its radar for some time before approaching Aspire two years ago about buying those lines.
"We could see there were some challenges in either their marketing strategy or the way the trade was perceiving them," he said. "But clearly, their business was moving in the wrong direction, so we had a chance to meet the owners."
Aspire executives did not return calls for comment. In a press release, Aspire founder Jess Bell Jr. said he is "excited about the future of the Lip Smacker and Bonne Bell brands under Markwins' ownership."
George said Markwins plans to increase the cosmetics labels' market share and raise brand awareness with young girls through advertising, social media campaigns and even celebrity endorsements – all strategies it has used to boost sales of the Wet n Wild brand since acquiring it in 2003.
Back then, the brand was a small part of Markwins' sales. Not so today, George said.
"If you look at Wet n Wild today, it's the No. 3 brand in units sold at the register," he said. "The financial contribution to our company and our balance sheet is impressive."
Color theory
Markwins' revenue last year was between $450 million and $500 million, George said. He expects the Bonne Bell acquisition to bring in about 15 percent in additional revenue, or as much as $75 million in sales in its first year.
Markwins was founded by Chief Executive Eric Chen in 1984. It introduced products, most notably multipalette makeup compacts that held different shades of eye shadow and lip color.
The 3,000-employee company has three manufacturing facilities in China and one located near its City of Industry headquarters. Markwins' products are sold in more than 60 countries and in more than 50,000 retail outlets including department stores, grocers and pharmacies.
Over the years, Markwins has seen organic growth of its own brands, Color Workshop and Color Institute, but the company also has looked to acquisitions to expand its portfolio and customer base.
Markwins' first deal was in 2003 when it snagged AM Cosmetics, owner of the Wet n Wild and Black Radiance brands. More recently, in 2012, the company purchased the then-publicly traded cosmetics company Physicians Formula Holdings Inc. for $75 million.
While purchasing mass-market brands isn't the company's sole focus, acquisitions are a big part of its plans for the next few years, said George, who even hinted that Markwins could consider going public.
"We have a very ambitious outlook over the next three to five years," he said. "Our goal is to transform the company from a large privately owned organization into a more substantive diversified corporation."
But in buying Lip Smacker and Bonne Bell, Markwins is building a bigger presence in a market that isn't growing. While higher-end cosmetic sales have been ramping up, thanks to big-box retailers stocking more luxury brands, the kind of mass-market products that make up most of Markwins' portfolio have been flat, according to New York research firm NPD Group Inc.
But George said Markwins' existing brands, including Wet n Wild and Physicians Formula, have performed better than their mass-market peers. He also said that while luxury might be growing, the mass market is so big that there's still plenty of opportunity for growth.
"Mass beauty has been challenging certainly from a financial performance basis," he said. "However, the numbers in terms of size, scale and scope of the business is significantly larger than specialty beauty."
For reprint and licensing requests for this article, CLICK HERE.