Stadium Plays Into Jobs Plan
investment: New project may boost green-card bidders.
Monday, February 2, 2015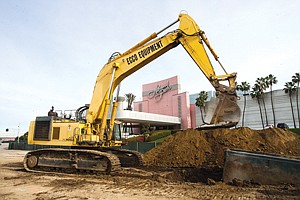 Countless fans have been cheered by the prospect of the return of professional football to Los Angeles. Most of them likely live within an hour's drive of Inglewood, which last month became the latest entrant into the sweepstakes to lure an NFL team here.
But none might be more enthusiastic than a few hundred wealthy investors and their families who live overseas – most of them in China. That's because they stand to get permanent residency in the United States thanks to the Hollywood Park project, on which the stadium would sit.
The foreigners put up $188 million in construction financing through the federal government's EB-5 program, a controversial mechanism that gives a green card to overseas individuals if they invest in a job-producing project stateside.
Their money is helping to construct the 238-acre mixed-use redevelopment of Inglewood's Hollywood Park, the site of the former race track so named. The developer is Stockbridge Capital Group, and a few months ago ground was broken on the project. But last month, St. Louis Rams owner Stan Kroenke announced that he had partnered with Stockbridge and plans to add a stadium to the big project.
The EB-5 money would not go to construct the stadium itself but to the broader project, which consists mainly of houses and shops. But the announcement of the stadium gives a big boost to Hollywood Park's prospects. After all, the shops and the project's hotel and even the houses become more valuable when situated near a stadium.
By going overseas to fund construction of the project, Stockbridge took advantage of a program that gained favor during the recession but whose use has since tightened. That's because conventional financing has loosened up and regulators have begun to keep a closer eye on the program.
"There used to be a time where projects had the ability to be funded 100 percent by EB-5," said Joseph McCarthy, principal at L.A.'s American Dream Fund, who helped raise EB-5 financing for hotel W Hollywood's bar and restaurant expansion. "Now it's much harder to show a lot of job creation."
The reason, McCarthy said, is Citizenship and Immigration Services – which oversees EB-5 – increased scrutiny of the actual number of jobs each investor creates. Some developers and investors, he said, would inflate estimates by citing job growth at surrounding businesses that likely had nothing to do with their project.
Now, developers have to be more careful.
Footing bill
Under the EB-5 program, foreign citizens who invest at least $1 million – or $500,000 in high-unemployment areas such as Inglewood – in a commercial project in the United States can get a green card, granting permanent residency not only to the investor but to his or her immediate family members. To qualify for the program, the investment must be shown to create at least 10 full-time American jobs.
Chris Meany, senior vice president of Stockbridge's Hollywood Park Land Co., said his company secured $500,000 each from 376 foreign investors to help finance the construction of its mixed-use development in Inglewood. The project, approved in 2009, is slated to include a 300-room hotel, houses and space for retail and offices.
The EB-5 money was secured around the same time the city of Inglewood approved plans for the project. Meany said the EB-5 financing provided the best terms at the time, and that $188 million was the most that could be raised based on the number of jobs created by the project.
"There's a connection between the number of jobs that are generated and the investment," he said, "and the analysis that was done indicated that we qualified for $188 million."
That apparently will provide less than 10 percent of the money needed. The total cost of the Hollywood Park project, not including the stadium, was pegged at about $2 billion in the past. However, representatives last week did not provide an updated projection.
Because it used EB-5 money from so many investors, the Hollywood Park development must create at least 3,760 jobs.
That might have received a boost earlier this year when Kroenke took a stake in the company and added his 60-acre site to the project, which he bought more than a year ago. The stadium is envisioned to go on that 60-acre plot.
With the additional acreage now incorporated into the site, the partners unveiled plans last month to build an 80,000-seat National Football League-caliber stadium and a 6,000-seat performance venue at the site. The plans also called for increasing the amount of retail and office space in the original Stockbridge project but reducing the number of residential units.
The revised plans are expected to go before Inglewood voters in coming months and, if approved, the measure would expedite the process and possibly lead to a 2018 opening.
Moving goalposts
While the addition of a stadium might create an opportunity for more permanent jobs in Inglewood, how the facility is incorporated into the approved plans could impact the status of the EB-5 investors.
Michael Homeier, an attorney at Homeier & Law in Sherman Oaks who has worked on nearly 170 EB-5 projects, said he advises his developer clients to always inform investors before they make a material change to any project.
"Sometimes changes are inevitable, but once you have an investor signed up, you have to tell them about the change," Homeier said. "Otherwise, they would be investing in something that turns out to be different than what they signed up for, which is a big no-no."
Meany said EB-5 money would not be used to fund the stadium, and added that the other proposed changes have not affected the EB-5 investors, at least not yet.
"There has been no impact, as there have been no changes implemented to the approved plan for Hollywood Park at this time," he said. "The approved project is currently under construction."
However, the ballot measure calls for some changes to the project. Meany declined to comment on the potential impact investors could face if the ballot measure is passed.
The principals of the government-approved entity tasked with promoting the Hollywood Park project to investors, M&D Regional Center in Lynwood, did not return calls seeking comment.
The EB-5 program has been controversial. Some investors have claimed they lost their money in speculative projects. And the Business Journal reported more than a year ago that some EB-5 districts appear to have been gerrymandered such that projects in affluent areas, such as Marina del Rey, got looser restrictions and other benefits because they were officially considered in challenged neighborhoods, such as South Los Angeles.
Lasting appeal
Even though banks have started to loosen their grip on lending, Homeier said many developers still opt for EB-5 financing, in large part because it is often far less expensive than conventional bank loans.
He said the cost to use EB-5 financing can be as low as 4 percent a year, while other methods frequently top 8 percent.
"For developers, even a half-point is enough to make a huge difference," he said.
Homeier, who isn't involved with the Hollywood Park project, worked on the financing behind the JW Marriott Los Angeles L.A. Live hotel. That project secured $170 million in EB-5 funding, which he said covered a huge chunk of the total cost to build the hotel.
But those days are long gone. Developers today, he said, rarely use EB-5 money to fund more than half of their total construction cost.
On the Marriott project, the developers and investors had to prove to the government that they had generated 3,400 full-time jobs. That was no easy task, he said, because the hotel itself only required about 400 workers.
But the government allows the inclusion of indirect jobs in the employment count, so EB-5 investors in the Marriott, for example, claimed credit for 400 direct jobs and an additional 3,000 came from third-party vendors and other businesses that provide goods or services to the hotel.
"It's like a multiplier effect," Homeier said. "The way that you get enough jobs is by examining the trickle-down effect."
That calculation might be coming to an end, however. The government has started to crack down on some of the more liberal estimates that include jobs created at surrounding businesses, which also makes it tougher for developers tasked with generating higher numbers of jobs.
A CIS spokesman denied the notion that the government's regulations are stricter today, but did confirm that three years ago the agency began adding staff attorneys and economists to verify the number of jobs EB-5 projects actually generate.
That puts a lot more pressure on developers and investors, Homeier said. If the government finds that a project created fewer than 10 full-time jobs per investor, the immigrants would be denied permanent citizenship and sent back to their home country.
"The results are not going to be pretty," he said. "You always want to structure your project so you have 12, 15 or 18 jobs per investor because if the government gives you a reduction, then you've still got that cushion."
For reprint and licensing requests for this article, CLICK HERE.