In It to Win It
Founder left retirement to revive eHarmony
Monday, December 21, 2015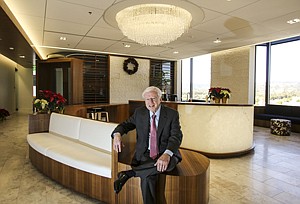 First love
When Warren was 9, his family moved from Iowa to Long Beach, where he later attended Long Beach Polytechnic High School.
He then went to Pepperdine University followed by Princeton University's theological seminary for his master's in divinity.
At Princeton, he dated a woman named Sara, whom he met during undergraduate school at Pepperdine.
One night, he divulged a secret to his roommate.
"I said, 'I've got to break up with Sara. I just don't think we've got everything we need to make it through the long term,'" he said. "The next morning, she broke up with me, and I was devastated. I was going to break up with her!"
But Warren found his match in Marylyn, who happened to be Sara's sorority sister at Pepperdine.
"I was going to try and talk (Marylyn) into going out with my good friend from Princeton," Warren said. "I was talking to her and I thought, Why would I let my friend have her?"
Eight months later, Warren proposed to her in the center of Pepperdine's campus. It was their second date.
"People ask me why I proposed after just eight months," he said. "I tell them I just thought it was inappropriate to do it on the first date."
The two have remained together for 56 years.
Warren, a University of Chicago-trained psychologist, became a professor and then dean at Fuller Theological Seminary's graduate school of psychology.
He went on sabbatical for a year in 1981 and moved to Switzerland, convincing his two daughters to drop out of college for a year while bringing along his youngest daughter in high school.
"We told them that they could ski as much as they wanted to," he said.
Living abroad was something his wife had wanted to do for some time and the family was able to lease a home in Switzerland. They then leased out their San Marino home to a government official from Australia, Warren said.
Warren said the year abroad afforded him the time to research and write his first book, "Make Anger Your Ally."
"That book has meant a lot to me," he said. "I used to think that anger was a bad thing (but) it depends on what you do with it. You can do some terrible things in the name of being angry or some wonderful things – think of Abraham Lincoln. He was angry about the fact that people were treated poorly and tried to change that."
For reprint and licensing requests for this article, CLICK HERE.