In It to Win It
Founder left retirement to revive eHarmony
Monday, December 21, 2015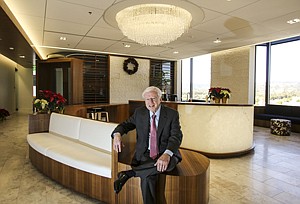 Neil Clark Warren isn't the kind of person who likes to be alone.
The 84-year-old co-founder of Westwood dating website eHarmony Inc. still serves as its chief executive – coming to work at 7:30 a.m. and keeping a packed schedule.
But his life wasn't always filled with back-to-back meetings.
Warren grew up in a small farm town in Iowa with a population of 12.
"In this little country school, I was the only child in my grade," he said. "In kindergarten, I was the only kindergartener. I was the only first-grader."
Warren joked it wasn't all bad as he could appoint himself class valedictorian.
Yet, being the only student and having two sisters 18 and 11 years older made for a lonely childhood.
"I spent a lot of time with my dog and BB gun," he said. "I think that's why now I so love being at eHarmony. I schedule my days almost full because I love talking with people and getting ideas."
He said his life now serves as a kind of antidote to his childhood.
Warren's mother, Rosa Clark, was a homemaker. His father, Otis James Warren, was a serial entrepreneur – a trait he says he inherited – owning a Chevrolet dealership, a livestock auction barn, a grocery as well as a store that sold equipment such as tractors and plows.
He said his father worked hard but sometimes the pressure would be too much, particularly with his dealership.
"They would bring the cars from Michigan on a big truck and unload them," Warren said. "And he had to give a check for those five cars and go out and sell them. And the pressure was so great sometimes he would go into the warehouse and find a car, get in the backseat and sob."
He said his parents were Christians and he grew up going to church. His father was the song leader at their church in Iowa and Warren would hold his father's leg when he was 3 – waving his hand around to direct the choir like his father.
But it wasn't until he was 40 that he considered himself to be a Christian. At the time, he was teaching a class called "A Psychologist Looks at the Book of Romans."
"When you grow up in the church, you tend to take it all for granted," he said. "You don't really ask if you believe or not. As I taught the course, I started thinking I really believed all this. That's the first time I said to myself, You really are a believer."
For reprint and licensing requests for this article, CLICK HERE.
Prev Next