In It to Win It
Founder left retirement to revive eHarmony
Monday, December 21, 2015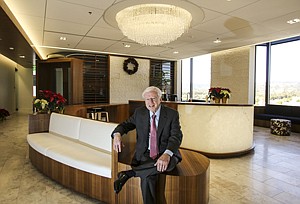 Neil Clark Warren isn't the kind of person who likes to be alone.
The 84-year-old co-founder of Westwood dating website eHarmony Inc. still serves as its chief executive – coming to work at 7:30 a.m. and keeping a packed schedule.
But his life wasn't always filled with back-to-back meetings.
Warren grew up in a small farm town in Iowa with a population of 12.
"In this little country school, I was the only child in my grade," he said. "In kindergarten, I was the only kindergartener. I was the only first-grader."
Warren joked it wasn't all bad as he could appoint himself class valedictorian.
Yet, being the only student and having two sisters 18 and 11 years older made for a lonely childhood.
"I spent a lot of time with my dog and BB gun," he said. "I think that's why now I so love being at eHarmony. I schedule my days almost full because I love talking with people and getting ideas."
He said his life now serves as a kind of antidote to his childhood.
Warren's mother, Rosa Clark, was a homemaker. His father, Otis James Warren, was a serial entrepreneur – a trait he says he inherited – owning a Chevrolet dealership, a livestock auction barn, a grocery as well as a store that sold equipment such as tractors and plows.
He said his father worked hard but sometimes the pressure would be too much, particularly with his dealership.
"They would bring the cars from Michigan on a big truck and unload them," Warren said. "And he had to give a check for those five cars and go out and sell them. And the pressure was so great sometimes he would go into the warehouse and find a car, get in the backseat and sob."
He said his parents were Christians and he grew up going to church. His father was the song leader at their church in Iowa and Warren would hold his father's leg when he was 3 – waving his hand around to direct the choir like his father.
But it wasn't until he was 40 that he considered himself to be a Christian. At the time, he was teaching a class called "A Psychologist Looks at the Book of Romans."
"When you grow up in the church, you tend to take it all for granted," he said. "You don't really ask if you believe or not. As I taught the course, I started thinking I really believed all this. That's the first time I said to myself, You really are a believer."
First love
When Warren was 9, his family moved from Iowa to Long Beach, where he later attended Long Beach Polytechnic High School.
He then went to Pepperdine University followed by Princeton University's theological seminary for his master's in divinity.
At Princeton, he dated a woman named Sara, whom he met during undergraduate school at Pepperdine.
One night, he divulged a secret to his roommate.
"I said, 'I've got to break up with Sara. I just don't think we've got everything we need to make it through the long term,'" he said. "The next morning, she broke up with me, and I was devastated. I was going to break up with her!"
But Warren found his match in Marylyn, who happened to be Sara's sorority sister at Pepperdine.
"I was going to try and talk (Marylyn) into going out with my good friend from Princeton," Warren said. "I was talking to her and I thought, Why would I let my friend have her?"
Eight months later, Warren proposed to her in the center of Pepperdine's campus. It was their second date.
"People ask me why I proposed after just eight months," he said. "I tell them I just thought it was inappropriate to do it on the first date."
The two have remained together for 56 years.
Warren, a University of Chicago-trained psychologist, became a professor and then dean at Fuller Theological Seminary's graduate school of psychology.
He went on sabbatical for a year in 1981 and moved to Switzerland, convincing his two daughters to drop out of college for a year while bringing along his youngest daughter in high school.
"We told them that they could ski as much as they wanted to," he said.
Living abroad was something his wife had wanted to do for some time and the family was able to lease a home in Switzerland. They then leased out their San Marino home to a government official from Australia, Warren said.
Warren said the year abroad afforded him the time to research and write his first book, "Make Anger Your Ally."
"That book has meant a lot to me," he said. "I used to think that anger was a bad thing (but) it depends on what you do with it. You can do some terrible things in the name of being angry or some wonderful things – think of Abraham Lincoln. He was angry about the fact that people were treated poorly and tried to change that."
He added that coming back to the states gave him an appreciation of freedom.
"You can drive from L.A. to New York and never have to show anybody anything," Warren said. "In Europe, when we went from Switzerland to Paris, which was right across the street, you had to show your passport (and) you got quizzed. It made us appreciate America."
Matched up
Warren would go on to write nine more books, mostly on finding love.
The psychologist spent more than 30 years counseling couples but at 65, Warren still wasn't fulfilled.
"I presided over the deaths of so many marriages and those are hard," he said.
He remembers counseling a celebrity couple that tried to save their marriage but couldn't due to the husband's increasingly aggressive behavior, which included slamming doors and even spitting at his wife.
Warren realized it was better to be there at the beginning of a relationship. And instead of providing more advice he decided to launch eHarmony with his son-in-law and former commercial real estate developer, Greg Forgatch, in 2000. The service strives to match people based on their compatibility.
"In most of the cases, people were in trouble the day they started," he said. "They just weren't well matched for each other. I think our motivation in getting involved was I was just tired of trying to fix marriages that were already in trouble."
In 2007, seven years after the website went live, eHarmony reported an annual revenue of $200 million, according to Warren. That success helped push him into retirement the same year. The company declined to disclose current revenues.
He and his wife moved to Maine and built a 12,000-square-foot dream home on 30 acres of land. The property included a putting green, croquet and tennis courts as well as a swimming pool.

"We had everything to lure our (nine) grandkids," Warren said.
But five years into his retirement, eHarmony was hemorrhaging about 100,000 subscribers a year. The company said it has had more than 66 million users since launching the website, though it declined to state the current number of active users.
The drop in members coincided with the company's public launch of a same-sex dating website, Compatible Partners, after a 2008 lawsuit by New Jersey's Civil Rights Division concerning eHarmony's refusal to match homosexuals. When the firm launched the same-sex site as part of the settlement, many of its Christian members were angered and left in droves.
The turmoil led him to return as chief executive in 2012. He cut about 100 staff members and whittled eHarmony's nine-member board down to himself and friend Gregory Penner, founder of Menlo Park's Madrone Capital Partners and chairman of Wal-Mart Stores Inc.
While Warren acknowledged it was a tough time for him, he said it was even harder for his wife, who had to move back from Maine.
"It was her dream house," he said. "She had to leave all that because I wanted to come back and save this company. She gave all that up and never complained."
Now, the couple lives a few blocks away from its office in Westwood in a luxury condominium. A recent listing for a three-bedroom unit with 3,000 square feet in the high-rise building was for about $5 million.

Lasting union
Warren said his passion for creating compatible marriages hasn't dwindled in the 15 years he's been with eHarmony.
And the founder maintains he's not fazed by Match Group's success, despite the New York firm's $460 million initial public offering in November. The company had been a division of New York's IAC before the spinoff.
"We never worry about Match or Tinder to tell you the truth," he said. "Match has bought up over 52 websites. They buy up companies. They made an offer for us, but we're so involved in the matching program and goals that we have that we never really took seriously any offer like that."
He said eHarmony has no plans to go public.
Instead, it is focusing on catching bigger fish with the launch of its career website Elevated Careers in March.
The move will have it competing with the likes of LinkedIn Corp. and Monster Inc. in an industry worth as much as $94 billion, according to research firm IDC. Online dating, on the other hand, is worth about $2 billion.
The shift in eHarmony's strategy is a sign of Warren's focus on being able to adapt. And it's also a trait he believes transcends business.
"The most important single feature of a great marriage is adaptability," he said. "Unselfish adaptability."
For reprint and licensing requests for this article, CLICK HERE.