Brain Firm Gets Head Start With Chinese Money
BIOTECH: Neural Analytics also sees investors helping open that country's market.
Monday, December 21, 2015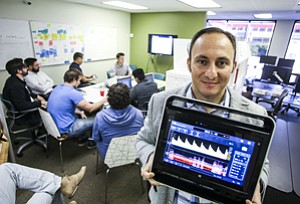 As Chinese investors increasingly pour more capital into U.S. companies, the latest group to benefit is L.A.'s life-sciences sector.
But local biotech startups aren't just looking for money, they're also hoping to leverage China's massive economy to accelerate product development and eventually gain market share.
Last week, West L.A. brain-health device maker Neural Analytics Inc. closed a $10 million series A round that included significant investment from two Chinese firms, TitanMed Capital in Hangzhou and Shanghai's GP Healthcare Capital. While the burgeoning 2-year-old startup said the cash will let it nearly double its 25-person head count, Neural Analytics is equally excited to tap its Asian investors' network to speed up product development.
For example, Neural Analytics has been compiling a database of more than 1,000 brain scans to help its algorithms get a better picture of what traumatic brain injury looks like. Now, the startup can gather 10,000 scans a year in China, said Chief Executive Leo Petrossian.
Though Petrossian noted that his Sawtelle Boulevard headquarters pales in comparison to China's massive biotech complexes.
"We're above a noodle shop," Petrossian cracked.
Despite the humble digs, his company has tapped into the $46 billion in direct investments that Chinese firms have made in U.S. companies since 2000, the bulk of which came over the past five years, according to a recent report by the National Committee on U.S.-China Relations and Rhodium Group. The study says hundreds of millions of those dollars are spent every year on stateside research and development, and the L.A. area has garnered billions for everything from mixed-use real estate developments to making video games.
In June, Cynvenio Biosystems Inc., a Westlake Village maker of liquid biopsies, announced a $25.5 million Series B round, including funding from health care firm Livzon Pharmaceutical Group Inc. of Zhuhai, China, and Shanghai firm Greenwoods Private Equity Funds.
"If it will be something that the Chinese need, will use and it's innovative technology, they'll come in and support it," said Neural Analytics investor and board Chairman Roy Doumani.
L.A. biotech firms can partly credit this new source of cash to investors who have a foot in both countries, said Ahmed Enany, president of downtown L.A. trade group Southern California Biomedical Council.
"There's a new crowd of investors that were trained in Europe or the U.S. and they know the Western way of doing things, like Eric (Lei Tang)," Enany said of TitanMed's managing partner, who used to be a patent lawyer in Los Angeles and now splits his time between China and Irvine.
Tang said he told his partners at TitanMed that investing in American companies alongside Chinese firms is vital in order to access the best technology in the world.
"We can also use our resources in China to help the companies in the U.S. to accelerate growth," he added.
Building bridges
Enany, who has been making trips to China to promote Southern California's life-sciences firms, said that local companies aren't looking to move to China completely, just get a foothold in the country.
"There are opportunities," he said. "If you know how to take advantage of them, you can do a lot of business."
Meanwhile, Neural Analytics had been working to develop and commercialize its Lucid system, meant to diagnose concussions and other traumatic brain injuries. It fits a headset on a patient, using sensors at the temples to scan the brain. Data is fed back into a tablet, where algorithms diagnose the scan to detect an injury.
Petrossian wants it to replace spoken exams that detect brain injury and envisions the system as a neurological stethoscope that would be used widely in neurologists' offices, ambulances and on the sidelines at sporting events.
Neural Analytics, which has working prototypes, raised a $3 million seed round last year and started raising more money this spring, Petrossian said. He hadn't intended to pursue Chinese funding, but changed his mind when a mutual friend introduced Petrossian to Tang this summer.
While TitanMed's financial resources are substantial – the firm manages about $25 million and Tang's colleagues at GP Healthcare have about $100 million – the firm is also very well-connected within China.
TitanMed's limited partner TigerMed, also in Hangzhou, is a $2 billion publicly traded contract research organization with 50 offices in China and abroad.
TigerMed acts as a gatekeeper for many Western life-sciences companies looking to enter the Chinese market, Petrossian said.
"They'll help you build the product, get approved and sell – tip to tail," he said. "They unlock a market I would not try to go into by myself."
He noted that having powerful Chinese partners with equity in his company means better intellectual property defense from any copycats in that country.
"Once you enter the market, you're super vulnerable," Petrossian said. "With them watching your back, you have confidence you're protected."
Still, there are some challenges that come from working with partners an ocean away, such as setting your prototype on fire in the lobby of your Shanghai hotel due to the difference in voltage, which happened to Petrossian and fellow co-founder Robert Hamilton a couple of months ago.
Then there's the language issue and a 16-hour time difference – though Petrossian acknowledged it's sometimes nice to have his partners toil away while he sleeps.
He added that there can also be an aversion to risk taking among low- and midlevel employees in China, which differs greatly from how Petrossian wants his team to think.
But overall, he said his experience doing business in China has been incredibly positive.
"There's a negative stigma in the community about taking foreign money from investors from China," he said. "My experience is that's absolutely completely false. They've been super professional, fair and thorough. Not what the stigma would lead you to expect."
For reprint and licensing requests for this article, CLICK HERE.