Brain Firm Gets Head Start With Chinese Money
BIOTECH: Neural Analytics also sees investors helping open that country's market.
Monday, December 21, 2015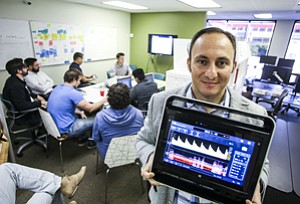 As Chinese investors increasingly pour more capital into U.S. companies, the latest group to benefit is L.A.'s life-sciences sector.
But local biotech startups aren't just looking for money, they're also hoping to leverage China's massive economy to accelerate product development and eventually gain market share.
Last week, West L.A. brain-health device maker Neural Analytics Inc. closed a $10 million series A round that included significant investment from two Chinese firms, TitanMed Capital in Hangzhou and Shanghai's GP Healthcare Capital. While the burgeoning 2-year-old startup said the cash will let it nearly double its 25-person head count, Neural Analytics is equally excited to tap its Asian investors' network to speed up product development.
For example, Neural Analytics has been compiling a database of more than 1,000 brain scans to help its algorithms get a better picture of what traumatic brain injury looks like. Now, the startup can gather 10,000 scans a year in China, said Chief Executive Leo Petrossian.
Though Petrossian noted that his Sawtelle Boulevard headquarters pales in comparison to China's massive biotech complexes.
"We're above a noodle shop," Petrossian cracked.
Despite the humble digs, his company has tapped into the $46 billion in direct investments that Chinese firms have made in U.S. companies since 2000, the bulk of which came over the past five years, according to a recent report by the National Committee on U.S.-China Relations and Rhodium Group. The study says hundreds of millions of those dollars are spent every year on stateside research and development, and the L.A. area has garnered billions for everything from mixed-use real estate developments to making video games.
In June, Cynvenio Biosystems Inc., a Westlake Village maker of liquid biopsies, announced a $25.5 million Series B round, including funding from health care firm Livzon Pharmaceutical Group Inc. of Zhuhai, China, and Shanghai firm Greenwoods Private Equity Funds.
"If it will be something that the Chinese need, will use and it's innovative technology, they'll come in and support it," said Neural Analytics investor and board Chairman Roy Doumani.
L.A. biotech firms can partly credit this new source of cash to investors who have a foot in both countries, said Ahmed Enany, president of downtown L.A. trade group Southern California Biomedical Council.
"There's a new crowd of investors that were trained in Europe or the U.S. and they know the Western way of doing things, like Eric (Lei Tang)," Enany said of TitanMed's managing partner, who used to be a patent lawyer in Los Angeles and now splits his time between China and Irvine.
For reprint and licensing requests for this article, CLICK HERE.
Prev Next