Future on Trial For Class Actions
Monday, December 14, 2015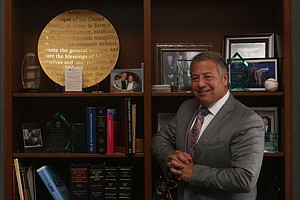 L.A. businesses could soon see the constant threat of legal battles shrink.
That's because of a case before the California Supreme Court that could result in a reduction in the hefty paydays plaintiffs' attorneys often receive from class-action disputes.
Currently, those lawyers collect a cut – usually 25 percent or 30 percent – of the money recovered for their clients. But opponents of that method argue it takes too much money from the clients and instead want plaintiffs' lawyers paid only for the hours they spend working on a case.
If lawyers are no longer enticed by the possibility of recovering a huge lump sum, fewer frivolous class-action lawsuits might be filed against L.A. employers, said Maryann Maloney, a spokeswoman for California Citizens Against Lawsuit Abuse.
"This is certainly a good step in the right direction," Maloney said. "Businesses have to be able to operate in an environment that's fair and competitive and not one that's legally stacked against them."
The state Supreme Court has agreed to address the issue of how lawyers should be paid in such cases and is expected to rule within several months.
Many plaintiffs' attorneys argue that retaining the percentage method is the best way to prevent meritless litigation.
"If we're looking at the greater good here, we're trying to get lawyers to take on justified cases, where you're compensating them for their result – not their time," said Brian Kabateck, a prominent plaintiffs' lawyer in downtown Los Angeles. "If it's a low result, they don't get as much and maybe they won't bring those cases in the future. This is an important case and it's going to be watched closely by both sides."
Seeking clarity
While lawyers who file class-action lawsuits have more at stake in this case, businesses and the attorneys who defend them are also keeping a close eye on the matter.
"As someone who defends class-actions, I have often scratched my head at the conflict I see between the lawyers and their quote-unquote clients in terms of the compensation," said Bobby Schwartz, partner at the Century City office of Irell & Manella. "It does strike me, in some situations, as being unfair to the class members."
At the same time, though, Schwartz said there could be some negative unintended consequences should the court endorse an hourly method to calculate attorneys' fees. Specifically, some plaintiffs' attorneys may drag out settlements to rack up more billable hours. what does the other side refer to here?
"You might look at a case and, after an early evaluation, you want to resolve it. But the lawyer might say not so fast because they haven't put much time in it."
Of course, lawyers aren't the only ones who could be affected. The state's businesses are keenly interested in the issue. They often complain that much of the high cost of operating in California results directly from the legal environment. Even if a business never gets hit with a class-action lawsuit, it typically pays high insurance rates to protect it from such suits, and it probably pays for a variety of compliance-related matters to reduce the risk of class-action suits. All those costs get passed on to customers.
Excessive fees
The matter stems from a trio of wage-and-hour class-action lawsuits filed in Los Angeles Superior Court against Menlo Park staffing giant Robert Half International Inc.
The cases, which were filed between 2004 and 2011, were later consolidated and eventually settled for $19 million – $6.3 million of which went to attorneys.
But Lawrence Schonbrun, a Berkley attorney who's representing one of the nearly 4,000 class members, has argued that the lawyers' fees – which amount to one-third of the total settlement – constitute a breach of fiduciary duty to the plaintiffs.
Schonbrun has argued that the court should not have used the percentage method to calculate attorneys' fees and, instead, it should have approved compensation for the lawyers based on hours they spent on the case.
His argument, however, was rejected by the state Court of Appeal last year.
This isn't the first time Schonbrun has gone up against his peers. He is recognized nationally as an advocate against excessive attorneys' fees awarded in class-action lawsuits.
"Clients' interests in the class-action system are also marginalized so that we lawyers can get our millions, tens of millions, and hundreds of millions of dollars in attorney's fees," Schonbrun wrote in a Huffington Post op-ed published in 2012. "In class-action litigation, what undoubtedly started out as a noble idea to protect consumers has been turned into a conspiracy against the very people it was designed to help."
Schonbrun did not return calls seeking further comment.
Kabateck, who's not directly involved in the case but has plans to file a brief in support of the percentage method on behalf of the Consumer Attorneys of California, said he hopes the court's decision – at the very least – will clarify which method it deems most proper.
"Right now, it's very unclear what method the courts are supposed to use," he said. "We're businesses, too, and we need the certainty in knowing what our fees are going to be in a case. … I have 40 employees and we have a lot of people here who depend on and do get their paycheck twice a month. So it's important to know what income I've got coming in."
For reprint and licensing requests for this article, CLICK HERE.