Public Pounding
Market chaos carves chunks from billionaires' billfolds
Originally published August 31, 2015 at midnight, updated August 31, 2015 at 12:08 p.m.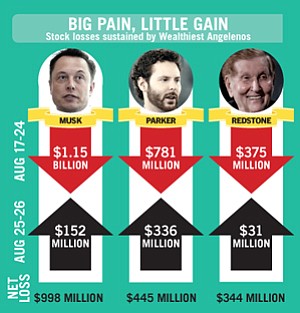 Elon Musk went to bed on Aug. 24 – the depth of the stock market downturn – about $1.1 billion poorer than he had been a week earlier. The markets rebounded after Aug. 24, but it was not enough to offset his earlier losses. By Aug. 26, Musk was still down $998 million – nearly a billion lost in the August swoon.
Musk's paper loss was the biggest among local wealthy people in the downturn, but he was not alone. In fact, all of the Wealthiest Angelenos whose net worth is built largely on holdings in equities shared the pain of the recent stock market volatility. According to Business Journal calculations on how the market crash and rebound affected the county's richest stockholders, at least six of the 50 Wealthiest Angelenos lost $100 million or more in the last couple of weeks. (The Wealthiest Angelenos list is published every May.)
The second-biggest loser is a new Angeleno, Sean Parker, former president and still-big shareholder of Facebook. By Aug. 26, after the market swoon and rebound, his net worth was $445 million less than it had been Aug. 17.
But Parker appears to be one of the luckier ones. Facebook's stock, despite the August tumult, was up 11 percent year to date. Parker came in at No. 9 on the list of Wealthiest Angelenos with an estimated $5.6 billion in wealth in May.
Entertainment emperor Sumner Redstone (No. 8 with $5.7 billion in May), chairman of both CBS and Viacom, was particularly hard hit. Both companies declined more steeply than the broader market in the recent slump, with Viacom dropping 10 percent in the Aug. 17-26 period and CBS falling more than 11 percent.
As a result, the recent downturn cost Redstone $344 million on paper. However, media stocks have been down generally this summer, and his losses since May are far deeper.
Another media mogul, Michael Eisner (No. 28 with $1.9 billion) wasn't immune to the selloff on Wall Street. The former Walt Disney Co. chief executive saw shares of the entertainment company, in which he holds about 14 million shares, fall. In the downturn, his net worth was cut nearly $138 million.
Despite the dizzying losses, at least on paper, it doesn't appear many local wealthy people bailed out on the stock markets. At least Richard B. Jones, managing director at Merrill Lynch in Century City, didn't see any.
"With all the crazy volatility, we did proactively reach out to clients and make them aware of what was going on. I would say virtually none of our clients panicked. Nobody sold."
$100 million losers
But the downturn still produced some immense losses, at least on paper.
For example, the fortunes of Public Storage shareholder Tamara Gustavson (No. 13 with $4.15 billion) fell by $225 million in the last two weeks. However, shares of the Glendale real estate firm are up almost 9 percent year to date.
For many people, the Aug. 25-26 rebound salved but didn't cure the wound. For example, Musk, (No. 2 with $13.9 billion) saw the value of his holdings in Tesla Motors Inc. and SolarCity drop by 14 and 12 percent, respectively, in the Aug. 17-24 meltdown. Shares of Tesla rebounded in the comeback that followed, gaining about 3 percent, but SolarCity dipped further. In all, he regained $152 million in the two days after the crash, but that wasn't nearly enough to offset the $1.15 billion he had lost in the previous days.
However, Antony Ressler (No. 35 with $1.6 billion) was not helped by the bounce back. The chief executive of Ares Management, Ressler, who became a billionaire last year when he took the Century City private equity firm public, saw shares in the company continue to slide even as the broader market rebounded. Ares' share price slipped 12 percent overall, and that knocked Ressler's net worth down by nearly $110 million, making him the last of the $100 million losers.
Other wealthy Angelenos and their paper losses, in descending order, from Aug. 17-26:
Bradley Wayne Hughes Jr. (No. 32 with $1.79 billion), the brother of Gustavson and another big shareholder in Public Storage, suffered a $78 million loss in his net worth.
George Joseph (No. 34 with $1.75 billion), chairman of L.A. insurer Mercury General Corp., saw Mercury shares fall about 7 percent, cutting the value of his shares by some $74 million.
EBay shareholder Jeff Skoll (No. 21 with $3.3 billion) saw the value of his shares discounted by about $50 million.
For Ray Irani (No. 44 with $1.29 billion), the former chief executive of Occidental Petroleum, the market turmoil only added to a long slide seen by Oxy and other energy stocks. The downturn shaved $49 million from his net worth in little more than a week.
Alan Auerbach (No. 47 with $1.2 billion), founder and chief executive of Puma Biotechnology in Westwood, lost about $38 million on paper in the recent downturn. But that's far from his biggest concern, wealthwise. His net worth has taken the biggest hit since our list was published; Puma's stock was about $86 a share Aug. 26, down from above $200 on May 8. The value of Auerbach's shares now hover around $500 million and he would not be on the list of Wealthiest Angelenos if it were published today.
Bruce Karsh (No. 29 with $1.73 billion), the co-founder of distressed-debt specialist Oaktree Capital Management, a company that does not fear down markets, lost $26 million on paper in the downturn. However, Oaktree stock is up more than 2 percent year to date.
Steven Udvar-Hazy (No. 12 with $4.4 billion), chief executive of Air Lease Corp., saw shares of his Century City aircraft leasing company drop and he lost $24 million on paper.
The Business Journal only calculated the effect of the downturn on those with substantial public stock holdings. Those with substantial real estate holdings, for example, were not calculated.
This story was compiled by reporter Omar Shamout with contributions from Jonathan Diamond, James Rufus Koren, Matt Pressberg, Garrett Reim, Sandro Monetti and Subrina Hudson.
For reprint and licensing requests for this article, CLICK HERE.