Hit Zombie Franchise Shuffles Way to Mobile Play
VIDEO GAMES: Developer Scopely puts 'Walking Dead's' fate in fans' hands.
Monday, August 31, 2015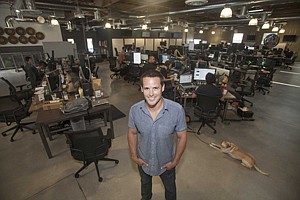 Culver City's Scopely has launched its mobile game based on the popular "Walking Dead" zombie comic-book series that inspired two top-rated television shows.
Landing the "Walking Dead" mobile game is a coup for Scopely, a video-game maker that has been looking for popular intellectual property around which to build a game.
Based on a best-selling comic book with a passionate fan base, the property was created by Robert Kirkman, chief executive of publishing shop Skybound Entertainment of Culver City. The franchise has been expanded into top-rated television shows, an online video series, merchandise and now a mobile game.
The television series has been especially popular. The "Walking Dead's" fifth-season premier on AMC in October had 17.3 million viewers, the most for a series in cable television history, according to Nielsen. "Fear the Walking Dead," a spin-off series, drew in 10.1 million viewers Aug. 22, a record for a series debut.
Scopely has mostly developed mobile versions of classic games such as Yahtzee, skee ball and minigolf. The "Walking Dead" game will be its first so-called role-playing game, in which players assume the roles of characters in fictional settings.
"We look for brands that have a devout, passionate core following and that are also known to a lot of people," said Walter Driver, Scopely's chief executive.
"Yahtzee was a brand that a lot of people were familiar with, were passionate about. There were a lot a people who grew up with it on vacation. The 'Walking Dead' also has a passionate following."
Not a typical game development house, Scopely operates much more like a movie studio, often partnering with outside developers to create games. To develop the "Walking Dead" game, for example, Scopely partnered with Canadian gaming studio IUGO Mobile Entertainment in Vancouver. Scopely's specialties are game operations, marketing and monetization, said Driver.
The company also has a particularly devout network of fans, some 50 million of which are signed up to hear about new Scopely game launches.
"Scopely users are the best marketing channel we have," said Driver.
Most of the revenue from the free-to-play "Walking Dead" game will likely come from in-app purchases, he said, and will be split between Scopely and Kirkman's Skybound.
Founded in 2011, Scopely reported revenue of $32.1 million last year. The 125-person company has more than tripled its revenue run rate since the beginning of the year, said Driver.
Scopely will likely partner with more entertainment brands for its upcoming games, he said, adding that the company is working on developing original intellectual property as well.
"We think that the next Marvel isn't going to be a comic-book company," he said. "We think the next franchises will come from the device that people spend the most time on, which is mobile."
For reprint and licensing requests for this article, CLICK HERE.