Locking Up Cells
StemCyte moves to expanded facility to store umbilical cord blood for future therapies.
Monday, August 24, 2015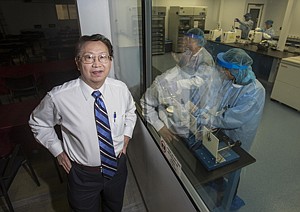 Awash in frozen packs of umbilical cord blood, StemCyte Inc. needed to move. That's because of increasing demand from parents to store their babies' stem cell-rich cord blood for a range of future therapies, some of which are only now being studied and developed.
Now, having taken root earlier this year in a 48,000-square-foot headquarters building in Baldwin Park, the company has room for more than 150 of the massive tanks it needs – three times the capacity of its old home – each holding more than a thousand frozen packs of cord blood.
Blood is big business, and demand for cord blood in particular has been growing.
The cord-blood banking industry last year generated $1.1 billion in U.S. revenue, according to market research firm IBISWorld. That's about a quarter of the worldwide total for the stem cell market.
StemCyte collects and processes donations accessed through a national public registry, and has built a "public" bank that provides stem cells when a sick patient needs an infusion of the specialized cells, which are approved to fight a variety of diseases of the blood. It also operates a private bank for parents who pay a monthly fee to store their babies' blood in case the child someday needs it for a stem cell transplant.
StemCyte, a smaller player that has been around since 1997 and has operations in Taiwan and India, had $25 million in revenue last year. It stores almost 50,000 units of cord blood, a fraction of that held by the country's largest private cord-blood bank, Cord Blood Registry, which has more than 600,000 units and saw revenue of about $126 million in 2014.
Big pharma has taken notice: Cord Blood Registry was acquired by AMAG Pharmaceuticals Inc., a $2 billion company, for $700 million in June.
Stem cells are special because they can indefinitely reproduce more cells of the same type. The stem cells found in cord blood are used to treat about 80 diseases, including blood cancers such as leukemia. Clinical trials are underway to see if those cells can attack a larger range of diseases and disorders including autism, cerebral palsy and spinal cord injuries.
The private banking of the cord blood taken after a birth for later use by the child is still considered experimental, with that part of the business growing partly based on the promise of therapeutic applications to come.
"If you don't have a disease, you say it doesn't matter," said StemCyte Chief Executive Jonas Wang. "Once you have a disease, you would always like to have your own blood. … It is insurance."
Local boost
The stem cell industry in California received a shot in the arm in 2004 when the state created the California Institute for Regenerative Medicine and backed it with $3 billion in bond money. It has so far awarded more than $1.9 billion to both nonprofit and for-profit research institutions throughout the state to accelerate stem cell treatment development.
"There was enormous growth when that money started to be spent," said Dr. Marie Csete, president and chief scientist at Huntington Medical Research Institutes in Pasadena and former chief scientific officer of CIRM. "There's been a movement of scientists all over who worked to grow this industry. This has been the epicenter."
Though Los Angeles doesn't have as robust a biotech sector as other parts of the state, it is growing here.
Billionaire Patrick Soon-Shiong recently added regenerative medicine firm VivaBioCell to the stable of health care technology companies under the umbrella of his Culver City NantWorks. The Italian firm's tissue engineering and cell culture capabilities was seen as complementing the integrated businesses he's been building to coordinate health care, particularly personalized cancer treatment plans.
Other smaller local companies are developing various stem cell treatments. Capricor Therapeutics Inc. of Beverly Hills is using heart stem cells to decrease scar tissue on the organ after a heart attack.
On the donor side, companies like StemCyte and West L.A.'s California Cryobank Stem Cell Services have been serving a demand for storing blood-forming stem cells found in umbilical cord blood and tissue.
The cord-blood banks collect blood or tissue from discarded umbilical cords after a baby's birth. The material is screened for diseases, processed to extract as many stem cells as possible and the remaining blood or tissue is frozen.
In general, private banking of stem cells is a high-margin business that spreads high fixed operational costs across a growing customer base.
Fees to parents for processing and the first year's storage of cord blood can run around $2,000, with annual storage charges of more than $100 for following years.
"It's not cheap, but not terribly expensive considering the other kinds of gifts we give kids," said Csete.
Dual approach
StemCyte is unusual because it houses both private and public banking operations.
It was founded by Dr. Robert Chow in 1997 as a public cord-blood bank. As more potential applications for use of stem cell transplants were being studied, the company saw some physicians becoming less skeptical of private banking. Consequently, StemCyte opened its private banking business about 10 years ago.
Wang, who'd worked in consumer product research and development for Johnson & Johnson, left the company to run the biotech division of investment firm Sycamore Ventures. Sycamore invested in StemCyte in 2002 and he came on board temporarily as chief executive to help manage the firm. He left the following year and returned to his work in venture capital, but returned in 2012 as the firm eyed an IPO in Taiwan, where Wang grew up and has connections.
The company expects to go public next year, trading on the Taiwan Stock Exchange.
StemCyte has raised about $110 million from institutional and angel investors since it was founded.
In addition to the possible expansion of stem cell treatments, the cord-blood industry will likely grow because some of the roadblocks to using it are being lifted, Csete said.
StemCyte is sponsoring its own clinical trials for spinal cord injuries and strokes. It recently finished phase two in China and is applying to the Food and Drug Administration to do the studies in the United States.
The government provides StemCyte with $1.5 million a year to store the donor blood, an operation partly subsidized by the company's for-profit work.
StemCyte has shipped about 2,000 units of donated cord blood to patients for stem cell transplants since its inception, and is compensated only in the form of a reimbursement for its costs. Of those, just 10 units came from the private bank, where the odds of that stock being drawn down are much lower.
The firm has partnered with Kaiser Permanente's medical centers in Los Feliz and Baldwin Park, among others, to facilitate donations on the public side.
For reprint and licensing requests for this article, CLICK HERE.