Doctor Gunning For 'Super Bugs'
Sarath Malepati's EZC Pak fights cold, flu while holding line against antibiotics.
Monday, August 24, 2015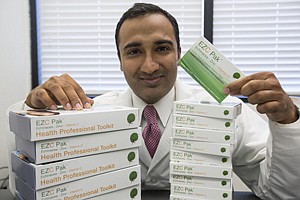 While practicing at local hospitals including Harbor-UCLA Medical Center, surgeon Sarath Malepati saw many patients suffering from aggressive infections caused by inappropriate use of antibiotics.
Physicians often prescribe antibiotics for common ailments such as the flu or cold when it's unclear that the medicine will even help, but patients expect a remedy, Malepati explained. This overuse has in turn contributed to the growing problem of "super bugs" that have grown resistant to antibiotics.
That phenomenon prompted Malepati to form PPC Pharmaceuticals, a Westwood firm that makes EZC Pak, a five-day tapered immune support supplement made of Echinacea, zinc and vitamin C, designed to address cold and flu symptoms. It has no antibiotics.
EZC, which costs $20 a pack, has primarily been sold directly through PPC or Amazon.com. But Malepati recently also began taking orders from Marina Pharmacy in Dubai. The surgeon said he's also close to inking a domestic distribution deal with Scottsdale, Ariz.-based Natural Partners Inc., which sells to doctor's offices and independent pharmacies.
"I go and speak at as many medical conferences as possible, and people have been drawn to the product," Malepati said. "It solves a problem they encounter every day with patients' requests for antibiotics that they don't need."
EZC, which launched in December, has brought in about $50,000 in revenue, but Malepati said he has an additional $125,000 worth of orders he needs to fill.
It's the surgeon's first time developing a consumer product, and he had some help from friends in private-label manufacturing, supplements manufacturing and hedge fund operations who offered advice, along with some cash.
Though Malepati taught medicine early in his career, it still has been an adjustment switching from the doctor's office to the boardroom.
"You're putting on a blazer rather than a white lab coat and scrubs to walk in the office," he said. "It's different parts of the brain, but you're still trying to make a difference."
– Marni Usheroff
For reprint and licensing requests for this article, CLICK HERE.