Radio Turns Ear to On Demand
MEDIA: Podcast One dials up dollars with rise in ads, audience.
Sunday, August 16, 2015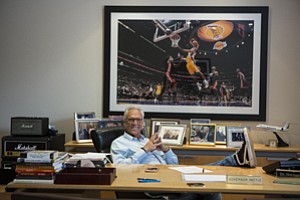 After making his name and fortune in radio as founder of broadcasting giant Westwood One, Norm Pattiz is now an evangelist for podcasts – and radio broadcasters are starting to convert.
Pattiz sold a 30 percent stake in his podcast hosting company Podcast One to Hubbard Radio earlier this month, just the latest example of an old-media company hopping aboard the new-media train – before they get run over by it.
The radio station owner in St. Paul, Minn., bought the stake for $12 million, according to a source close to the deal, valuing Beverly Hills' Podcast One at $40 million. That deal came 10 days after another traditional media company, E.W. Scripps, bought Hollywood podcasting network Midroll Media for an undisclosed amount, rumored to be around $40 million.
Pattiz said both deals confirm what he's been preaching since founding Podcast One in 2012.
"I've been saying the radio business ought to embrace new platforms in order to put the industry in a continuing growth pattern and now there's a great deal of interest in on-demand audio," he said. "People have seen what companies like Midroll and us are doing, how advertisers have jumped on board and they recognize the great opportunities in this area of the media."
Podcasts are audio shows broadcast on the Internet that listeners can download or stream, consuming them whenever they wish. Podcast One has a stable of 200 shows and makes money by selling ads across that network, sharing revenue with podcast programmers.
With more consumers preferring to get their content on demand rather than tying themselves to a TV or radio broadcasting schedule, partnerships between old and new media appear to be relationships of necessity, said Jor Law, an attorney with Sherman Oaks law firm Homeier & Law, which specializes in merger and acquisition advice for media firms.
"Traditional media has now recognized the right move is to get invested with the trend toward alternative methods of content distribution instead of missing out," he said.
Podcasts rising
Scripps and Hubbard are buying into podcasts as consumption of on-demand broadcasts has risen, with 46 million Americans listening to podcasts on a monthly basis, up from 39 million a month last year, according to a 2015 Edison Research and Triton Digital study.
Improvements in technology have played a huge part in the rise in audience figures for podcasts, Pattiz said. Years ago, podcasts had to be downloaded from the Web then uploaded to an iPod or other device. Now, they can be streamed directly to smartphones and tablets – and, in Pattiz's case, beamed directly into his car's stereo.
Prev Next
For reprint and licensing requests for this article, CLICK HERE.